Six Boston-Area Playgrounds with Shade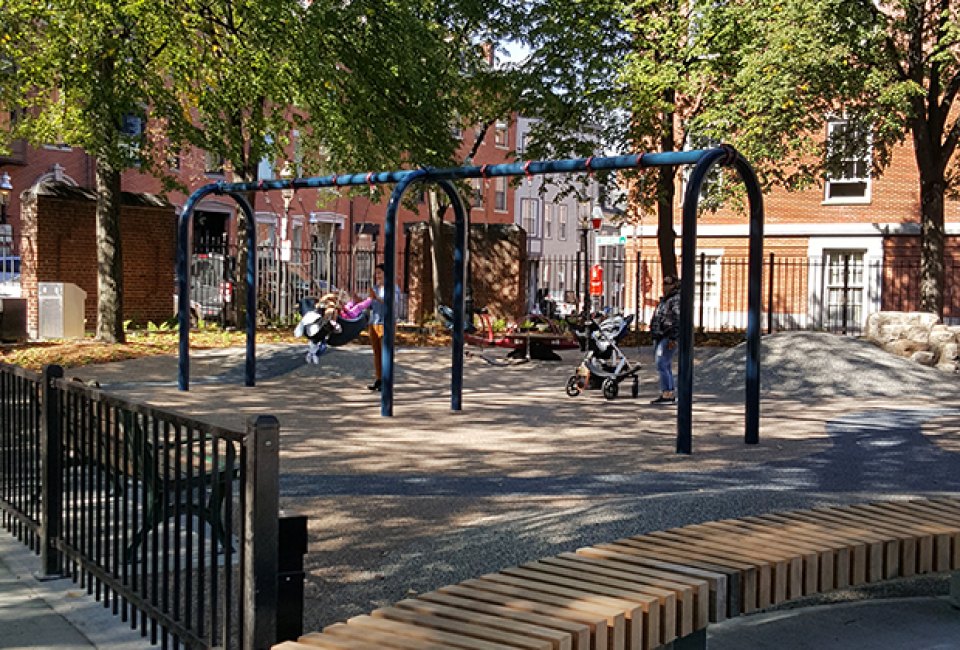 8/18/17
- By
Lucie T
Recently, we went on a hunt for special playgrounds that have unique elements that make them worthy of getting in the car and driving to. But in the dog days of summer, we have one more criteria that's essential for a perfect day at the park: shade. Here are six tree-lined parks and playgrounds with an hour of Boston that have natural elements to keep you cool while you're having fun.
Danehy Park—Cambridge
A 50-acre recreational facility built on the site of a former city landfill (don't let that deter you—it's lovely!), the park has wide-open spaces, paved paths, sports fields, playgrounds, a spray park, a dog park, picnic tables and grills, and a 2-acre wetlands area. A separate bike path is great for bicyclists and walkers. The spray park lets kids cool down in summer while parents can sit on nearby shaded benches. There's even a comfort station, equipped with a water fountain and bathrooms.
Larz Anderson Park—Brookline
At 64 acres, Larz Anderson is the town's largest park, with easy walking paths, sports fields, a playground with shaded seating, a lagoon, plenty of places to picnic, plus an auto museum. Head up to the highest point on the main ridge for fantastic views of Boston. This is a popular spot to fly kites, because there's almost always a breeze. From May through October, the Auto Museum holds a series of lawn events on the weekends, showcasing different kinds of vehicles, from Corvettes to motorcycles to Minis. A winner in our special playgrounds post, too!
John Harvard Mall—Charlestown
This park recently underwent a massive renovation in an effort to make it more kid-friendly. Built in 1943 to commemorate John Harvard, the mall consists of a tree-lined promenade with a playground at one end. Parents can appreciate the history of the neighborhood, and kids can enjoy the newly expanded play area.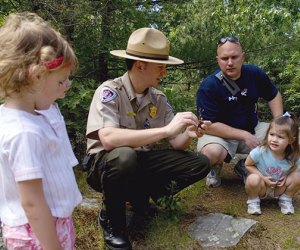 Breakheart Reservation has a hidden playground by a shady lake. Photo courtesy of the park
Breakheart Reservation's Pearce Lake—Saugus and Wakefield
Breakheart boasts more than two dozen trails on its 700-plus acres, but one that's especially great for younger kids is Eagle Rock Trail, which you can combine with a swim at Pearce Lake (also called the Lower Pond). Next to the lake, there's a playground, climbing structures, picnic tables, and plenty of shade. The lake is supervised by lifeguards. Year-round programs offered by rangers are a great way to learn about the reservation's wildlife. Hint: Park at the Wakefield entrance at the Northeast Vocational School for the shortest walk to the recreation area.
Elm Bank Reservation—Wellesley
Run by the Department of Conservation and Recreation, Elm Bank has 182 acres of woodlands, fields, and old estate lands to explore. Families usually make a beeline to the Massachusetts Horticultural Society's gardens, which occupy 36 acres on the reservation. The adorable Weezie's Garden for Children has a sand play area shaded by banana trees, a wooden tower to climb, an enormous chair fit for a giant (or for small kids to scramble up), plus plants that kids are allowed and encouraged to smell and touch.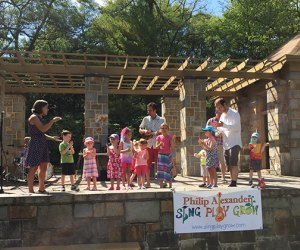 Bird Park has a playground and music court. Photo courtesy of the park
Francis William Bird Park—Walpole
Bird Park features a great tot lot, tennis courts, a basketball backboard, and plenty of places to sit in the shade or enjoy a picnic. Most of the three miles of walking paths are paved. The park is a Trustees of Reservations property and they offer a fun adventure titled "Over the Bridge and Through the Years Quest" (look for guides next to the tot lot). Clues and a map lead to a hidden treasure box, where you can sign your name or get a stamp.
Top photo: John Harvard Mall, photo courtesy of The John Harvard Mall Initiative
Click Here to Sign Up!