Organic Farm Shares in New Jersey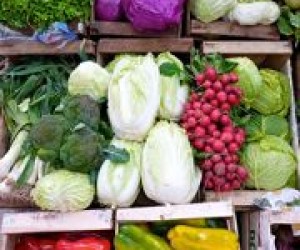 Don't have a green thumb? Critters spoiling you attempts at a garden again this year? Join a CSA farm. Community Supported Agriculture (CSA) is a partnership between a local farmer and the people who consume his/her fresh, often organic, produce. Members purchase a "share" of the farm's anticipated harvest. This partnership becomes a win/win situation to the CSA members by giving them the best quality, freshest, widest variety of locally grown produce while ensuring the survival of the farms by guaranteeing the farmer a fair return on his/her efforts. Members pay at the beginning of the season and the farmer delivers a weekly assortment of vegetables, herbs and sometimes fruit as they become available. Each of the farms runs a little differently, so check the websites and choose the program that best suits your family's needs. And enjoy!
Bloomfield-Montclair CSA (Montclair, NJ)
This CSA works with Starbrite Farm in Hardwick Township to provide members, with an assortment of certified-organic vegetables and herbs. Their season runs from June to November, and pickups are on Tuesdays in Montclair. Members can also buy a fruit share for locally harvested peaches and apples. They are currently accepting new members for the 2013 season. For more information or a membership registration form, please call (973) 744-3474 or contact EnidMelville@verizon.net.
The Community Supported Garden at Genesis Farm (Blairstown, NJ)
The Genesis Farm CSA, began in 1988, is a 51-acre biodynamic farm; many members share with the work, and share in what's grown. Year-round, summer and half-shares are available, with pickups every other week at the farm or at sites in Teaneck, Morristown, Montclair, Caldwell, Glen Rock and Madison.
Cherry Grove Organic Farm and CSA (Princeton, NJ)
A full membership from this 10-acre farm is designed to feed a family of four from June to November. On Tuesdays or Thursdays, members can pick up vegetables like kale, peppers and eggplant; flowers and herbs are available as well. Half-shares, offering less produce, are also available.
Honey Brook Farms CSA (Pennington, NJ)
Honey Brook is one of the largest CSA farms in the nation. They grow over 60 crops, organically. Individual or family shares are available starting at $693, with a season that runs from May to mid-November. Shares can be picked up at the farm or at one of the many distribution centers throughout central Jersey. Applications can be downloaded from the website.