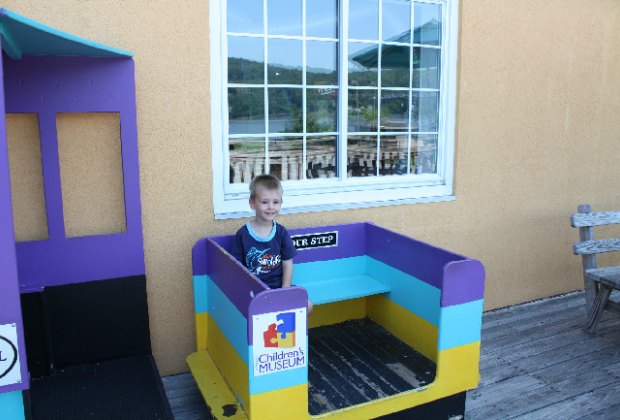 Museum Birthday Parties for Kids in Westchester and Lower Hudson Valley
Sure, sports birthdays are awesome, and your toddler is sure to have a hit at an indoor play space, but why not try something a little different this year and have a party at a museum? Perfect for preschool and older children, museum parties can tap in to a wide range of interests, whether it's art or animals or outer space.
We've gathered a selection of kid-friendly museums that welcome birthday parties in Westchester and the Lower Hudson Valley. Be sure to take a look at our Party Planner Guide for even more birthday ideas!
Hudson River Museum – Yonkers
Those with the next Neil deGrasse Tyson on their hands may want to have a birthday party at the planetarium in the Hudson River Museum. Party goers get a 30-minute personalized star show and hands-on activities, as well as set-up and clean-up assistance in one of the classrooms. You are responsible for all food, decorations and paper goods. Parties can be held at 10am or 4pm on weekends only. Although it's not exactly cheap—parties start at $585 for museum members and $650 for non-members—the fee includes up to 30 guests!
Katonah Museum Of Art – Katonah
Holding a party at this museum affords you private use of the facilities and your own personal host. Guests will be given an "interactive" tour of the exhibits and participate in an art project. Weather permitting, guests can enjoy cupcakes in the outside sculpture garden (otherwise the party remains indoors). The $400 fee includes 15 children ages 5 and up, or 10 children ages 3 to 4. You are responsible for all food, decorations and paper goods. Some crucial caveats: Parties are only held on Sundays from 10am-12pm and you must be a member at the Museum Supporter Level or above.
Harness Racing Museum – Goshen
Is your child horse-crazy? If so, consider holding the bash at the Harness Racing Museum. All parties include a tour of the kid-friendly museum, a ride on the 3D Harness Racing Simulator, games and a craft. You can choose from such games as "Clean the Stall" (picking up balloons with shovels), "Hot Horse Show" (similar to Hot Potato), or a scavenger hunt, among several others. Outdoor games are also available from May through September. The $150 price gets you set-up, cake, beverages, paper goods and party favors for up to 10 kids. It's $10 for each additional child, and up to 25 can be accommodated.
Hudson Highlands Nature Museum – Cornwall
Parties at Hudson Highlands are geared toward 4- to 8-year-olds, and you can choose from two hours at the Wildlife Education Center (WEC) or two hours at the Grasshopper Grove playground in the Outdoor Discovery Center. Multiple animal and nature themes are available, all designed to be both fun and educational. The price includes paper goods, a special gift for the birthday child, and a museum cup and a free family pass to the WEC for each guest. You are responsible for the food, beverages and cake. The shindig will run you $195 if you are a member; $150 for non-members and includes up to 15 children. Hudson Highlands also offers the ability to hold a classroom party at your child's school.
Mid-Hudson Children's Museum – Poughkeepsie
This museum offers several birthday party packages that can be all-inclusive or DIY, depending on how much you feel like doing and/or spending. Sample themes available include Eric Carle's "The Sneaky Birthday Bug," "Music Makers" for those mini Mozarts, and "Things That Go" for inventors in training. After-hours options are also offered, giving you and up to 60 guests the whole place to yourself! Party packages are $360 for members; $440 for non-members. Keeping in step with the museum's target audience, these parties are best geared toward children 6 and younger.
Photo credit: MommyPoppins.com