Best Things to Do in Westchester in February 2022 With Kids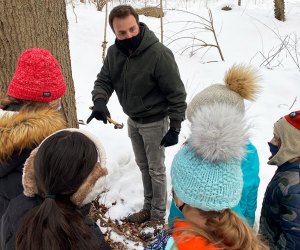 Whether sending Valentines or planning a Presidents Day weekend getaway—there is plenty to love about February!
Bundle up and enjoy outdoor activities in Westchester and the Hudson Valley. Join the fun at Eaglefest and celebrate the return of the bald eagle to the Hudson Valley, or learn to spot them fishing in the Hudson River at Boscobel House and Gardens. Check out our roundup of places to go maple sugaring, or take a day trip to the Catskills for music, outdoor fire pits, and sweet decadence at the Hot Chocolate Festival. There is also plenty to enjoy in indoors. Participate in STEM-related activities, including learning about the sun and stars. Make unique Valentine's Day cards using color marbling in Cupid's Color Lab, or learn about the creatures that live in the tide pools of Long Island Sound. Black History Month is a great time to attend the Teen Black History Month Celebration, or check out the Hudson Jazz Festival's free screening of Lift Every Voice, a documentary about the music of the Civil Rights Movement.
Find more top February fun in our Winter Fun Guide, which is filled with winter day trips, indoor water parks to visit nearby, and our winter fun list.
We're adding more events to our family activity calendar every day, so don't forget to check it frequently.
Get all our picks delivered to your inbox—sign up for our newsletters.
Be sure to check with each venue for its COVID guidelines and requirements before heading out to any event, and read more about local public safety protocols here. Some events are getting canceled or postponed at the last minute due to the latest COVID surge, so always confirm details before departing.