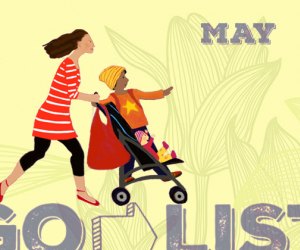 May GoList - Best Things to Do with Kids in Boston
We're feeling festive this month! For our May edition of the GoList, we're highlighting fabulous and free spring festivals, annual Mother's Day traditions, and performances you won't want to miss. As you check out our top picks for things to do with kids in Boston and the 'burbs this month, click through to the event listings so you can add them to your calendar. Also, be sure to bookmark our Spring Fun Guide for even more family fun opportunities in and around town. Plus, we'll still send our free e-newsletters with our family-friendly event picks every week. Happy planning!
Harvard ArtsFirst Festival - Harvard Yard, Cambridge
May 2 to 5, 2019
This family-friendly event celebrates creativity with free admission to Harvard museums and over 100 performances throughout the weekend. Mostly free
Roald Dahl's James and the Giant Peach - Wheelock Family Theatre, Boston
Weekends through May 12, 2019
This classic tale by Roald Dahl has recently been transformed into a musical by the creative team behind The Greatest Showman and Dear Evan Hansen.
OUR LATEST VIDEOS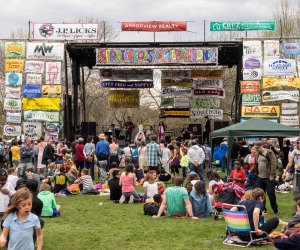 There's plenty of room to play and dance at the Wake Up the Earth Parade & Festival. Photo by MarcoClicks.com
Wake Up the Earth Festival - Jamaica Plain/Roxbury
May 4, 2019
The Wake Up the Earth Festival brings together Jamaica Plain, Roxbury, and other areas of Boston in an annual festival that celebrates diversity, the arrival of spring, music and culture, popular theater, the visual arts, and more. Free
Watch City Steampunk Festival - Waltham
May 11, 2019
The festival celebrates all things Steampunk, a literary, artistic, and lifestyle movement melding elements of Victorian-era history and fashion with retro-futuristic technology and fantastical fiction. Spend the day on the banks of the Charles River enjoying vendors, music, food, activities for kids and a parade. Free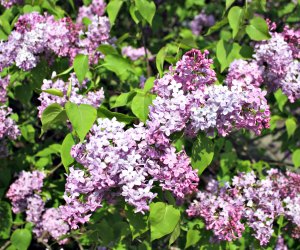 Lilac Sunday is an annual Mother's Day tradition at the Arnold Arboretum. Photo courtesy of Arnold Arboretum of Harvard University
Lilac Sunday - Arnold Arboretum, Jamaica Plain
Sun 5/12/2019
Free
Lilac Sunday is a beloved Mother's Day tradition for Bostonians, and not just because it's the only day of the year picnics are permitted in the Arboretum. Music, tours of the lilacs and other collections, and family activities make it an extra special day for moms and their families.
RELATED: 10 Things to Do at the Arnold Arboretum in Boston
Duckling Day Parade - Boston Common
May 12, 2019
Possibly Boston's cutest tradition. In honor of Make Way for Ducklings, adorable children dressed as characters from the book and their parents parade through Boston Common, led by the Harvard Marching Band. Before the parade, there are crafts, face painters, and a magician.
Kite & Bike Festival - Franklin Park, Boston
May 18, 2019
Go fly a kite to celebrate the arrival of spring at Franklin Park. Bring your own kite or buy one at the festival. Tour the park with free bike "rentals" or ride your own. Need to nosh? Bring a picnic lunch or grab something at one of the food trucks stationed in the park. Free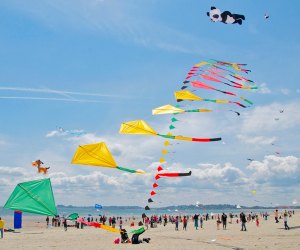 Up, up, and away! Photo courtesy of Revere Beach Kite Festival
Revere Beach Kite Festival - Revere
May 19, 2019
The Revere Beach Kite Festival is a staple every May on Revere Beach, where families can come, assemble, decorate, and then fly a kite. Free
Memorial Day Garden of Flags - Boston Common
May 23 to 27, 2019
The Massachusetts Military Heroes Fund creates a garden of flags on Boston Common for Memorial Day weekend to represent Massachusetts service members who gave their lives defending our country. The completed garden is a breathtaking tribute to the true meaning of Memorial Day and a powerful message of community support to the families of the fallen heroes. Free
Play Date - Institute of Contemporary Art, Boston
May 25, 2019
Spend the day at the ICA exploring the theme "Art in Action." Explore the galleries, and BYO lunch and enjoy it on the waterfront. Free admission for families (up to 2 adults accompanied by children ages 6 to 12).