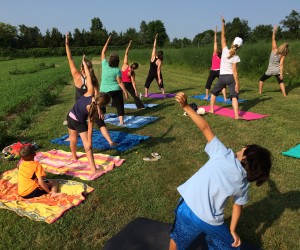 Long Island Kids' Activities August 9-10: The Science of Ice Cream, Live Theater, Family Nature Club, LI Potato Festival & More
Saturday, August 9
Shark Week Family Day - Riverhead. In preparation of the Discovery Channel's upcoming Shark Week, the Long Island Aquarium will host a shark expert, face painting, scavenger hunt and more at Shark Week Day. Cost: Regular admission (Optimum Rewards card holders receive 30% off admission.)
OUR LATEST VIDEOS
Rubber Duckie Race - Flanders. Watch the rubber duckie race or donate $5 to race one of your own at the Big Duck. Cost: free to watch, $5 to race.
Family Art Day - Stony Brook. Adoptable animals, face painting, magic show, crafts, art work at the Stony Brook Village Center. Cost: Free.
Yoga at the Farm - Peconic. Join a yoga teacher in the fields of Sang Lee Farms for yoga followed by a fresh organic veggie juice. Children and adults welcome. Bring a mat or towel. Cost: $15/person.
Explore the Science of Ice Cream - Port Jefferson. Learn about the physics of making ice cream and create your own batch at The Maritime Explorium.
Butterfly Gardening - Bridgehampton. Learn how to create your own butterfly garden, which local butterflies you might attract and more at the South Fork Natural History Museum. Cost: $5 per child, $7/adult.
The Little Mermaid JR. - Garden City. Live performance on Saturday and Sunday at the Long Island Children's Museum. Cost: Tickets $12/each. Must be purchased in advance.
How I Became a Pirate - Oakdale. This book comes to life on stage in a theatrical performance. Show dates through Aug. 23. Cost: $12/ticket.
Eco Junior Program - Brookhaven. Southaven County Park, kids will explore ecosystems and learn about nature. Cost: free, advance registration required.
Engineering Activities for Kids - Garden City. Engineering camp for kids being held at the Cradle of Aviation Museum. Cost: $255
Craft for Kids - New Hyde Park. At Lakeshore Learning Store, kids can do a free craft. Cost: Free.
Swimmy Puppet Show - Sag Harbor. The kids will love to see Swimmy Vermont's PuppeTree's two shows based on Leo Lionnie's book, SWIMMY. Cost: Tickets are $8/$10/$12
Peter Pan: The Musical - Smithtown. This live musical theater performance is running through mid-August. Cost: $15-$30/ticket.
Pinnochio - Port Jefferson. Live performance of Pinnochio at Theatre Three. Cost: $10/ticket.
Train a Seal, Kiss a Sea Lion at the Long Island Aquarium - Riverhead. Bring the kids to the Long Island Aquarium in Riverhead on Saturday for a fun-filled day of behind-the-scenes action. During the event, which runs from 10:15am to 2:15pm, kids will be able to get up close and personal with some of the creatures that call the aquarium home. Cost: $155 per person.
Science Saturday at the Long Island Science Center - Riverhead. Kids can learn and play at the Long Island Science Center with over 30 hands-on exhibits. The center is open from 11am to 4pm. Cost: $5 per person.
Bullies: The Musical Puppet Show - Deer Park. This anti-bullying platform informs children about bullies and bullying in an light-hearted way. Cost: $10/ticket.
Our Lady of the Assumption Feast - Copiague. This weekend-long festival will feature games, rides and carnival food. Cost: free to enter, P.O.P. bracelets available. (All weekend)
Dragon Ball Z - Huntington. Film Cost: Children under 12 $5/ CAC Members $6/ Public $11/ Free for Young Film Fan Members.
Sunday, August 10
Sunday Seatuck Family Nature Club - Islip. These programs will be geared around the current season and include topics such as seasonal birds, tremendous trees and signs of the season. Cost: free.
Spoons and Tunes - Long Beach. Breakfast for adults and kiddies with a full cereal bar, plus a sing-a-long with Long Beach musician JAHSTIX. Cost: $20.
LEGO Club at CMEE - Bridgehampton. Children's Museum of the East End, Bridgehampton, 10am. Children can construct works of art using the thousands of Legos at the Museum. Cost: Free with admission.
Messy Afternoons at LICM - Garden City. Long Island Children's Museum, Garden City, 3:30pm-5pm. Work on a fun project at LICM. Cost: Free with admission. (All weekend)
Mommy/Daddy Me Anti-Gravity Yoga - Bellmore. Have your little one explore the Anti-Gravity hammocks while building basic motor skills. All kids AGY classes are structured to introduce basic life skills and build confidence in a light-hearted way while having fun. Cost: $20.
Family Sundays at the Nassau County Museum of Art - Roslyn. Each Sunday, Nassau County Museum of Art offers a 1pm docent-led family walk-through of the exhibition and supervised art activities for the whole family beginning at 1:30pm. Special family-friendly gallery guides of the main exhibition are available in the galleries.
Photo: Yoga at Sang Lee Farms. Courtesy of Jaime Sumersille