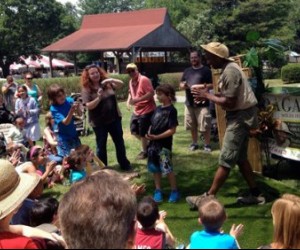 Long Island Kids' Activities August 2-3: Erik's Reptile Edventures, Circus, Feasts, Frozen Breakfast & More
OUR LATEST VIDEOS
Frozen Breakfast - Ronkonkoma. Imaginations at Play is hosting a breakfast with the characters from Disney's Frozen. Cost: $14.95/child.
Erik's Reptile Edventures Show - Manorville. The Long Island Game Farm is hosting Erik's live reptile show. Two performances at 11am and 2pm. Cost: $16.95/kids, $18.95/adults.
Zoppe: An Italian Family Circus - Westhampton Beach. Performed on the Great Lawn in Westhampton Beach. Starring Nino the clown and featuring acrobatic feats, equestrian showmanship, canine capers, and plenty of audience participation, this enchanting one ring circus is a sight right out of the picture books. Cost: $29, $54/ticket. (Sunday too).
Kidsfest - Hamptons. A variety of activities, games, snacks, music and more. Cost: $75.
Best of New York International Children's Film Festival - Water Mill. The Parrish Art Museum is hosting a day-long series of children's films. Cost: $10, children, students and members are free.
St. Rocco's Feast - Glen Cove. Weekend-long festival that includes rides, games, food and more. Cost: Free admission, games cost money.
Young Naturalists Club - Sayville. The Young Naturalists Club focuses on learning about nature and stewardship of a natural area. Cost: Free.
Our Lady of Mercy Family Festival - Hicksville. A weekend-long carnival featuring games, rides and food. Cost: Free admission, but must pay for rides.
Craft for Kids - New Hyde Park. At Lakeshore Learning Store, kids can do a free craft. Cost: Free.
Eco Junior Program - Miller Place. Participants will join Cornell's Peconic Dunes 4-H Camp environmental science educators to explore local ecosystems. An adult must accompany children under 6 years of age. Cost: Free.
Peter Pan: The Musical - Smithtown. This live musical theater performance is running through mid-August. Cost: $15-$30/ticket.
Train a Seal, Kiss a Sea Lion at the Long Island Aquarium - Riverhead. Bring the kids to the Long Island Aquarium in Riverhead on Saturday for a fun-filled day of behind-the-scenes action. During the event, which runs from 10:15am to 2:15pm, kids will be able to get up close and personal with some of the creatures that call the aquarium home. Cost: $155 per person.
Science Saturday at the Long Island Science Center - Riverhead. Kids can learn and play at the Long Island Science Center with over 30 hands-on exhibits. The center is open from 11am to 4pm. Cost: $5 per person.
Sunday, August 3
Sunday Seatuck Family Nature Club - Islip. Bi-weekly programs geared around the current season and include topics such as seasonal birds, tremendous trees and signs of the season. 18 months - 5 years old. Cost: Free.
LEGO Club at CMEE - Bridgehampton. Children's Museum of the East End, Bridgehampton, 10am. Children can construct works of art using the thousands of Legos at the Museum. Cost: Free with admission.
Messy Afternoons at LICM - Garden City. Long Island Children's Museum, Garden City, 3:30pm-5pm. Work on a fun project at LICM. Cost: Free with admission.
Mommy/Daddy Me Anti-Gravity Yoga - Bellmore. Have your little one explore the Anti-Gravity hammocks while building basic motor skills. All kids AGY classes are structured to introduce basic life skills and build confidence in a light-hearted way while having fun. Cost: $20.
Family Sundays at the Nassau County Museum of Art - Roslyn. Each Sunday, Nassau County Museum of Art offers a 1pm docent-led family walk-through of the exhibition and supervised art activities for the whole family beginning at 1:30pm. Special family-friendly gallery guides of the main exhibition are available in the galleries.
Photo: Erik's Reptile Edventures. Courtesy of Long Island Game Farm.