Family-Friendly Theaters in Westchester: Where to Catch a Live Show with Kids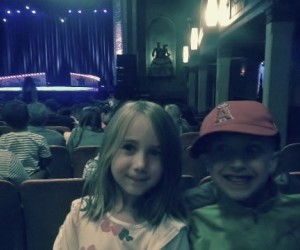 Before having kids one of my favorite weekend activities was catching an early dinner before heading to an evening theater production or concert. Happily, post baby, that hasn't changed much (well, unless you consider that strollers, stuffed animals and gigantic characters in neon costumes are now part of the equation). Theater and music are fun, creative and enriching outlets for kids of all ages—and their parents! And while living so close to New York City makes it easy to catch a show anytime, there are plenty of venues in Westchester County that cater to young audiences with top-notch kid-friendly performances. We've rounded up the best live theater venues and performing arts centers that offer quality productions for kids in Westchester!
Tarrytown Music Hall - Tarrytown
13 Main Street
Tarrytown Music Hall is where we took our daughter for her first show, Max and Ruby LIVE in The Nutcracker Suite. Throughout the year Tarrytown has a steady stream of child-friendly performances (including the annual Pirates of the Hudson: The Greatest Story Never Told), concerts and activities listed on their website and many big-name artists perform here. The historic theater was built in the 1880s and the rich, red velvet interior is perfect for small curious hands. Tarrytown itself is a great destination—an easy day trip with little ones.
Irvington Town Hall - Irvington
85 Main Street
Built in the first decade of the 20th century, Irvington Town Hall has been providing entertainment in lower Westchester for over a 100 years. Inside is intimate, elegant and impressive to children and adults alike. Irvington Town Hall currently works with a variety of theater companies, including Theatre Now New York, to bring shows to their stage from September to May.
Paramount Hudson Valley - Peekskill
1008 Brown Street
In 2012, The Paramount Theater in Peekskill closed after falling on some hard times. It was heartbreaking to think that it wouldn't be reopening. Happily, in 2013 the property changed hands (and names; it was formerly Paramount Theater) and began drawing in performances from across the country and around the world. Like Tarrytown Music Hall and Irvington Town Hall, The Paramount is a gorgeously maintained historic theater that often puts on shows with a family-friendly vibe—my daughter's friends flocked there this past spring to see Disney's Choo Choo Soul and we were enthralled by last winter's production of The Hudson Vagabond Puppet's The Snow Queen. The Paramount also has a film series that features family-friendly movies shown in the beautiful main theater.

Emelin Theater - Mamaroneck
153 Library Lane
I take off my mommy hat and put on my teacher hat while writing about Emelin Theater, because I've only ever been there on field trips—but if it's a great place to take 30 excited children on a school bus, it must be even more amazing when long lines and a buddy system aren't necessary! Located just off the main path in Mamaroneck, Emelin Theater puts on all kinds of productions (music, film, comedy, dance), though it is probably best known for its family-friendly features. Many of their performances are professional theatrical adaptations of popular books or shortened versions of true stage classics.

Westchester County Center - White Plains
198 Central Avenue
The Westchester County Center does it all—farmers' markets, reptile shows, safety events, sports events, circuses and, of course, big-stage theater. Not quite the intimate theater experience you find at the other local venues, this is more the Madison Square Garden of little Westchester County—a place to see Sesame Street LIVE!, Disney LIVE! and wintertime productions like The Nutcracker.
Performing Arts Center - Purchase
Purchase College, 735 Anderson Hill Road
Located at Purchase College, the Performing Arts Center hosts a variety of culturally rich family-friendly shows that I would have never expected—graphic novels brought to life, reimagined fairy tales and famous big red dogs. This theater is particularly good for middle-grade kids (4th graders and up) who are able to truly sit and enjoy unique performances without all of the noise, glitz and silliness sometimes put into performances for the little ones. During the day, the center hosts children's programs designed for schools.
White Plains Performing Arts Center - White Plains
11 City Place
This performing arts center in the heart of downtown White Plains features a wide range of live entertainment. Though many of their performances are better suited for teens and adults, they often have live productions that are kid-friendly (past productions include Disney's On the Record, A Christmas Carol, Peter and the Wolf, Pippi Longstocking and many more). The center also hosts a Summer Theatre Academy which culminates in full-scale theatre productions that are open to the public—a great way to introduce little ones to the theatre.

Westchester Sandbox Theatre - Mamaroneck
931C East Boston Post Road
This theatre recently expanded its focus on children's programming; now producing ten Young People's Theatre productions per year, performed by young actors selected by audition only. The theatre also features a continuous lineup of professional live productions. Some cater to adult audiences while others are family-friendly.

The Play Group Theatre - White Plains
One North Broadway
We've written about the amazing youth theater program at Play Group Theatre that offers a range of classes for young performers of all ages, from tots to teens. Several times a year, the theater's Main Stage members (all kids ages 8-18) put on full-length live productions. Past productions include such classics as The Wizard of Oz, Fiddler on the Roof and The Addams Family. While not paid professionals, the Main Stage members are selected by audition only and their performances are an absolute joy to watch. These young performers are incredibly talented, the staff is enthusiastic, friendly and accommodating and the material is appropriate for all age groups.