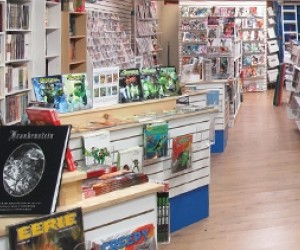 Kid-Friendly Comic Book Stores on Long Island
There's no denying it--comic book heroes are all the rage right now thanks to such hits as The Avengers and Guardians of the Galaxy. If your child doesn't want to just watch their favorite caped crusader on the big screen (or dress up like them for Halloween), you might want to take a trip down to your local comic book store. Not only are many stocked with comics about a variety of characters (hey, it's reading!), they they also sell toys, trading cards and other collectibles. While comics, on average, are $2.99-$3.99 (double or special issues can a bit more pricey), most comic books shops have knowledgeable employees to point you in the right direction or make recommendations.
Whether your kid is an avid fan or a casual reader, Long Island has several stores that can cater to this fantasy-laden past time. Let those in the know help lead your little one into a new realm of reading. Check out these top shops for items, events, etc. that might interest your lil' Iron Man or wee Wonder Woman. And for more kid-friendly things to do, check out our Long Island Calendar.
Suffolk County
Fourth World Comics
33 Route 111, Smithtown
631-366-4440
In addition to toys, this shop gets new comics in stock each Wednesday. Daily deals/sales Monday - Thursday. Each May, the store hosts Free Comic Book Day Celebration, as well as a $10 annual club membership that includes 20 percent off on your child's birthday.
OUR LATEST VIDEOS
Golden Memories Comics & Toys
235 Middle Country Road, Selden
631-696-6991
They sell comics and toys geared towards young children as well as teenagers and adults. Events such as Free Comic Book Day (May) and HalloweenFest (October) are two of their biggest events that bring kids in that encourage reading with free giveaway comics.
Tor Comics
997 Waverly Avenue, Holtsville
631-758-4772
Commack Collectibles & Comics
1165 Jericho Turnpike, Commack
631-543-4100
Long Island Comics
276 Little East Neck Road, West Babylon
631-321-4822
Bailey's Comics of Lindenhurst
237 South Wellwood Avenue, Lindenhurst
631-225-5085
Nassau County
Blu Planet Comics & Games
509 Central Avenue, Massapequa
516-565-7005
Stinky's Collectibles
3838 Sunrise Highway, Seaford
516-409-0785