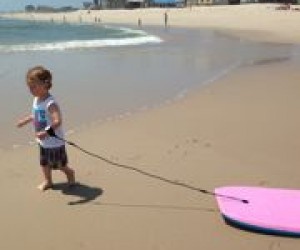 Jersey Shore Beach Update
Summer is in full-swing and, as the governor announced live on the Today show the Friday before Memorial Day Weekend, the Jersey Shore is back and open for business! This is generally true, however there are a few areas that were hit the hardest that aren't bouncing back as quickly as others (including Mantoloking and Sea Bright). Things may still be on the mend, but there is a lot of fun to be had at the shore this year. Keep reading for a 2013 update to my previous post to get you in the know about the beaches at the Jersey Shore! Here's a list of some of the spots that are open now and how much they will cost you. Let's all continue to help "restore the shore" and get down there with our NJ kids and families this summer!
Point Pleasant Beach is up and running! The boardwalk, which reopened in the beginning of the year, is rebuilt and all your favorites are ready and waiting -- including Martell's, Pavilion Arcade, Jenkinson's Aquarium, the ride park and much more! The beaches are all open, as well. Jenkinson's Beach will cost you $90/Adult and $45/Child 5 - 11 years for a seasonal badge (kids under 5 are free) and $8/Adult and $2/Child 5 - 11 years for a daily badge. Season rates include use of the beach and bathhouse facilities (bathhouse is extra if you are a daily badge holder).
As the sign that was recently posted on Route 35 in Brick says, "Brick beaches are open." Brick boasts three ocean beaches and all are open now. Brick Beach One offers lockers, outdoor showers, concessions, parking and restrooms. Brick Beach Two has no amenities, including parking and is accessible only by parking at one of the other beaches and walking. Brick Beach Three offers bathrooms, concessions and parking. 2013 season badges are $30/Adult and daily wristbands are $5/Adult. Season parking stickers are $30 each or you can park in a metered spot for $1/hour. Brick also offers a riverfront beach called Windward Beach Park on Princeton Avenue. The park offers parking, playgrounds, volleyball nets, picnic tables, fishing and crabbing piers and much more. Admission to the park is free, but you will need a badge for the beach area.
Bay Head was heavily-damaged by superstorm Sandy, but the restoration is progressing and there are some beaches open to the public. Not every beach access point is restored yet, but temporary walkways are available at some access points. Beach badges are $70/Adult for the season, $45/Adult for a half season and $7/Adult daily (children 12 and under are free). You can buy badges at the municipal office on Lake and Mount Streets in Bay Head. Their hours are 9:30am - 4pm daily through Labor Day. Be aware that parking is limited on streets, as construction and debris removal continues. There is a free municipal lot on Bridge Avenue, but it can fill up -- so, get there early for the best parking situation.
Island Beach State Park is still a great place to spend a summer day at the Jersey Shore. It is located at the south end of the barrier island -- right next to Seaside Park. The park was damaged by Sandy, but they have already done so much to clean it up and are restoring the rest quickly. Ocean Beach One is still under construction, but they hope to have it up and running soon. Ocean Beach Two is open and offers parking, lifeguards, bathhouse pavilion with changing areas and showers, concessions and more. There are more desolate beach areas further down the island that are accessible by walking on pathways to the beach. There are no lifeguards on these beaches, but they are more private and you can even bring a grill and camp out all day with the family. The fee for IBSP is $10/Car for NJ residents on weekends in holidays and $6/Car on weekdays. Non-residents will pay $20/Car on weekends and holidays and $12/Car on weekdays. If you walk in or ride your bike, it is free. Please note that there is limited parking on the island and once they reach capacity, they close it completely to cars, so remember to check ahead before you travel and it always helps to get there early.
Ortley Beach was hit very hard, but it's coming back slowly, but surely. This summer badges will be $35/Adult for the entire season (children 12 and under and seniors over 62 are free). Daily badges are $7/Adult on weekdays and $8/Adult on weekends. You can pick up your badges at the beach - 3rd Avenue station.
Many people know that Seaside Heights beach and boardwalks are open, but Seaside Park is a less busy and fun option for families with children. A 2013 season badge will cost you $50/Adult before June 30 and $55/Adult as of July 1 (children 11 and under are free) and seniors pay just $20 for the season. Daily badges can be purchased for $10/Adult. There is limited parking available close to the beach, otherwise there are spots on the side streets in the area. Badges can be purchased at the police station on 6th and Central Avenues Monday through Wednesday and Friday - Sunday from 10am - 3pm. You may also buy badges at the bathhouse building on Ocean Avenue between N and O Streets daily from 10am - 3pm.
Iconic Asbury Park is up and running and it's a fantastic place for a family beach day of fun! The beaches are open and seasonal badges will cost $70/Adult (children under 12 are free) and $20 for seniors and teenagers. Daily badges are $6/Adult on weekends and $5/Adult on weekdays. Parking is metered and strictly enforced between the hours of 9am and midnight. You may purchase your badges at the beach office on the boardwalk between 1st and 2nd Avenues Monday through Friday from 10am - 4pm and weekends 9am - 4pm.
Long Branch has a lot to offer on a summer day. The boardwalk boasts new restaurants and shops, plus the beaches are wide and beautiful. Seasonal badges are $45 for people 18 - 61 years of age, $30 for teens 14 - 17 years of age and children 13 and under and seniors over 62 are free (ID required). Daily badges will cost you $5 for people 18 - 61 years of age on a weekday and $7 on weekends and holidays and $3 for teens 14 - 17 years of age daily. You may buy your badges at the Long Branch Recreation Office at 226 Broadway or the Tax Office at 344 Broadway Monday through Friday from 10am - 4pm. Seasonal badges are also available daily at the Morris Avenue Beach Office from 10am - 3pm. These prices are for Long Branch Municipal beaches, they are not valid at Seven Presidents Park.
Sandy Hook is a seven-mile stretch of ocean and bay beaches with lots to do for any age. All of their beaches are open and all parking lots, except for the F lot. The lifeguards are on duty from 10am - 6pm daily through Labor Day at the ocean beaches. Daily admission to the park is $15/Car. It's also a great place to bike, fish, hike, camp, boat or just have a family picnic. For the first time, you will even notice food trucks this summer at Sandy Hook. Like IBSP, Sandy Hook reaches capacity pretty quickly in the summer months and once they do they close the gates, so always remember to check before you leave and try to get there early.
With a newly-opened boardwalk, Belmar beaches are ready for summer! Seasonal badges will cost you $50/Adult (children under 15 are free) and $15/Senior. Daily badges are $7/Adult. Active members of the military and their families get free admission to Belmar beaches. Seasonal badges can be purchased at the Beachfront Office trailer at 5th and Ocean Avenues on the boardwalk between 9am and 4pm. Daily badges booths are located every few blocks along the boardwalk. Pre-paid parking cards can also be purchased. Parking is available along the boardwalk in metered spots that cost $1/hour.
Manasquan is a fun little beach town for vacationing families and locals alike. It is directly across the Manasquan Inlet from Point Pleasant. It does get quite crowded, so get there early for your spot in the sand. Seasonal badges will cost $70/Adult, $35/Junior (ages 12 - 16) and $25/senior (65 and over) and kids under 12 are free. Seasonal parking is available for $75/Car. Daily badges will cost you $8/Day. Seasonal badges and parking may be purchased at the beach office on the corner of East Main Street and First Avenue from 9am - 3pm. Parking is limited around the beach.
Where ever you plan to go this year, make sure to hit the beaches at the Jersey Shore. When you buy a beach badge (seasonal or daily), you are helping that town to rebuild their beach. So, grab the kids and take a day trip or a full-on vacation, but show your support this summer and help restore the shore!
Here are some other ways to help:
There are still many displaced Jersey Shore residents and struggling business all impacted by Super Storm Sandy. If you are willing and able, here are some ways to help restore our beloved shore.
The State of NJ has a volunteer hotline (800)-Jersey7 or email volunteer@gov.state.nj.us to get information on specific needs in different areas of NJ.