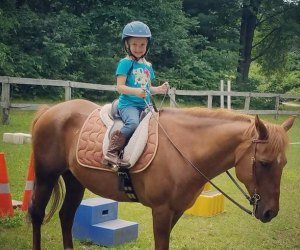 Horse Riding in the Greater Hartford Area
My now 6-year old daughter has been a horse-lover ever since her first pony ride at a town fair. After several casual rides she began begging me for "real" horseback riding lessons. Luckily, we live in a state that has the highest density of horses in the country, and the greater Hartford area has no shortage of options! Many of these locations offer private and group lessons as well as pony rides and birthday parties. Check out more equestrian camps in the Litchfield County area too.
Avon Valley Show Stables - Avon
This facility offers private, semi-private, and group lesson packages as well as summer camps. In addition, a Pony Pal package is offered for riders ages 4-6, and a beginner package is available for any age rider.
595 Waterville Road, Avon (860) 677-5260
Folly Farm Stables - Simsbury
Folly Farm offers private and group lessons for beginning riders as well as advanced competitors. Summer camps are also held, including a Tiny Trotters Program for ages 4-6.
75 Hartford Road, Simsbury (860) 658-9943
Well-A-Way Farm - Simsbury
Well-A-Way Farm offers lessons to students of all ages and riding levels through its Community Riding Program. Riders can also gain hands-on experience caring for the farm and horses through the Working Student Program for intermediate to advanced riders.
120 Terry's Plain Road, Simsbury (860) 651-7284
Hillside Stable - Glastonbury
Hillside offers a variety of equine services, from private and small-group horseback riding lessons to summer day camps for kids, pony parties, and pony rides. Pony rides are 15 minutes long (either for one child or split between multiple children) and by appointment only.
524 Bell Street, Glastonbury (860) 748-1894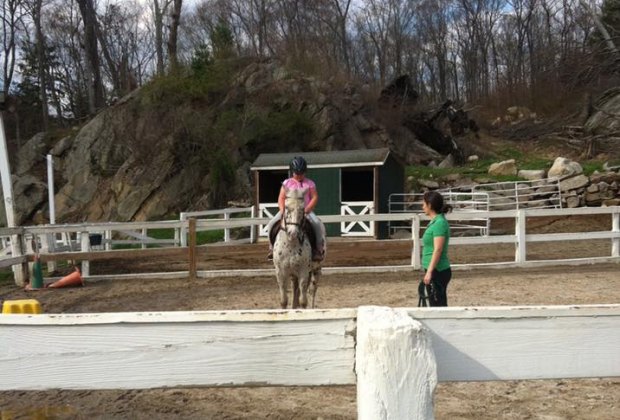 Hunters Run Stable - Glastonbury
Hunters Run offers private, semi-private, and group lessons as well as summer camps. Horse/pony birthday parties that include grooming, riding the ponies, and tractor rides are also available.
78 Hunter Lane, Glastonbury (860) 633-7685
Seven J's Farm - Glastonbury
Seven J's offers lessons and showing for all ages and levels of riding. It also has summer and winter programs that emphasize an educational, hands-on approach at the farm.
541 Griswold Street, Glastonbury (860) 633-9711
Maple View Horse Farm - Granby
Maple View Farm is a family farm that is home to cows, goats, pigs and chickens in addition to horses. Horseback riding lessons are geared to beginner riders. Summer horse camp is also available. The farm also has a self-serve store where you can buy grass-fed beef, pasture-raised pork, pastured eggs, and maple syrup.
198R Salmon Brook Street, Granby (860) 655-2036
Valkyrie Equestrian Center - Granby
Valkyrie offers a 6 session introductory package to help beginners learn how to groom and tack up horses in addition to mounted instruction. Summer camps are available for children beginning at age 6.
175 Barndoor Hills Road, Granby (860) 653-0288
Horsefair - Glastonbury
Riding lessons are available weekdays and weekends to children of all ages and abilities. Horsefair coordinates with Glastonbury Public Schools to bus over students after school as well. Mary, the instructor, has over 30 years of experience with horses
32 Montano Road, Glastonbury, CT 06033 (860)944-1181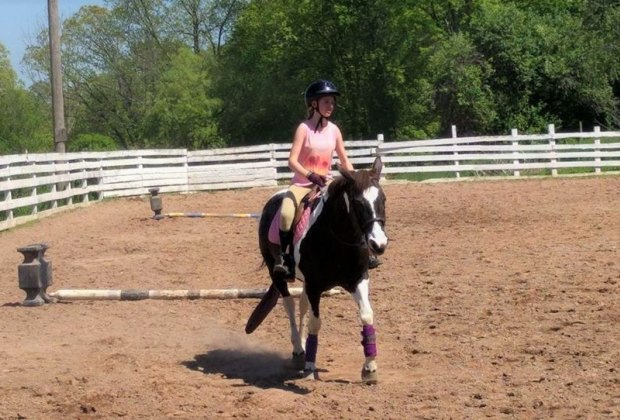 Ebony Horsewomen - Hartford
Ebony Horsewomen was founded in 1984 as the first African-American female equestrian organization of its kind in America. Today it is a full service equestrian and agricultural youth development organization with the goal of empowering urban youth as leaders through equine assisted learning programs and activities, equine therapy, and horsemanship training.
337 Vine Street, Hartford (860) 293-0039
Full Circle Farm - Manchester
A hunter and jumper riding facility with large arena and outdoor ring for training. All levels of riders are welcome for lessons with several different school horses. Head trainer and barn manager Kristen has many years of experience.
719 Birch Mountain Road, Manchester, CT 06040 (860) 798-7249
Shallowbrook Equestrian Center - Somers
Family owned and operated since the early 1960's, Shallowbrook offers lessons for kids and grown ups of all ages and abilities. Their location has two sand rings, a polo field, an indoor ring, and many school horses. Private,semi-private and group lessons available and riders can begin as young as 6 years old.
247 Hall Hill Road, Somers, CT 06071 (860) 749-0749
Double A Arabians - Somers
Double A offers horseback riding lessons and boarding for horses. Lessons are offers on any level of experience using several different methodologies including hunt seal, saddle seat, western and dressage. Lessons available Wednesday through Monday.
279 Watchaug Road, Somers, CT 06071 (860) 749-4797
End of Hunt - Suffield
Riders of all levels are welcome. End of Hunt offers lessons in dressage, hunter seat and combined. They even have a "Tiny Trotters" program for younger riders. Group and private lessons are available.
1360 Hill Street, Suffield, CT 06078 (860) 668-9990
Originally published 8/4/14.
Photos courtesy of the Jenny Coeja.