5 More Fun Winter Birthday Party Options in NJ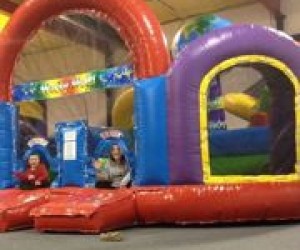 I've always dreamed of having fun backyard birthday parties complete with bounce houses, pony rides and an ice cream man, but alas, I have only winter babies whose party options are limited and always in danger of being canceled due to weather. Last February we told you about fun winter birthday parties for New Jersey children but here are 5 more options to add to our Birthday Party Guide, plus a brand new sneak peek venue!
Alstede Farms (Chester, NJ)
Well known for its harvest and Halloween activities, Alstede offers winter birthday options. Inside their heated tent, you can have bounce houses, pony rides and more. If you have a theme in mind (perhaps a hot chocoate bar?), they will work with you! Contact Alicia at alicia@alstedefarms.com to plan your party at Alstede.

Chuckle Time (Andover, NJ)
Chuckle Time is an indoor play space for children 8 and under. They offer 6,000 square feet of interactive play from slides to themed rooms. They also offer a parent lounge with free wifi where you can have a complete view of your child in action. 973-300-0455. Check out their party packages here.

Build N' Blocks (Livingston, NJ)
Does anyone besides me hate cleaning up Legos? Let Build N' Blocks clean them up! With help from the instructor, all kids can build cars and other structures using Lego Duplo or Lego Timeless pieces. Older kids assemble motorized cars and machines using K'nex construction toys. Patrons receive exclusive use of the facility, help with setup and cleanup, birthday games, and invitations and thank-you cards. Check out their Lego and other party options here. 888-959-BLOCKS(2562)

5 Diva Girls (Chester, NJ)
I pass 5 Diva Girls on my way to work and could stop by every day to purchase something fabulous! It is a unique boutique and indoor party space for girls of all ages. You can really customize your party, from a fashion show on a catwalk to a spa experience to a Twilight party -they offer party packages for every diva (and even dudes, too). They also have a parent lounge with free wifi. Check out all of their party options here. Email parties@5divagirls.com to set up your next party. 908-271-6633.

NJ Rock Gym (Fairfield, NJ)
NJ Rock Gym offers birthday party options for kids 6 and up. Check out all of their party packages here. Let them learn about and practice rock climbing in a totally safe environment and burn off steam at the same time! 973-439-9862

Insider information: ALL PLAY LLC recently opened in Hackettstown, NJ. It is an indoor play space and birthday party spot for children from 0-12. They have bounce houses, air hockey, obstacles courses and a toddler zone. For more info call 908-979-1770. Check them out on Facebook.