Great Small Towns in NJ: Red Bank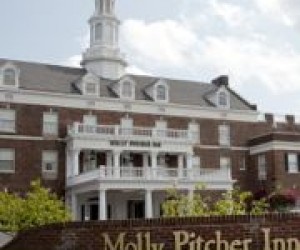 The next stop in our Great Small Town series is Red Bank. With an eclectic mix of small town charm and arts & entertainment mecca, Red Bank is the perfect destination for a New Jersey day trip. Located in Monmouth County, Red Bank is filled with restaurants, boutique shops, art galleries and parks. It's located on the Navesink River and just five miles from the Atlantic Ocean, so it's a short drive to several public beaches, including Sandy Hook and the Gateway National Recreation Area.
Outdoor Activities
Whether you're looking for a stroll in the park or a game of soccer, Red Bank had an adventure waiting for you.
Sitting on the waterfront is Marine Park (1 Marine Park), which boasts a fishing pier and boat ramp, marine-themed playground, a Shuffleboard court and tennis courts. East Side Park (272 Mechanic Street) features ball fields, basketball courts, tennis courts, a playground and a swing set.
During the winter festivities, the Red Bank River Center offers free holiday wagon rides every Saturday through downtown (Thanksgiving to Christmas). In the warmer months, downtown streets host free, live entertainment on the sidewalks. Streetlife kicks off in June and runs to August. Popular events also include the Oyster Festival, 12 Days of Christmas Scavenger Hunt, River Fest and the annual Street Festival.
The popular Annual George Sheehan Classic takes place every June with a series of races for kids and adults. This event also features a post-race family picnic and party.
The Galleria Red Bank Farmers Market (2 Bridge Avenue) offers fresh, locally-grown produce from some of New Jersey's finest farmers and also showcases unique crafts and other vendors. The market is open every Sunday from Mother's Day through November from 9:00am - 2:00pm.
Around Town
Strolling through Red Bank, you'll find a cool mix of collector's shops and retailers, historic sites, funky coffee shops, and of course, antique shops.
Red Bank is full of historic destinations full of rich garden state tales, including the Red BankTrain Station (Monmouth and Bridge Streets), the last remaining Stick Style station house and the Molly Pitcher Inn (88 Riverside Avenue), a historic hotel overlooking the Navesink River that was built in Colonial Revival style in 1928 and updated in the 1990s. Additionally interesting stops include the birthplace of Count Basie (Mechanic Street), the Dublin House (30 Monmouth Street) and Fortune House (94 West Bergen Place).
Red Bank Armory (76 Chestnut Street) is home to the popular ice skating rink. Featuring skating lessons, parties, and skill clinics, this indoor rink features a terrace that over hangs the ice surface for perfect viewing.
Yestercades (80 Broad Street) is "a gaming experience straight out of the Golden Age of Gaming!" From Pac Man to pinball, this class arcade will fill you with nostalgia while entertaining the kiddos. To step in time even further, stop by Jack's Record Shoppe (30 Broad Street) to browse multiple aisles of musical assortments. For the little collector's, Monmouth Stamp & Coin (38 Monmouth Street) is the perfect destination.
For family artistic activities, stop by A Time to Kiln (50 Broad Street), a family-friendly pottery studio where you can create paint your own masterpiece, mosaic or stuff-a-critter.
Two River Theater Company (21 Bridge Avenue) offers great America theatre choices. From classic plays to a brand new performance, this art sections also hosts numerous artist residences, workshops and readings. Future shows include The Very Hungry Caterpillar and Other Eric Carle Favorites and A Little Shakespeare. Two River also offers a theatre camp for grades 1-12. The Count Basie Theatre (99 Monmouth Street) caters to the adult crowd, but does offer child acting and performance classes.
Jay & Silent Bob's Secret Stash (35 Broad Street) is well known to fans of the AMC Reality TV show 'Comic Book Men' or anything Kevin Smith. This comic book shop is stuffed with movie memorabilia and props. Another Red Bank staple is Toad Hollow (9 Monmouth Street). A "whimsical gift store for all ages" featuring toys, games, pet gifts and holiday decorations. For athletic gear, stop by the Red Bicycle Shop (27 West Front Street) and Lacrosse Unlimited (58 Broad Street).
Eating out
From fine dining to child-friendly pizza joints, Red Bank offers oodles of options. That Hot Dog Place (30 Monmouth Street) and Jr.'s Burgers (17 W Front Street) are great options for lunchtime. For a unique experience, try Carlos O'Connor 's Mexican Restaurant, SugarRush (37 E Front Street) or Birravino (183 Riverside Avenue).