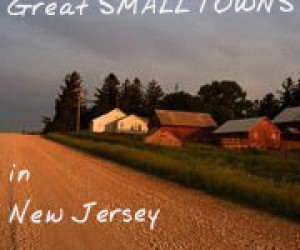 Great Small Towns in NJ: Chester
Every time I saw Lorelai and Rory Gilmore stroll the streets of Stars Hollow I felt a ping of jealousy. This picturesque small town may have only been located on TV, but its local restaurants, town center, quirky shops and hopping Main Street gave it a remarkable hometown charm. New Jersey is home to many of the country's oldest communities, so today we start a new series on Mommy Poppins New Jersey, "Great Small Towns in NJ". With summer destinations like Cape May, distinctive college towns like Princeton and more, the garden state represents small town USA from Sussex County down to Salem County.
Tucked away in the northern part of the state is Chester Township. An all-American town with rich history, Chester's antiques shops, small businesses, thriving schools and expansive park system make this Morris County settlement a popular gem. Focused on community events, Chester hosts a weekly farmer's market, multiple craft fairs, free gazebo concerts, holiday tours and recently launched a community garden. From the Black River Candy Shoppe to ImagiNations Boutique, more than 80 unique shops and restaurants reside in its historic quarters.
Explore Chester's Landscape
Chester is home to several historic parks and fantastic hiking trails. This year, the township will once again host its Chester Hiking Series. With more than eight guided events, this program introduces different and underutilized trails throughout town. Participants must pre-register, but all events are free to the public.
A hidden treasure, Willowwood Arboretum (Long View Road) showcases its beautiful floral gardens spring through fall. During the winter months, visitors can enjoy the evergreen and deciduous plants. This free park is open daily from 8:00am to dusk with special events planned throughout the year, including Mother's Day events and the annual Lilac Party.
Kay Environmental Center (200 Pottersville Rd) is home to a beautiful butterfly garden and hiking trails through meadows and woodland areas. Among the many habitats at the Kay Center is a hardwood forest with trails that follow along Black River.
Bamboo Brook Outdoor Education Center (Long View Road) offers walking trails, fields and various historic structures, most notably the Hutcheson House and its formal garden pool.
Visitors to Cooper Gristmill (66 State Rt 24) can watch the massive water wheel power shafts and gears that turn 2,000-pound mill stones as the master miller explains the history of the mill and the vibrant community once called Milltown.
Additional parks include Chubb Park (Route 24), Tiger Brook Park (Cooper Lane), Evans Family Forest Preserve (Willow Drive), Highlands Ridge Park (County Highway 510), Mount Paul Memorial Park (Route 24) and Hackelbarney State Park (State Park Road).
Chester's Pick Your Own Farms
Apple and pumpkin picking season is amongst us and Chester is home to some of the area's best pick your own farms.
Alstede Farms (84 County Route 513) is open daily from 9:00am to 8:00pm. Admission is $5.00 per person, which includes a scenic hayride to the picking area. Children two and under are free. A great location for children, this stop includes a giant corn maze, pony rides and bounce house.
Riamede Farm (122 Oakdale Road) was the first pick-your-own apple orchard in New Jersey when it opened its doors in 1974. "A peaceful, quiet old-time apple orchard with a pumpkin field out back," is the ideal setting for a quiet family day. Open daily 9:00am to 4:30pm. Hayrides are available on weekends only ($1).
Hacklebarney Farm Cider Mill (104 State Park Rd) offers pick your own pumpkins, cider pressing demonstrations, homemade baked goods and a corn maze. Open Thursday through Sunday from 10:00am to 5:00pm.
Stony Hill Gardens & Farm Market (15 North Road and 8 Route 24) not only offers pick your own pumpkins and seasonal fresh produce, but is also home to the Stony Hill Maze Fun Park. Corn mazes + fence mazes + rope mazes + tile mazes = hours of fun your brood.
Out and About in Chester
The Black River Playhouse (54 Grove Street) produces five plays each season by the Chester Community Theater Group.This season opens with Bruce Graham's Moon over the Brewery. Tickets run $18-$24 for general admission.
Chester Antique Mall (427 Route 24)is a group shop of 30+ dealers featuring a broad selection of furniture, glass china, art pottery, paintings, prints and primitives. This superstore is open Tuesday through Saturday from 10:30am to 5:00pm and Sunday 11:30am to 5:00pm.
While in the area, make sure to stop by one of the local eateries. The Publik House (111 Main Street), Sally Lunn's Tea Room (15 Perry Street), Redwoods Grill and Bar (459 Main Street) and Fresco Mexican (137 East Main Street).