Great Small Towns in New Jersey: Ocean Grove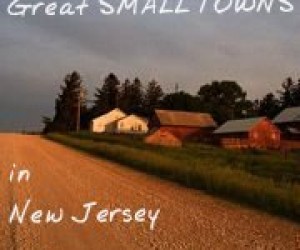 Located in the center of NJ, Ocean Grove brings small town living to the Jersey Shore. At just one square mile, it's a family friendly town that offers relief from the crowds, noise and commercialism that can be found at other beaches. With its gingerbread cottages and quaint main street, Ocean Grove has a 1950's feel that makes it a great destination for families year round. For information on great small towns in North Jersey, check out our posts on Millburn, Nutley and Chester.
Of course, the biggest attraction in this tiny town is the beach. Voted one of the top 15 beaches in the world by Fodor's, the beach in Ocean Grove is pristine. It is the perfect place to take a long walk or relax while the kids play in the surf. Summers are filled with fun beach activities such as a sand castle contest, boogey board and inner tube races, volleyball games, kite flying contests and more. Plus, dogs are allowed on the beach in the off season.
Take a stroll through the beautiful tree lined streets. Ocean Grove, which is listed on the National Register of Historic Places, features more Victorian gingerbread homes than any other place in the United States.
Visitors can learn about Ocean Grove's rich history at the Centennial Cottage, the historical society of Ocean Grove's living history museum. Built in 1884, the Cottage allows guests to gain an understanding of what life was like in the 19th century in this seaside resort community.
Guided walking tours feature visits to a variety of historic buildings. The tour also takes you to the famous Great Auditorium. Built in 1894, the Great Auditorium is the largest enclosed auditorium in New Jersey. It is used for Sunday services in the summer as well as a variety of concerts and exhibitions. Finally, a tour of Ocean Grove wouldn't be complete without a stop to the historic tent colony. You will see what it is like to live in one of the 114 remaining tent cottages that date back to 1869.
Shopping
Ocean Grove's Main Avenue is home to a wonderful array of unique stores. Stop in Gingerbread's Tea and Treasures, a boutique that features "all things Victorian", or try on some beautiful necklaces at Fusion Jewelry, which offers collections of hand made jewelry that meld metal, stone and glass. You can even find the perfect accessory for your dog at the Ocean Grove Pet Boutique. With book stores, clothing boutiques, bath shops and art galleries, there is something for everyone.
Dining
Ocean Grove is home to a variety of eateries that range from informal cafe's to fine dining restaurants. For a casual meal, stop at Nagle's Apothecary Cafe. Formerly a pharmacy, it now serves breakfast, lunch, dinner and ice cream. Antique pharmacy equipment including mixing bottles and scales are enclosed behind glass adding a nostalgic feel to the restaurant. Fresh bakeries like Daily Bread and the Ocean Grove Bake Shoppe carry specialty desserts and sandwiches and will even deliver lunch to the beach. Some dinner options include the Seagrass Restaurant, which prides itself on its local, fresh American dishes, and Bia, located at the Majestic Hotel, which offers both lunch and dinner menus with a European flair.
Upcoming Events
Upcoming events in Ocean Grove include Chocolate Lovers Weekend (March 22-23), The Spring Fling Arts and Crafts Festival (May 3), a vintage car show (May 17) and a giant spring flea market (May 31). During the summer months, Ocean Grove hosts a 4th of July parade as well as an annual house tour and craft show. Holiday events include a Halloween Parade, a Fall Harvest Festival and a Victorian Holiday Festival.
Nearby Ocean Grove
Visit the neighboring town of Asbury Park for a beach town with a totally different vibe. The boardwalk in Asbury Park features a great selection of restaurants. There are also fun shops, a kids sprayground, pinball arcade and the historic Convention Hall.