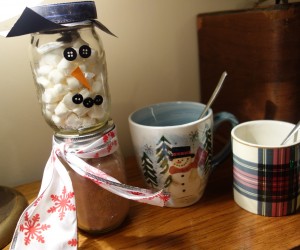 Free Holiday Craft Workshops for Kids in Westchester
One of the greatest hallmarks of the holiday season is the personal touch we can create. This month, a number of workshops are being offered throughout Westchester that help children create their own handmade treasures—all of which are FREE (as an added gift!).
Read on for some nifty ways for kids and their grown-ups to get crafty this holiday season. And be sure to check our December GoList and our Event Calendar for even more ways to enjoy the holidays with kids!
Holiday Stacking Blocks – New Rochelle, Yonkers and Port Chester
Saturday, December 5, 2015
Join this hands-on workshop and build festive holiday stacking blocks. Then, practice your design skills by decorating your project with fun stickers and a variety of paint colors.
Christmas Ornaments – Peekskill
Saturday, December 5, 2015
Add a personal touch to your Christmas tree this year with a homemade ornament and participate in a holiday decorating party.
Diwali Crafts - Pelham
Saturday, December 5, 2015
Try this program that offers instruction in making folk art crafts to celebrate the Festival of Lights.
Chanukah Crafts – Peekskill
Wednesday, December 9, 2015
Celebrate the festival of lights with crafts, dreidels and snacks.
3D Seasonal Decorations – White Plains
Thursday, December 10, 2015
Take your holiday decorations to the next level with this high-tech workshop.
Snowman Craft - Larchmont
Thursday, December 10, 2015
Enjoy snowy children's stories and then create a whimsical puffy-paint snowman.
Christmas on the Farm - Katonah
Saturday, December 12, 2015
Experience farm life with cookies, punch and holiday crafts. Don't rush off before you enjoy chestnuts roasted over an open fire.
Winter Wildflower Arrangements - Rye
Saturday, December 12, 2015
Bring your own vase and you'll learn how to create a beautiful table decoration from the countryside.
Gingerbread Houses - Rye
Saturday, December 12, 2015
Show off your construction and culinary skills by building a gingerbread house that may (or may not) be too pretty to eat!
Homemade Gifts for Tweens - Bronxville
Thursday, December 17, 2015
Spread holiday cheer by making sweet and simple handmade candles and coffee mugs.
More Gingerbread Houses - Peekskill
Thursday, December 17, 2015
Use your imagination (and plenty of candy!) to assemble your very own gingerbread house.
T-Shirts for Teens - Rye
Saturday, December 19, 2015
Looking for that perfect holiday gift? Restyle your old T-shirts into a trendy present for friends, family or even your favorite doll!
Nature Lover Ornaments - Yonkers
Saturday, December 19, 2015
On a budget? Save money this year by making beautiful ornaments to adorn your house.
Holiday Decorations from Nature – Pound Ridge
Saturday, December 19, 2015
Create ornaments with natural items just in time for the holidays.
This was originally posted in 2014 and has been updated for 2015.