Family Friendly Train and Trolley Rides in Fairfield County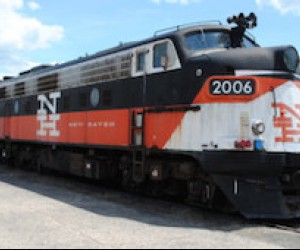 With summer in full swing, it's a treat to explore all that Fairfield County has to offer. You're probably busy working through our Ultimate Summer Play List, but if you've got a train lover in the house, you'll definitely want to check out all the ways you can ride the rails and learn about the rich history of railways and trolleys in our area. All aboard!
At the Danbury Railroad Museum you can take a ride on the Rail Yard Local, which is a 20 minute tour of the Danbury Rail Yard complete with a spin on their working train turntable. The museum also has an extensive collection of railway memorabilia, classic rail cars, model trains, and a well stocked gift shop.
Danbury Railroad Museum, 120 White St, Danbury, CT 06810, (203)778-8337
Metro North
might be the bane of your existence when you need to get to work, but commuter trains can be tons of fun for little train lovers. You can enjoy an easy, 20 minute trip from Stamford to New Canaan when you ride the
New Canaan extension. This train, which runs about once an hour, is not crowded at all during off-peak hours. $5 gets you a round trip ticket and for $2 more, you can purchase a Family Fare ticket which is good for up to 4 children ages 5-11. When you get to the final stop, check out all the places we've listed for you to see in
New Canaan
before you head back.
The SoNo Switch Tower Museum does not have a train you can ride, but it's a very interesting place to learn about trains, signals and switch towers. To get to this museum, you need to climb up a set of steep outdoor stairs to the tower, which was built in 1896. The museum is on two levels and features historic details such as the huge levers that operators would throw to switch a train from one track to another. You can look directly out onto the tracks through big picture windows and experience the thrill of trains flying by at eye level. After the Switch Tower museum, head over to the Maritime Aquarium or SoNo Marketplace.
SoNo Switch Tower Museum, 77 Washington St, Norwalk CT 06854, (203) 246-6958.
Harbor Point Trolley
is a free
,
thirty minute loop through Stamford's South End and downtown. You can hop on and off and enjoy some of the many things to do in Stamford that we've listed for you
here
. You can even track the trolley in real time on Harbor Point's
website
.
Boothe Memorial Railway Society, 5800 Main Street Putney, Stratford, CT 06614, (203) 378-1878
Roaming Railroad
brings the train to you! Available for parties and events, the Roaming Railroad offers a trackless train ride with train-themed entertainment, comedy and songs. While having your own train for the day can get a little pricey, it might be worth the expense if it makes your train lover's dreams come true.
Roaming Railroad, (413) 531-3390
If you're itching to explore outside of Fairfield County, there are a lot of great train and trolley destinations throughout the state:
Railroad Museum of New England, 242 E Main St Thomaston, CT 06787 (860) 283-7245
Connecticut Trolley Museum
. This is the oldest trolley museum in the U.S. For the price of admission, you can take an unlimited number of trolley rides on a scenic, 3 mile loop. Great seasonal events, too, like
Winterfest
.
Connecticut Trolley Museum, 58 North Road, East Windsor, CT, (860) 627-6540
Shore Line Trolley Museum
is home to one of our favorite Halloween activities,
The Haunted Isle
. This museum also has over 100 historic trolley cars and offers daily rides. You can even sign up to be a Guest Operator and drive up to 3 people for a private ride on the tracks.
Shore Line Trolley Museum, 17 River St, East Haven CT, 06512, (203) 467-6927
Essex Steam Train & Riverboat Ride, One Railroad Ave, Essex CT, 06462, (860) 767-0103
The
Connecticut Eastern Railroad Museum
not only offers guided tours of the museum, but kids (of all ages) can also operate a replica 1850's-style pump car along a small section of track.
Connecticut Eastern Railroad Museum, 55 Bridge St, Willimantic CT, 06226, (860) 456-9999