Family-Friendly Pizza Places in Central New Jersey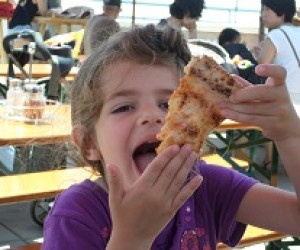 Who doesn't love pizza? It's tasty, easily accessible and comes in varieties that'll satisfy the pickiest palates. Pizza night at your favorite pizzeria makes for a fun and inexpensive family outing. With tomato sauce and perhaps a veggie topping, you can even count it as somewhat nutritious (I do). The following are family-friendly pizza joints in Central New Jersey. Aside from yummy pies, these places offer child-friendly options like kid portions, quick service or gimmicky fun, without noise being a factor. Grab a slice and enjoy!
CiCi's Pizza (North Brunswick and Howell, NJ)
Eat all the slices you want, and then some, at this unlimited, and budget-friendly, pizza buffet. Choose from over 28 varieties, including buffalo chicken, bacon cheddar or mac and cheese (my kids' top pick). If your kids don't see their favorite slice, ask the staff to whip some up. You can even eat pizza for dessert, with concoctions like apple dessert pizza or Bavarian dessert pizza. The kids will enjoy choosing their favorite pizza flavors and hopefully leave without tummy aches. (732) 640-2272 North Brunswick or (732) 370-7090 Howell.

Alfonso's Trattoria (Somerville, NJ)
Delicious pizza and traditional Italian dishes make this eatery one of the most popular in Somerset County. The lunch and dinner menus offer unique varieties of pizza like Eggplant Parmigiana and Spinach Ricotta, as well as classic toppings like pepperoni and meatball. The menu even includes gluten-free pizza. Large portions of classic Italian pastas and entrees are also popular selections, with smaller portions offered on the kid menu. Outdoor seating makes Alfonso's a nice choice for a summer family outing. Check the website for promotions, such as half-price entrees on Monday and Tuesday. (908) 526-0616.

Ciccio's Pizza (South Plainfield, NJ)
A favorite among the locals, Ciccio's serves up pizza with traditional toppings, or creative ones, such as bacon and tomato or, my personal choice, the salad with chicken topper. The tasty calzones and entrees are big enough to share or bring home leftovers. If you have a finicky eater, hamburgers, or a more imaginative pizza burger, are also available. Located in a strip mall, ample parking is a plus. Coupons are available on the website. (908) 753-4060.

Chimney Rock Inn (Bound Brook, NJ)
The lively pub atmosphere makes Chimney Rock a great place for families. The thin crust pies, with varieties like buffalo chicken and grilled veggie, are a favorite among patrons. If you're extra-hungry, order the 18 inch Whopper Pie for the family, and pile on all the toppings you wish. For the health conscious, choose the gluten-free or whole wheat pizza. The menu features other comfort foods, like sandwiches and burgers, and the kids menu includes standards like hotdogs and chicken tenders. While noise isn't an issue, the big crowds can be. Come early or at an off-time if waiting isn't your family's thing. (732) 469-4600.

Papa's Tomato Pies (Robbinsville, NJ)
Established over a century ago, this Mercer County institution is the oldest family-run pizzeria in the county and a renowned tourist destination. The thin crusted pizza comes in traditional varieties like mushroom, sausage or ricotta. If you're feeling adventurous, try out the famous mustard pie, with mustard baked in the crust. Papa's also offers pizzeria staples, like pasta, soup and sandwiches, and the kids can order chicken fingers and fries with Italian ice for dessert. Take note that only cash is accepted, and check out the website for daily specials. (609) 208-0006.

OMG MYO Pizza (Howell, NJ)
Have a blast crafting a pizza at this unique create-your-own establishment. Your family chooses the ingredients, and the pizza chefs put together your masterpiece. While the creative juices are flowing, top off the meal with make-your-own sundaes or cupcakes. Plan to spend some time since toys and video games are also part of the experience. See the website for awesome birthday party packages. (732) 961-3090.