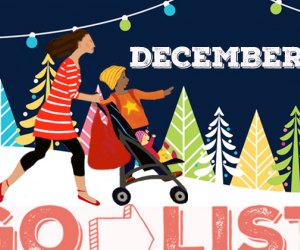 December GoList: Best Holiday Events and Activities for LA and OC Kids
Don't forget to check our daily calendar and our weekly newsletter, too, to stay on top of all the end-of-year fun!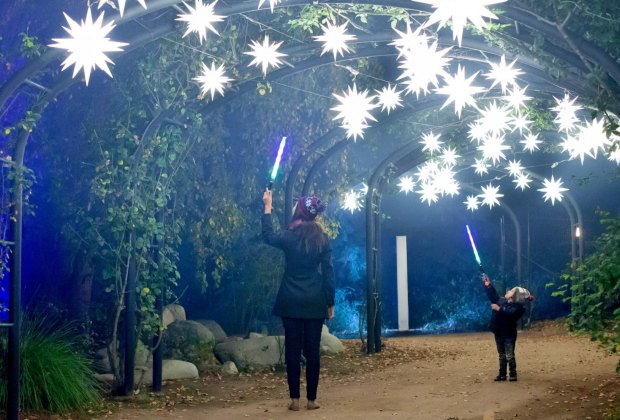 The Enchanted Forest of Light. Photo courtesy of Descanso Gardens
Enchanted Forest of Light
Through January 6, 2019
This year marks the third year that Angelenos have enjoyed the holiday treat of feasting their eyes upon creatively lit woods at Descanso Gardens. The Enchanted Forest of Light is a mile-long evening walk through a rustic holiday lights display that has become one of the region's must-do holiday events.

Hollywood Christmas Parade
December 1, 2019
The Hollywood Christmas Parade forms the epic climax of Thanksgiving weekend in LA and offers a dazzling start to the holiday month. Another bucket list item, one of these years you must do it; perhaps 2019 will ring your bell, with Grand Marshall Mario Lopez?
Dana Point's Boat Parade of Lights
December 6-14, 2019
If there's one thing that says Christmas in LA, it's holiday boat parades. We could easily fill this month's GoList with all ten area boat parades, but that wouldn't leave enough room for all the rest of the month's fun—so we'll limit ourselves to just a couple. What makes Dana Points stand out for families is the age of the judges—who are between the ages of six and 12.
Queen Mary Christmas
through January 6, 2019
The vintage cruise ship at the heart of Long Beach has taken a new approach to the holidays this year. All of the festive activities are on board the ship—even the ice rink—meaning everything comes with a heart-warming view and side of nostalgia.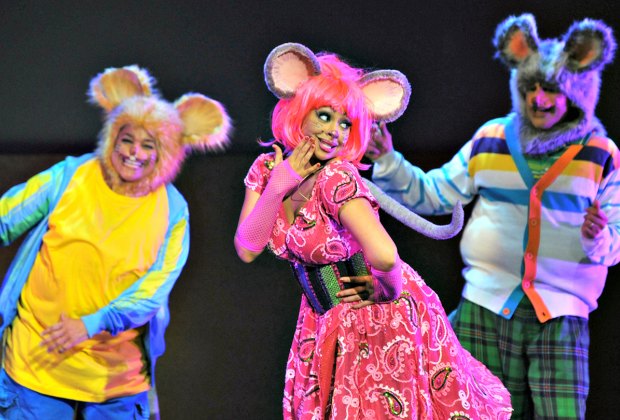 This is not your mama's Nutcracker. Photo courtesy of Debbie Allen's Hot Chocolate Nutcracker
Debbie Allen's Hot Chocolate Nutcracker
December 5-8, 2019
Go on, sing a verse; we can wait. It's hard to hear Debbie Allen's name without launching into a verse of Fame, and her Hot Chocolate Nutcracker has quickly become a classic stop on the LA holiday scene. In fact, it already feels like it's going to live forever, people will see it and cry —the whole works. There are oodles of other Nutcracker options, of course, for traditionalists.
Disney on Ice: Mickey's Search Party
December 12, 2019 - January 5, 2020
Disney brings an all-age-pleasing ice extravaganzas through the Southland this time every year, and it never fails to delight. The exciting cast addition this year is Coco's Miguel, joining the usual crew of Disney princesses and mice on figure skates—what's not to love? Performances start at Staples Center, continue at Anaheim, and Long Beach, and carry on into the new year at Ontario.
Marina del Rey Boat Parade
December 14, 2019
OK, one more boat parade. The Marina's boat parade offers LA's most centrally located collection of floating light displays, preceded by fireworks over the water. That means more lights to see per mile driven—and time left over to drive by some landlubber lights on the way home.
Newport Beach Boat Parade
December 18-22, 2019
Indulge us in one last boat parade, if you will. The Newport Beach aquatic light display has been going for well over a century, making it the oldest boat parade in the country (unless the Pilgrims were getting up to things we don't know about).
Lythgoe Family Panto's A Snow White Christmas
December 13-22, 2019
Pasadena's Lythgoe Family pantos have become so much a part of the Southland's holiday scene that it just wouldn't feel like Christmas without one. The company has a knack for finding rising talent: this year's production stars Olivia Sanabia (Coop and Cami Ask the World, Just Add Magic) as Snow White. The celebrity-studded, tongue-in-cheek, British style holiday musical fairy tales are art form that needs to be experienced—annually, preferably. (A production of Peter Pan and Tinker Bell: A Pirate's Christmas runs at the Laguna Playhouse throughout the month).
60th Annual L.A. County Holiday Celebration
December 24, 2019
This is the thing to do on Christmas Eve in this town, and it's entirely free right down to the parking. Choirs, dance troupes, and musical ensembles from a variety of LA's neighborhoods and cultures present holiday entertainment in a three-hour family holiday extravaganza at the Music Center.

Lend a hand with flowers and petals and help make the Rose Bowl floats in Pasadena. Photo courtesy of Tournament of Roses
Equestfest
​December 29, 2019
One of the greatest treats of the holiday season for our family is always Equestfest, the Los Angeles Equestrian Center's annual comfy peek at the Rose Parade (comfy because it doesn't involve camping out in Pasadena). Horses and riders come from all over the country to participate in the parade, and they join forces to offer an equestrian preview performance in the ring at Burbank's horse heaven.
Rose Bowl Parade, Float Decorating, & Viewing
December 29, 2019 - January 2, 2020
Speaking of bucket list items and pre-dawn trips to Pasadena, of course there's the parade itself, including float decorating beforehand and close-up viewing afterward. One of these years you really need to; why not this year?
Have fun - and if you'd like more ideas, subscribe to our weekly events newsletter, which gets you ready for the weekend each Thursday!