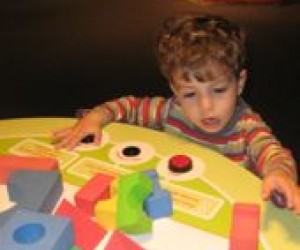 Day Trips and Mini-Camps for Christmas Break in NJ
We've already told you about some fun things to do with the kids next week when they're home with you 24/7, but we have a few more up our sleeve, everything from special stuff you can do together to cool spots where you can drop them off and enjoy some alone time. Read on for our top picks, including museum adventures, day trips and several mini-camps to keep 'em busy.
Adventure Aquarium's Christmas Celebration (Camden)
Nov 23-Jan 1, 10am-5pm
Take the kids to Adventure Aquarium for some aquatic-themed holiday fun—there are plenty of activities to keep them entertained all day long. Check out Scuba Santa, who appears daily in an exciting live show, or head to the Rotunda for Gill the Shark's Holiday Dance Party, a musical celebration including colorful lights, festive music and even snow! The Aquarium itself is transformed into a winter wonderland—visit all the sea creatures in their beautiful home, decorated festively for the holidays with oversize decorations, glowing lights and sparkling trees. General admission is $23.95 for adults and $17.95 for children 2-12. Children under 2 are free.
Bricks 4 Kidz Winter Camp at Small Factory (Fair Haven)
Dec 26-28, 1-4pm
Got a LEGO lover on your hands? This Space Adventures Camp is sure to keep them engaged—campers will learn about space exploration and build their own LEGO models inspired by NASA. Other planned activities include video games and interactive group games to spark the imagination, plus all kids take home their own custom mini-figure. The camp is for kids ages 5 & up, and costs $129 per child ($45 for individual days). Please call 732-212-1088 for more information and to register.
Winter Soccer Camp (Hoboken)
Dec 26-28 or Dec 29-31, 9:30am-12pm
Keep your kids active and entertained at Super Soccer Stars' Holiday Camps—you can choose to register for one or two three-day sessions. Young athletes will learn basic soccer techniques through skill-building activities and games. They'll also participate in fun arts and crafts projects. The camps are offered in two age groups: 2.5-3 years and 4-5 years. The cost for each session is $180 and you can enroll in advance online.
Toyland Family Festival at Morris Museum (Morristown)
Dec 27, 11am-4pm
Make like an elf at this toy-making festival—kids can create puppets, design gingerbread dolls and craft stars, along with other holiday toys. View toys from the 1800s in the museum's Guinness Collection and check out their 40ft model train display. Admission is free for members and costs $7 per child and $10 per adult for non-members. The Morris Museum is also hosting Vacation Day Workshops on December 28 and 29—please visit their website for more details.

Pop-In Playtime at Pump It Up (Piscataway)
Dec 27 & 28, 11am-4pm; Dec 29 & 30, 10-11:30am
Starting to go stir-crazy after being stuck in the house for days? Take your gang over to Pump It Up and let them run wild! They're offering pop-in playtime on four different days over break—your kids can bounce, slide, climb and jump on the inflatables during each 90-minute session. The cost is $10 per child and reservations are suggested. Please call 732-572-7867 to reserve a spot. Note: Children must be at least 34" tall to participate. Socks and a signed waiver are required before playing.
Wild About Winter Mini-Camp (Chatham)
Dec 27 & 28, 9:30am-12pm
The Great Swamp Outdoor Education Center hosts this mini-camp, featuring games, stories, crafts and activities that explore nature. Children will learn how animals keep warm during the winter months and walk through the forest keeping an eye out for animal signs. This is a great way to keep them busy and burn off some energy! The camp is for kids ages 5-8 (kids ages 2-4 can attend from 10-11:30 with an adult). The cost is $15 per day for ages 5-8, $10 per day for ages 2-4. Registration is required—please call 973-635-6629.

Holiday Fun Days at Newark Museum (Newark)
Dec 28-30, 12:30-4:30pm
Did you know you could dance, play music, create art and even break something at a museum? Check out these activities and more as the Newark Museum presents the "Top 10 Things You Didn't Think You Could Do at a Museum." Kids can take part in a scavenger hunt, play computer games, or watch movies such as The Nightmare Before Christmas and Miracle on 34th Street. Museum admission is $10 for adults and $6 for children.
Liberty Science Center's 12 Days of Science (Jersey City)
Dec 21-Jan 1, Hours vary
This annual celebration of science features hands-on activities, live events, movie screenings and more. Special shows include BubbleMania, an entertaining act that explores bubbles of unusual shapes and sizes, and Penguin Pointers, a chance to learn all about penguins and even meet one up close. Arts and crafts projects are perfect for the younger set and movie screenings include The Gruffalo's Child and The Polar Express. The schedule of activities varies daily—please check the website before heading out. General admission is $16.75 for adults and $12.50 for kids 2-12. Some 12 Days of Science events cost an additional fee (movie screenings, Atka the Wolf, BubbleMania). Closed Christmas Day.
New Year's Ball at Imagine That!!! (Florham Park)
Dec 28 at 10:30am, 12:30pm, 2:30pm; Dec 31 at 10:30am, 12:30pm
Celebrate the impending New Year in style with festive crafts at this super-fun museum for kids. Each child will receive a countdown ball to decorate, as well as a party hat and horn to ring in 2013. After the party, be sure to stay and explore the museum's many interactive exhibits, including favorites such as the grocery store, music room and pirate ship. Tickets are $11.99 per child and $7.95 per adult, if purchased in advance. Please call 973-966-8000 to reserve your spot.