Clearwater's Great Hudson River Revival is a Family-Friendly Music Festival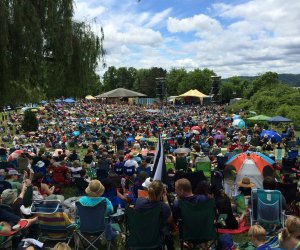 Since its inception over 50 years ago, Clearwater's Great Hudson River Revival (a.k.a. the Clearwater Festival) has grown from a small nomadic folk gathering into a massive annual environmental celebration. Founded in 1966 by Toshi and Pete Seeger, the Clearwater Festival draws thousands of visitors to the shores of the Hudson River for a family-friendly weekend of music, dance, storytelling, theater, hands-on learning, water activities, arts and environmental education in Croton-on-Hudson's Croton Point Park.
All proceeds from this groundbreaking festival—which made our June GoList—go directly to protecting, preserving and sustaining the river through the Hudson River Sloop Clearwater, Inc. nonprofit organization. After taking last year off, the 2017 fest is returning June 17-18, and it's a great way to teach kids about protecting our planet while having a lot of fun.
Looking for even more summer festivals? We've got you covered! Be sure to follow us on Facebook too.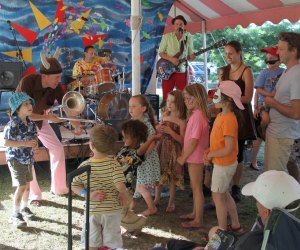 There's no shortage of family-friendly music at Clearwater. Photo courtesy of Jim, the Photographer via Flickr.
The Clearwater Festival was the very first outdoor music festival we took our daughter to when she was just about a year old. Describing the Clearwater Festival as family-friendly is an understatement; it is difficult to pinpoint any parts of the weekend that would not be ideal for children of any age. Children are welcome in all areas of the festival and are most commonly seen dancing wildly (and often barefoot) around the edges of the audience.
There are several parts of the festival that are designed particularly with children in mind. The first, and most obvious, is the Family Stage. One of seven separate performance areas, this area offers performances geared towards families with young children. Expect lots of singalongs, audience participation, storytelling, silliness and dancing.
Located right next to the Family Stage is the aptly named Children's Area. When little ones get tired of sitting (or dancing) in one place, there's face painting, mask-making, bubble blowing, hair wrapping, crafting and all manner of fun to be had. The area is fully staffed with volunteers who will help kids with their creations, though this is not a drop-off area. Kids must have a parent or guardian with them.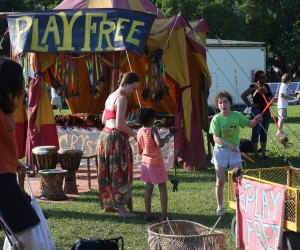 Past festivals have included instrument petting zoos for kids. Photo courtesy of Jim, the Photographer via Flickr.
On the other side of the park, along the water's edge, get your feet wet and join Hudson River environmentalists and volunteers for beach combing and river seining. Use a variety of nets both large and small to catch and meet some of the creatures who make their homes in the Hudson River. Kids will be able to catch, study and release local specimens. Learn about the stones, plants, shells and riverwood that wash up on the shores of the Hudson every day.
Still looking for more? Good, because there's still plenty to see! Expect to see amazing jugglers, clowns, mimes, acrobats and storytellers. The Sloop Clearwater and the Schooner Mystic Whaler will also be doing short sails throughout the weekend. Even the main-stage performers are likely to include family favorites in their sets.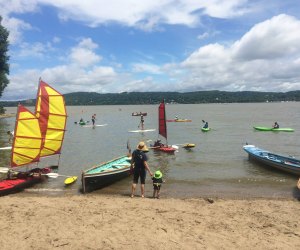 Don't miss all of the river attractions!
What to Know Before You Go
Children under 12 years old are FREE and all tickets can be purchased here.
Parking and traffic will be CRAZY. Get there early and be prepared to wait to park. Parking in Croton Point Park is limited and will cost $10. Parking at the Metro-North station will cost $5, and a free shuttle will take you into the park. Mass transit is highly recommended—in fact, there is a discounted Metro North Package from most train stations on the Hudson Line. Park in a town just north or south of Croton and take the train to the shuttle. You'll thank me when you don't have to wait on line to get in.
Pack plenty of sunscreen and water. Shade tents are allowed in some areas of the fair grounds. Our favorite trick—pack a small cooler full of ice, spray bottles and wet washcloths. These are invaluable for cooling down little people.
Plan for snacks. Outside food is allowed in, and there are also a lot of food vendors. Vegetarian and vegan food is plentiful, as is food for omnivores. Kids will love the ice cream and other treats available from the food and farm market vendors.
Bring a blanket or two to sit on (we always leave one blanket at the main stage and one at the family stage). Once you claim a spot with your blanket, feel free to wander around the grounds. The festival rules state that other visitors may sit "respectfully" on your blanket while you are away, but must relinquish it when you return. The same goes for you; if you find an open space, feel free to use it! We've made some great friends this way!
Whatever you do, don't miss the American Sign Language interpreters stationed at the sides of the stages. They interpret the music for hearing impaired guests, and they are a treat to watch. Their movements are so expressive that their performances truly lend meaning to the songs and stories.
This festival strives to be a "Zero Waste" event. Plan to compost, recycle or carry out the majority of what you carry in.
Porta-potties will be available, in addition to park's normal restrooms. For diaper changes, plan to bring a towel or changing pad and find a shady corner or use the pull down table in the bathrooms near the playground or beach.
If everything that the Clearwater Festival has to offer is still not enough, don't fret. There is not one but TWO playgrounds located on the festival grounds, as well as a swimming beach, kayak rentals and hiking trails.
For even more information on what to bring, check out the Clearwater Festival's handy What To Bring section on the festival's website.
The 2017 Great Hudson River Revival takes place Saturday, June 17 and Sunday, June 18, at Croton Point Park. Gates open at 9am. The festival is easily accessible via Metro North.
Originally published June 2014 and updated for 2017.
Unless otherwise indicated, all photos courtesy of the venue.