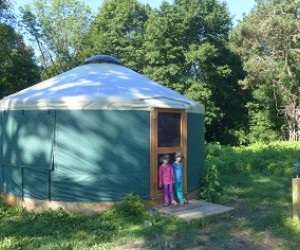 Camping 101 for Boston Families
If the idea of an overnight stay in the woods doesn't sound much like a vacation, then this post is for you! Even if you've never gone camping before, a little planning and a can-do attitude will ensure a great time and lasting memories for the whole family. For starters, you might not realize that tent camping isn't the only option at campgrounds today. Some of the best campgrounds near Boston for families offer yurts or cabins to make a first-time stay more comfortable.
And don't even worry about the kids. Mine love their favorite computer games and TV programs as much as the next, but once they're outdoors, they're too busy with trees, campfires, and critters around them to miss any of that indoor stuff. Read on to find out how to make the most of an overnight in the woods, and how to instill a love of the great outdoors in your children.
---
Planning is an essential part of camping preparations. First, decide how far you want to go and how long you want to stay. Many campgrounds require two-night stays for weekend reservations, so if you only want to go for one night, options include weeknight stays or special one-time events for new campers at centers like the Ipswich River Sanctuary in Topsfield. The Appalachian Mountain Club also offers special programs for families. Other logistics to consider are the ages of your children and what kind of gear you'll need to pack for them.
When my kids were babies, cabins where we could drive up to the door and unload everything worked the best. The most important piece of baby gear? A play yard. Spread out a blanket, set up the yard, and pop the little ones inside while you bring the rest of the gear in the cabin and get the campfire going.
Once my kids got a bit older, we loved driving up to tent campsites. Boy, do kids love tents. Even preschoolers get excited about putting tent poles together and finding a rock to hammer in the stakes. But there's still one more step for adventurous families with older kids: carry-in, carry-out backpack campsites really make you feel like you're part of the wilderness.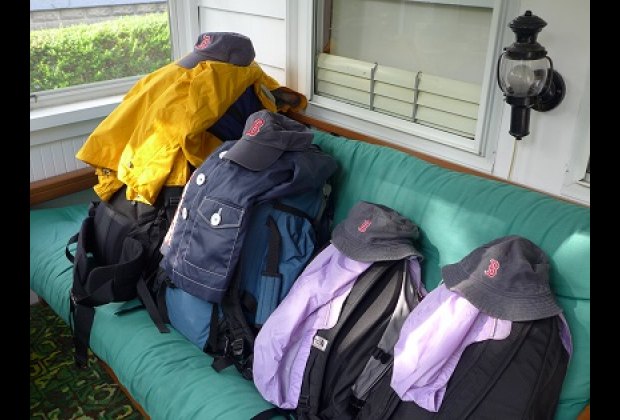 Packing. Once you've made your reservation, the real fun starts. Packing for a camping trip is most definitely my jam, and I love sharing my tricks of the trade. By dividing everything you'll need into one of four categories—sleep, eat, dress, and play—you'll find it not only easier to remember the essentials, but a breeze to fill up the back of the minivan. Whether in a tent or a cabin, you'll need some of the same items (sleeping bags, check; flashlights, check).
Other important factors in coming up with your packing list are the weather and time of year. You'll want to take a look at the forecast to know if you need to plan for rain or chilly nights. No matter what, one of the most essential items for any camping trip with kids is the bug spray, because once you're in the woods, you're in Bug Country!
Finally, you'll want to bring along plenty of munchies and whatever cookware you need to fire up the grill. Once you pick up some local firewood and kindling (and newspaper), you can get a cozy campfire going. To cut down on waste, we always bring our cookware set and plastic dinnerware along with a dishpan, soap, and sponge. My kids love helping with the chores in a campground, probably because everything is more fun by flashlight.
Making the most of the day. Most New England campgrounds offer activities from swimming to games to fishing (find out if you need a license beforehand). Even if there aren't trails within walking distance, one of the best daytime activities on a camping trip is taking the family on a hike. Check for animal prints and try to identify native trees and plants, or try your hand at using a map and compass. If there's a lake or pond at the campground or nearby, getting everyone on the water in a family canoe or kayak is tons of fun.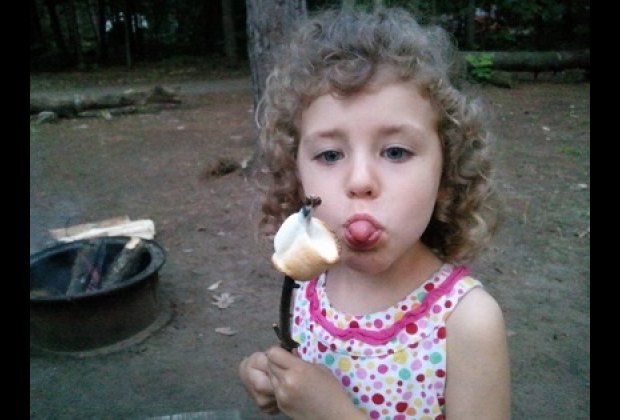 Making the most of the night. Bring on the s'mores and flashlights! First-timers might need a special stuffed animal to feel at home away from home, but most kids agree that the best part of camping is once it gets dark. My whole family loves burgers and dogs (or veggie dogs!) with all the fixings, and eating them at a picnic table next to the crackle of the campfire without television or other distractions is a great way to get the family to talk.
If it's a clear night, surprise the kids with a real treat after dinner: Besides s'mores, you can give them the stars. While there are some great opportunities to see stars in Boston, once you're farther away from the light pollution of the city, there's more you can see with the naked eye or a simple telescope. After downloading a nighttime map like Google's Sky Map, you can see where the constellations are relative to your location and point out some of the night's brightest objects to even the smallest astronomers. Lean back on the grass alongside them and look up at the stars.
Along with enjoying a camping trip with the kids, you've successfully connected them to the natural world. The best secret of all about camping is that it gets easier and more fun with each repeat trip, so once you break camp, you can start planning your next trip!