Where Westchester Kids Eat Free and Get Stuff on Their Birthdays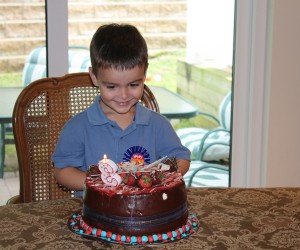 Before the advent of the e-mail lists, websites, apps, perk programs and loyalty cards, a kid's best bet for a free birthday treat was a white candle in a scoop of ice cream and an embarrassing rendition of "Happy Birthday" sung by waiters and waitresses who had planned on making it big on Broadway.
Luckily, young people today have a lot more options available to them. From toys, desserts and cupcakes to entire breakfasts, lunches and dinners, there is a FREEbie just waiting out there for kids of every age (HINT: Grown-ups can sign up for the majority of these programs too!). Read on to learn where to score FREE birthday meals, gifts and more while you're out and about in Westchester. Speaking of free, don't forget to sign up for our FREE newsletter to have our latest news, reviews and tips delivered right to your inbox!
For The Little Ones
With a little help from their parents, kids from ages 1 to 13 can enjoy birthday FREEbies at many Westchester shops and restaurants. All of these programs require parents to register their child or children, but do not request an e-mail address for the minor. The first 7 programs do not require any purchase beforehand or on the child's birthday. Walk in, get your treat, walk out. Now that's my kind of FREE!
Rita's - Rita's makes it easy to sign your entire family up for FREE birthday ices in one registration process through their Rita's Birthday eClub. Coupons are delivered to the registered e-mail account or are made available through a downloaded app. Because many Rita's stores are closed during the winter, registrants with a winter birthday will receive a "Half Birthday" coupon to use in the summer.
Toys R Us - Children between the ages of 1 and 10 who are signed up for Geoffrey's Birthday Club will receive a birthday card, a small gift (usually a $3 gift certificate), a crown, a birthday phone call, a balloon and a personal in-store announcement of their birthday.
Barnes and Noble - Parents or guardians who have registered a child for the Barnes and Noble Kids Club will receive an email coupon for a FREE cookie or cupcake at an in-store Barnes and Noble Café the week before the big day.
Baskin Robbins - Like Rita's, the Baskin Robbins Scoop Club makes if really easy to sign the entire family up in one process. Birthday celebrants will get a FREE cone, filled with ice cream, of course, no purchase necessary.
Burger King - The Burger King Kids Club gives your child a FREE hamburger on his or her birthday, as well as access to an entire head-spinning online play-space. Signing up is a three step process. First, parents create an account for themselves to monitor their child's online activity and provide an e-mail address. Second, they create an account for the child that allows him or her to play on line. Third, they wait for a confirmation e-mail that activates the account. While I've never had luck getting past step two, I know people who have. Patience, they tell me, is rewarded with a free hamburger.
Pizza Hut - The Pizza Hut Birthday Club provides a FREE birthday meal for children under the age of 13. Simply sign your child up and wait to receive a coupon in the mail.
Kmart - Sign up in advance for Kmart Birthday Club and the birthday boy or girl will receive a $5 gift card and a small goodie bag (normally crayons and a coloring page).
Simon Malls Kidgits Club - The initial registration cost for the Simon Malls' Kidgits Club is $5, but it gets kids so much more than a FREE birthday gift. There is a club Tshirt, membership card and a number of events throughout the year that are only open to Kidgits members. During the child's birthday month he or she will receive a coupon that can be exchanged at The Westchester, The White Plains Galleria or The Jefferson Valley mall for a FREE gift.
Showcase Cinema Popcorn Club - For $10 a year, children 11 years old and younger receive a FREE movie ticket at sign up, a FREE movie ticket and card on their birthday, a FREE Kids' Concession Combo (popcorn, drink and candy) and a Popcorn Club backpack. Even it that's not completely free, it's a really good deal.
Medieval Times - Not in Westchester County, but less than an hour away in Lyndhurst, NJ, Medieval Times is a allows visitors to step back in time and enjoy dinner and jousting in a faux Medieval castle. Meals are served without utensils and the entire experience is a loud, messy, exciting fantasy come true for many children. When you sign a child up for their Birthday Fellowship, he or she will receive a FREE ticket to attend a performance during their birthday month with the purchase of an adult ticket. Children 12 and under are about $35, so this is quite a savings; children under 3 are FREE if they sit on an adult lap and eat off an adult plate. Sadly, the same rule can't be applied to significant others.
For Big Kids
Once kids turn 13, the Online Children's Privacy Prevention Act allows companies to collect basic identifying information from them, which allows them to enroll in a whole host of birthday programs. For most of these programs, if a child or adult tries to enter a birth-date that doesn't pass the privacy standards, the registration will not go through. Of course, parents could sign their under-age children up under the grown-up's e-mail account, and provide a false birthday, but then parents couldn't take advantage of the offers themselves! So here's what I suggest. Make it a rite of passage. On Jr.'s 13th birthday, go through this list and sign up for every FREE meal in the county. Since most are valid during the entire birthday month, there are enough FREEbies here for a meal or treat every other day.
BGR: The Burger Joint - FREE Birthday Burger when you join the BGR eClub.
Cold Stone - Buy 1 Get 1 FREE Birthday Ice Cream Coupon when you join the My Cold Stone Club.
Friendly's - Join the Best Friends of Friendly's and you'll get a coupon for a FREE medium sundae.
Ben and Jerry's - Become a Chunk Spelunker for a FREE ice cream on your birthday and a discount towards an ice cream cake.
TGI Fridays - Get your Stripes at TGI Friday's for a complimentary birthday dessert with the purchase of any entree.
Uno Pizza - Uno's Insiders receive a FREE birthday gift every year- but you never know what it's going to be. Some people have reported getting a FREE pizza, others a $10 gift card and still others 25% off an entire meal.
Starbucks - My Starbucks Rewards members receive a FREE beverage or treat on their birthdays.
Outback - Join MyOutbackRewards for a FREE gift on your birthday.
Applebee's - Email club members get a FREE entree.
Auntie Anne - Pretzel Perks get members a FREE pretzel on their birthdays.
Panera - Pick up a MyPanera Rewards card for FREE at any Panera location and register it online. Each year a FREE birthday surprise will be loaded on during the appropriate month.
Sbarro - One slice. Two words. FREE pizza.
Great American Cookie - Sign up for Cookie-mail (get it??) for a FREE birthday cookie.
Dunkin Donuts - This one's a family favorite. Get a postcard for a FREE medium beverage mailed to your house during your birthday month by joining DD Perks Rewards Program.
IHOP - Enter your name, address and birthday and get a coupon for a FREE Birthday breakfast 24 hours later. What could be easier?
Pretzel Maker - FREE birthday pretzels for Fan Club members...just sign up!
Au Bon Pan - Sign up for the eClub and head in for a FREE Birthday lunch.
Smashburger - Smashclub members get a FREE Smashburger Birthday shake.
Now, in case you haven't been paying attention, that means your teen can wake up on her birthday, have a FREE medium coffee or hot chocolate at Dunkin' Donuts, head to the nearest IHOP for a FREE breakfast, stop in at Au Bon Pan for a FREE lunch, get some FREE pretzels as a mid-afternoon snack before heading over to Applebee's for a FREE entree then topping off the day with FREE Ben and Jerry's.
For The Grown-Ups
I know, I know, this is supposed to be about the kids. And sure, you can sign up for just about all of the above programs too. But I'd be absolutely remiss in my duties here if I didn't mention..
Godiva - Godiva Rewards is a rewards program for grown-ups. Members receive one FREE piece of chocolate each month (in store), FREE shipping on one standard order a year, a FREE gift for every $20 spent, exclusive offers every month and a FREE birthday treat. See? Aren't you glad I told you? It wouldn't be fair if the kids got to have all the fun.
Originally published in 2014
Photo Credit: MommyPoppins.com