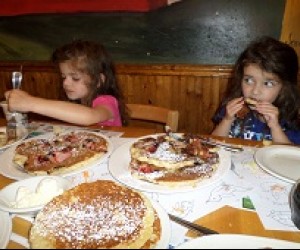 Best Pancake Houses for New Jersey Families
Nothing says weekend mornings like a big stack of fluffy pancakes. When else can you get away with chocolate and whipped cream for breakfast? Although a morning staple, pancakes can be eaten any for any time of the day. New Jersey is home to many delicious and family-friendly pancake restaurants, with varieties that range from sweet, like chocolate chips and fruit, to savory, like bacon and cheddar cheese. With portions as big as your plate, you won't leave hungry, nor empty-handed. Pancake restaurants are often a road-trip destination for my family. From diners to specialty houses, here's how New Jersey's best pancake joints stack up:
Country Pancake House and Restaurant (Ridgewood)
With over 100 varieties, Country Pancake House is my family's favorite pancake place and worth the hour drive to get there! The colossal pancakes are the size of a small pizza and come with any kind of topping you can dream of, including fruits, chocolate chunks, nuts, cheese and potatoes. There are even Oreo and Milky Way pancakes. My pancake-of-choice is the "Red, White and Blue" with strawberries, blueberries, bananas and whipped cream, My kids enjoy the banana and chocolate chip, and that's after sampling the chocolate chip corn bread delivered to the table pre-meal. For the more health-conscious, there are whole wheat and granola options. The menu also includes hearty Belgium waffles, omelets and French toast. No matter what you order, you'll likely come home with two days worth of leftovers.
Original Pancake House (Whippany, West Caldwell and Fort Lee)
Another top pick of my family, Original Pancake House serves up generous portions of pancakes with creative toppings, such as bacon, toasted coconut, baked apple or pecans. Options like the Three Little Pigs in a Blanket or The Two by Four include sausage or eggs. The silver dollar pancakes are the perfect size for my little ones to share, and the Dutch Baby baked pancake on the specialty menu is buzz-worthy among patrons. Aside from pancakes, Original Pancake House offers waffles, crepes and huge omelets.

Brownstone Diner & Pancake Factory (Jersey City)
While most diners offer dependable breakfast food, Brownstone Diner & Pancake Factory is known for their fun and flavorsome pancake varieties, like PB&J, chocolate and banana, black forest, meat and roll ups with fruit compote inside. Pancakes wraps are filled with eggs, cheeses, potatoes and meats. The extensive menu includes a variety of breakfast, lunch and dinner options. The Brownstone invites customers to have pancakes for any meal, so dig in any time of day or night.
Pj's Pancake House (Princeton and West Windsor)
Hungry students, tourists and locals congregate at this quaint and unique college-town institution, known for its satisfying breakfast eats. The oversized "famous pancakes" are decked out in fruits like raisins, spicy apples, and strawberries, or sweets like peanut butter chocolate chip. If you can't decide on one, order the pancake sampler with three different styles of your choice. Omelets, French toast and waffles, some with ice cream, are served in plentiful portions as well. Expect a lot of hustle and bustle in the tight seating area, but the lively atmosphere and good food is worth the wait. Outdoor seating is available in warmer weather. Check out the new West Windsor location as well.
Uncle Bill's Pancake House (Avalon, Cape May, North Cape May, Ocean City, Stone Harbor, Strathmere and Wildwood)
Jersey Shore-goers flock to Uncle Bill's Pancake House for hearty breakfast dishes, especially the ample portions of pancakes. Stacks are topped with fruity garnishes, including strawberry, apple, blueberry and peach, or sweets like chocolate chips and whipped cream. Uncle Bill's uses a "secret batter" in its tasty French pancakes and a "special recipe" for its Iowa corn recipe. Omelets, waffles and stuffed French toast are other popular breakfast eats at this. Stop by next time you're at the beach and taste for yourself why Uncle Bill's has been a NJ tradition for over 50 years.
IHOP (various locations in NJ)
For reliable pancakes and a kid friendly atmosphere, you can't go wrong with IHOP. International House of Pancake, or IHOP, was my children's first restaurant, and despite leaving a trail of destruction, we've been back many times for a quick and inexpensive meal. IHOP whips up unique pancake flavors, like New York Cheesecake and jelly donut, as well as classic favorites like buttermilk and fruit. The Funny Face Pancake and the Rooty Jr. are some of the yummy concoctions on the kid menu. In select NJ locations, children are treated to special character nights, with appearances from heroes like Spiderman or Sponge Bob. If you sign up for the Pancake Revolution online, you'll receive free birthday pancakes among other specials.
Not surprising that these restaurants draw big weekend crowds, so be prepared to wait. Or visit on a weekday. Dig in!