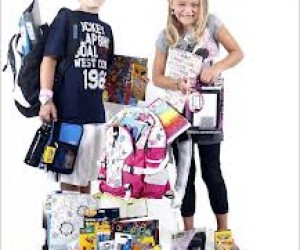 Back to School Shopping Tips in Eastern Connecticut
School doesn't start for weeks, and yet I'm compelled to shop for all things back to school RIGHT NOW! I blame it on the cool August weather streak we're in and those last few weeks of summer where I see the light at the end of the vacation tunnel! Both factors have put me into list making overdrive and revisiting our favorite spots in Eastern Connecticut for stocking up on all our back to school supplies, clothes, and finishing those imperative back to school errands to ensure we start off this school year right!
Both of my kids love to dress in a way that reflects their very unique (and sometimes uber picky!) personalities, and that can make back to school shopping difficult when my son lives in casual t-shirts, pants and sneakers, and my daughter insists on dressing to the nines each and every time she boards the bus. Because money is money, time is money, and I try to save on both, we hit places we know can cater, at least partially, to both their tastes. Our first stop is usually Target in Waterford, where we peruse both the clothing sections (great for socks and undies on the cheap) and supplies. Once we've exhausted the big box store, we usually try some smaller shops that yield us some great finds. Teddy Bearskins, in Olde Mystic Village (they recently moved closer to the aquarium), is one of the few places I've found Ugg boots in my daughter's smaller size! They're also great for unique accessories and I can usually grab a more formal outfit for my son, something he can wear during the holidays, to his school concert or on picture day at school.
A side note: while you're at Mystic Village, stop by Bleu Squid for, perhaps, the BEST grilled cheese sandwich you'll ever have!
One other little secret spot we hit for back to school is The Lily Pad in North Stonington. This gem of a high-quality consignment shop delivers! It's known for only carrying items that are like-new or new with tags and you never know what brand names you might come across for a fraction of the cost!
When it comes to shoes, we don't mess around. For our family, Gil's Shoe Barn in Danielson is where we converge for measurements, great customer service and all the brands my kids want.
By this point, my son is usually done, but my daughter is on the lookout for either a new pair of earrings or that perfect headband or bag for the first day of school. That's when she and I head to Zia's in Stonington Borough. Zia's sells the most fabulous, women's accessories and most are under $10!
Once we've exhausted the boutique-y spots around the area, it's time to hit the mall. Crystal Mall in Waterford boasts some heavy hitters for all the back to school needs, like Old Navy, Macy's, JC Penney and H&M.