A Day Trip to the Florence Griswold Museum in Old Lyme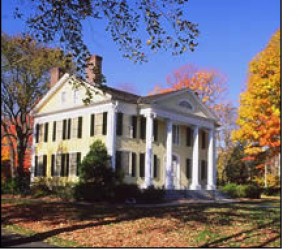 Interested in a great day trip? It may seem strange, to those who don't know about Miss Florence Griswold, that the home, gardens and grounds of this woman's home in Old Lyme, CT has gained such notoriety and attracts thousands of visitors each year from all over the world. But, just take a quick visit to the Florence Griswold Museum, and a brief tour by any of the museum docents, and you'll soon discover why this hidden gem plays such a huge role in the history of art in the US.
Florence Griswold inherited a boarding home from her family and, around the turn of the 20th century, fell on hard, financial times. Around that same time, Henry Ward Ranger, an artist returning from a period of study in Europe, passed through Old Lyme and stayed at the Griswold home. For the landscape artist, Old Lyme offered magnificient scenes and Miss Griswold's hospitality made Henry Ward Ranger wish to settle in Old Lyme. Soon after, he invited more artist friends to stay in the boarding house and Miss Griswold was only happy to oblige, helping in any way she could. Thus was born the Lyme Art Colony, the best known American colony of impressionist art.
Just as you drive in, off Route 1, down the long driveway of the museum, you are instantly transformed to another time and place. You pass Miss Griswold's home, restored in 2006, and her meticulous gardens still maintained today with plants and flowers she would've tended. Just past the old house is the new, modern, 10,000 square foot Krieble Gallery, which houses a gallery with changing exhibitions, a gift shop, and private function space. There's ample free parking just past the gallery, with easy access to the grounds.
It's worth a walk through the gardens before entering the museum, just to experience the landscape that served as the subject of many paintings produced by the Lyme Art Colony. It's a lovely spot through which to stroll, with level pathways that can accommodate a stroller. Just past the gardens is the Lieutenant River, and the outside grounds of the gallery. Here, you'll often find a class (yes, the museum offers classes...sometimes free!) painting outdoors, visitors admiring the view in an Adirondack chair, or an outdoor art installation to explore. It's peaceful and serene and especially lovely on a late, summer afternoon. It's also a popular wedding venue, too!
Time flies while you're at the museum, so if you and your group find yourselves hungry, stop by the museum cafe', Cafe' Flo, for lunch or a snack!
The Florence Griswold museum is open Tuesday-Sunday, is closed Mondays and for major holidays. Admission is $10 for adults and free to kids 12 and under. Also, most area libraries offer free passes to the museum. Especially popular are "Make-a-Painting Sundays" and their largest exhibit each year, the Wee Faerie Village.
The Florence Griswold Museum 96 Lyme Street, Old Lyme, CT 860-434-5542