6 NYC Services that Make Parents' Lives Easier: Shopping, Laundry & Odd Jobs Help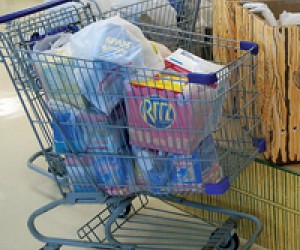 Ever since welcoming my third child last year, I feel as though I've been treading water. I'm never quite able to get ahead of the mountain of chores at home. So one of my New Year's resolutions is to climb out from under my pile of to-dos by doing a little outsourcing. Of course, NYC is filled with services that make people's lives easier—and some are even worth the money, especially since your time is truly valuable. Here are six that are helping make 2015 the year I finally find a little me (not just Mommy & Me) time.
Groceries & Shopping
In the past, we've written about the value of online grocers like Fresh Direct and Peapod. But online shopping options have expanded a lot since then. Take Google Express. Members can fill their virtual carts with items from Target, Fairway, Costco, Toys/Babies R Us, Walgreens and other stores all on one site. Your purchases are then packed and sent to you via courier the same day or overnight. Now through March 15, you can get a three-month trial membership to check it out for free. After that, it costs $10 per month or $95 annually. The current delivery zone includes all of Manhattan.

Meanwhile, Instacart uses "personal shoppers" to deliver what you want in as little as an hour. New to NYC, it has limited delivery zones (my Upper Manhattan zip code isn't yet covered), and the stores serviced vary by location, too. However, a friend of mine recently had an entire Costco order brought to our kids' school for an event, and she didn't have to pay a fee since the first delivery is free. After that, you can pay per delivery or buy an annual membership.

For those of you who live in Brooklyn, Amazon recently launched AmazonFresh, which delivers same-day groceries and specialty foods to residents in Park Slope and a few other Kings County nabes (unfortunately there's no comprehensive list, you just have to plug in your zip code and hope for the best). Amazon Prime members receive free shipping through the end of March, and all customers can use the AmazonFresh App to make purchases on the go.

Laundry & Dry Cleaning
While most neighborhood laundromats wash and fold for a fee, there are services that cover more than just the local area, and offer pickup and delivery, too. The Laundry Center services all of Manhattan, and includes pickup and next-day delivery of your clean, professionally folded clothes. (I swear, if I could afford to have my laundry sent out all the time, I could fit twice the amount of clothes in our drawers thanks to expert folding!) Wash-and-fold services start at $1.05 a pound, with a $27 minimum and extra charges for bulky linens. The Laundry Center also handles dry cleaning.

Similar to The Laundry Center, WashClub NYC provides pickup/drop-off laundry services. Prices start at $1.15 per pound, but its delivery area includes Manhattan and Brooklyn. The turnaround time can take up to 48 hours, and customers are notified of their pending delivery (or pickup) via email or text about half an hour before the driver arrives. Again, linens incur special charges and dry cleaning is available.
Odd Jobs
For me, shopping and laundry are the biggest time sucks, but every once in a while something else comes up that I just can't face. For those dreaded jobs you hate so much you're willing to pay someone else to do them, there's TaskRabbit. From standing in line at the post office to assembling Ikea furniture to returning library books, TaskRabbit seems to do it all. Log onto the site, describe your task and timeline, and you're matched with a "Tasker" who's passed a background check and is willing to tackle your job. All you do is paid the agreed upon price and insurance is even included. While popular tasks include cleaning, errand running, personal-assistant duties, shopping and handyman services, the possibilities here seem enticingly endless. Plus I'm probably helping an out-of-work actor or starving artist pay the rent.

Is there anything on your to-do list you prefer to outsource? Share your favorite time-saving services in the comments.