5 Great Places for Philly Kids to Enjoy Afternoon Tea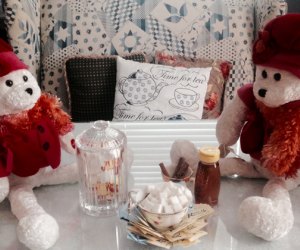 Tea time is an opportunity for moms and children of all ages to enjoy a few relaxing moments together. Whether it's for a special occasion, a child's tea party birthday or a traditional tea and scone, here are five places to try, each with its own unique style.
For those who love tea parties or revel in the adventures of Eloise, a trip to their very own afternoon tea will be a special treat. If your children are older, tea time can provide the quiet, one on one time that's so evasive these days. Try one of these places for partaking tea in and around Philadelphia.
The Mary Cassat Tea Room, Philadelphia
There are quaint tea houses and then there is the ultimate in luxury, where High Tea is meant to be savored. High Tea at The Mary Cassat Tea Room is just that, an escape of the everyday world. In the dining room, French doors look onto a beautiful garden. The delectable menu offers numerous choices, each of which is more delicious than the last. High Tea is 2:00pm – 5:00 pm daily. This isn't the spot for your preschooler, but it is the place for creating a special memory with your older child.
The Random Tea Room and Curiosity Shop, Philadelphia
The Random Tea Room is a little different than your average cute, British-inspired tea house. It is a fun, eclectic place with farm-industrial décor, rotating exhibitions of local artists and an international selection of teas that they blend themselves. Teens will appreciate the authenticity (and the baked goods). You'll enjoy the relaxed atmosphere, the amazing selection and knowledgeable staff and one of the best cups of tea you've ever had.
The Talking Teacup, Chalfont
Nothing exudes charm like a restored farmhouse in the hills of Bucks County. Decorated with country-influences (think mismatched wooden chairs and gingham table clothes), The Talking Teacup is a local favorite for a hot cup of tea and a scone. What's even sweeter than its baked treats, however, is the private tea and dress-up room upstairs that is outfitted for children's parties.
The Picket Fence & Garden Tea Room, East Haddonfield, NJ
Walking into The Picket Fence & Garden Tea Room is like walking into a beautifully manicured garden on a spring day. Murals of a country garden surround you as you select from a wonderful assortment of light lunch fare, scones and desserts. Children's tea includes three assorted tea sandwiches of your choice and a cupcake, a decorated cookie with a pot of tea, hot chocolate or pink lemonade.
The Painted Tea Cup, Upper Darby
Just outside the city, The Painted Tea Cup is a tiny jewel hidden in a residential neighborhood. Located in a house built in the early 1900s and decorated in a cozy, nouveau Victorian (think lots of china with floral patterns and lace), tea is served in the first floor's living and dining areas. Upstairs private rooms are perfectly appointed for tea parties for all ages, and there's also an outdoor patio for casual dining on warm days.