10 Great Birthday Party Clowns in NJ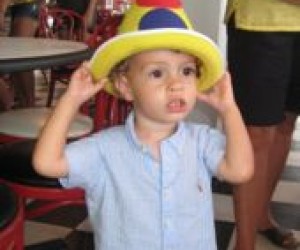 9/16/14
- By
Jennifer Battista
Choosing the right birthday party entertainment can be tricky. The ideal performer will keep kids happy and encourage participation, without overwhelming hesitant little ones. New Jersey is home to many wonderful clowns who can bring that extra spark to your child's next party with magic, balloons, face painting and more. Read on for our picks of the state's best entertainers, and for additional birthday party services, visit Mommy Poppins NJ's Birthday Party Guide.
Archie Cobblepot
A Mommy Poppins favorite, Archie Cobblepot is a vaudeville-style performer who mixes balloon creation with the art of clowning. His fabulous balloon sculptures will have kids lining up for more. Package choices include "Incredible Inflatables" and "Balloon University." He also performs full-fledged shows that combine physical comedy, music, magic, audience participation and amazing balloons. Call 973-520-4113 for rates and availability.
B Happie Entertainment
Not sure what type of entertainer to book for an upcoming bash? With B Happie, choose from clowns, magicians, jugglers, stilt walkers and more! They offer professional clowns who create balloon art and face painting, available through a party package or as stand-alone performers. Call 732-596-7469 for rates and availability.
Bingo the Magical Musical Clown
This delightful performer has been entertaining Northern New Jersey residents for over 20 years. Bingo the Clown can do it all—select from magic, comedy, juggling, singing and more to create the party of your child's dreams. Shows are available in 90 minute and 120 minute options. Call 201-342-7775 for rates and availability.
BirthdayMax
Perfect for older kids or those a little wary of clown make-up, BirthdayMax provides hilarious entertainment with a combination of clowning and magic. Birthday party packages can include a comedy/magic show, balloon art or a juggling workshop. His unique shows thrive on audience participation so young party goers are encouraged to join in the fun. Call 646-957-4709 for rates and availability.
Gitsy the Clown
Terrie "Gitsy" Basko is an award-winning performer who's been making children laugh for over 15 years. She and her team offer a variety of party services, including face painting, balloon sculptures and glitter tattoos. The wide array of entertainment is perfect for a party with kids of varying ages. Call 732-901-6700 for rates and availability.
Party Maniacs
The all-inclusive party packages from Party Maniacs incorporate balloon twisting, face painting and fun games such as Simon Says and Limbo. Clowns can be added on to any party package or provided individually if you choose. Party Maniacs will handle all set up, entertainment and take down so parents can relax and enjoy the party too. Call 973-376-2211 for rates and availability.
PattySweetCakes
PattySweetCakes entertains children throughout NJ with her wonderful face painting, balloon art and glitter tattoos. An artist by trade, her unique designs appeal to kids of all ages. Check out her art work in person during Family Fun Nites at local restaurants. Call 973-517-0158 for rates and availability.
Sprinkles the Clown
Looking for a mix of fun activities for your kid's next birthday party? Choose from music, dancing, magic, balloon sculptures, face painting and more to create the perfect party for your guests. Sprinkles the Clown offers special pre-school activities for younger kids (ages 2-6) that may be a little hesitant about meeting a clown. Call 908-876-9240 for rates and availability.
Tweedles the Clown
Serving Northern New Jersey, Tweedles the Clown provides a variety of party entertainment including balloon art, face painting, clown magic and interactive games. She is available with or without clown make-up so parents can choose the appropriate option for their children. Tweedles also makes regular restaurant appearances—check her facebook page for the schedule. Call 973-224-1525 for rates and availability.
Trixy the Clown
Birthday celebrations are truly special with an appearance from Trixy the Clown or Trix the Magician. A 45-minute long magic show (or music/puppet show for younger kids) features dazzling tricks, audience participation and even dancing. Additional services such as face painting and balloon sculpting can be added to the party as well. Call 732-926-8335 for rates and availability.