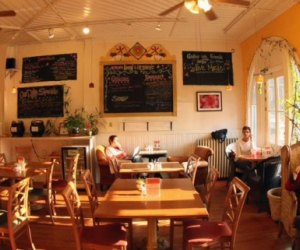 20 Connecticut Tea Rooms For a Cozy Autumn Day
Spicy or robust, fruit-flavored or floral, a hot cup of tea can set the right tone for time with anyone special, but especially with one of your own children! Are you looking to spend some special time with a tween or teen? Or trying to occupy a rainy afternoon? Take them out for a cup of tea in one of these Connecticut tea rooms and see how the conversation flows.
The Green Tea House - West Hartford
The Green Tea House, located at Blue Back Square, is run by a brother and sister who wanted to rekindle their childhood memories of drinking loose-leaf Chinese tea. Enjoy fine teas like Oolong, White and Pure-eh tea in a beautiful Chinese tea room.
The Green Tea House, 40-42 Isham Road, West Hartford, CT 06119 860-232-6666
The Drawing Room - Cos Cob
The Drawing Room offers yummy food and tea which can be enjoyed in their bright and sunny location. Delicious pastries and ever-plenty biscotti are on the menu as well. The Drawing Room also offers a small art gallery to browse through filled with local artisans works.
The Drawing Room, 220 East Putnam Avenue, Cos Cob, CT 06807 203-667-3737
Tea Roses Tea Room - Cromwell
Tea Roses serves organic, loose-leaf teas by the pot as well as a selection of light fare and gluten free items. Conveniently located on Main Street in Cromwell in a store-front location. Gift Shoppe on site offers several different tea pots and cups for purchase and other decorative items for your home.
Tea Roses Tea Room, 322 Main Street, Cromwell, CT 06416 860-632-1400
Mrs. Bridge's Pantry - Woodstock
Go across the pond and experience tea drinking the way the British do. This tea room not only serves tea, but also traditional British food such as pork pies, homemade jam and clotted cream. Mrs. Bridge's offers fun holiday events like Celtic Tea for Two and Valentines Teas and a variety of items for purchase.
Mrs. Bridge's Pantry, 292 Rt. 169, Woodstock, CT 06281 860-963-7040
Handol Tea Room - Danbury
Unique tea room located inside of Handol Martial Art School in Danbury. A husband and wife team offer a variety of flavors of tea.
Handol Cha Tea Room, 72 Newtown Road, Suite 1, Danbury, CT 06810 203-648-9753
Tea with Tracey - Seymour
Whitewashed and cozy, this tea cafe serves over 210 flavors of hot brewed happiness. It is located in the antique district of Seymour. Enjoy a cucumber-mint tea sandwich or a full-size meal. Open Monday through Friday 10 a.m. to 5 p.m.
Tea with Tracey, 16 Bank Street, Seymour, CT 06478 203-881-5484
Passiflora - New Hartford
Warm and sunny, Passiflora Teas opened in 2003 and serves local, organic food. 150 teas are on the menu for you and your family to enjoy. Teas are served loose. Gluten free and vegan items are available by request.
Passiflora, 1578 E.Main Street, Torrington, CT 06790 860-489-7552
Artist-Tree Teahouse - Bristol
"Our modest coffee-house tea house is good for all ages, has Wifi and supports the arts and the art community." The Tea House offers delicious petit fours, cookies and "cruffles." They offer a regular calendar of classes and events.
Artist Tree Tea House, 160 School Street, Bristol, CT 06010 860-919-4356
Open Door Tea - Stratford
Tea cafe and gallery exhibiting local work. Open Door Tea offers delicious teas, smoothies and coffees and natural juices as well. Plenty of room for a stroller. They serve pastries, sandwiches and other "small delicacies."
Open Door Tea, 3552 Main Street, Stratford, CT 06614 203-345-9659
Savvy Tea Gourmet - Madison
Voted Best of New Haven Living 2016, the Savvy Tea Gourmet is a busy tea shop that offers you an education on tea and it's benefits. Savvy Tea is open seven days a week and on Saturdays offers a formal "afternoon tea" by reservation only.
Savvy Tea Gourmet, 121 Samson Rock Drive, Madison, CT 203-318-8666
Culteavo - Unionville
Cozy, brightly colored chairs await you and you favorite cup of tea at Culteavo. Hold a tea party, try the tea of the day or dip into their line of rare teas. They carry gluten-free, grain-free and vegetarian options on their menu. Closed on Mondays.
Culteavo, 29 Mill Street, Unionville, CT 06085 860-470-5121
Sundial Gardens Tea - Higganum
Tons of special garden views at this unique rustic tea destination which has been open decades. Regular events including "Tea Talks" and special tea events around the holiday season. Open weekends only during the Fall.
Sundial Gardens Tea, 59 Hidden Lake Road, Higganum, CT 06441 860-345-4290
Tea and Dreams - Kent
Tea and Dreams tea bar offers over 130 teas, bubble tea, kombucha and more. Colorful and whimsical, the location is packed with tea for sale as well as cold brewed coffee and tasty pastries. Also has health food available for purchase, gluten-free as well as vegetarian and nutritional supplements.
Tea and Dreams, 6 North Main Street, Kent, CT 06757 860-592-0279
Culture Tea Room - Wilton
Culture Tea believe you can experience a "healthy lifestyle in a cup" by bringing it's customer in contact with teas from different cultures. Culture tea hosts lectures, tea tastings and musical performances.
Culture Tea, 101 Old Ridgefield Road, Wilton, CT 06897 203-563-0594
Amapola's Tea and More, Stonington
Located in historic Stonington, Amapola's offers organic teas from all over the world. They specialize in blends using spices. The location also offers a line of artisanal salts and extra virgin olive oils.
Amapola's Tea and More, 129 Water Street, Stonington, CT 06378 203-535-9899
The Yellow House Coffee and Tea Room - Stonington
Fine gourmet coffees and teas served with bagels, breakfast sandwiches and baked goods.
The Yellow House Coffee and Tea Room, 149 Water Street, Stonington, CT 06355 203-535-4986
Tea Break - West Hartford
Stop by Tea Break in West Hartford to grab a yummy bubble tea or regular tea from their assortment of 30 fruit teas including flavors like aloe vera, winter melon, red bean milk tea and ice cream green tea. Open daily from 10:00 a.m. to 8:00 p.m.
Tea Break, 994 Farmington Avenue, West Hartford, CT 60107 917-929-4005
Down to Earth Tea and Coffee - Glastonbury
Welcoming coffee and tea shop with loose leaf teas and a variety of smoothies, protein shakes and frappes. Beautiful photography to look at while you sip on a wild strawberry tea latte.
Down to Earth Tea and Coffee, 2860 Main Street, Glastonbury, CT 06033 860-633-1499
Tisane Euro Asian Cafe - West Hartford
Full menu offered in this fusion Irish/Asian location with an extensive list of green teas. Regular events held such a DJ party and Karaoke. Alcohol served on site.
Tisane Euro-Asian Cafe, 537 Farmington Avenue, West Hartford, CT 06105 860-523-5417
The Herbery - Old Saybrook
Cozy location with large selection of Harney & Sons teas. Offers loose leaf, chai, bagged and cold teas.
The Herbery, 1001 Middlesex Tpke. Old Saybrook, CT 06475 860-388-4753

Photo Credit: Passiflora