4 Houston-area Campgrounds with Entertainment to Keep Kids Happy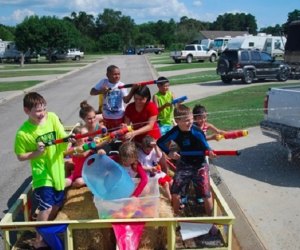 The camping trips my husband and I planned for ourselves before we had kids typically followed the same mantra: plenty of nature and not much else. However, now that we've added little ones into the mix, we've started to explore the idea of camping in places that offer a little more in the way of activities. While I still firmly believe that camping should give us a chance to disconnect, there's something to be said for campgrounds that offer entertainment for the kids... and for the adults who still feel like kids, and these four campgrounds definitely fit the bill.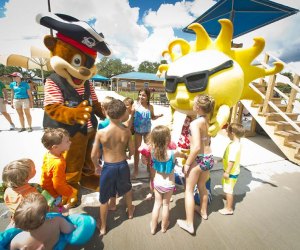 Meeting new friends at the waterpark/Photo courtesy of Splashway Family Waterpark & Campgrounds
Splashway Waterpark & Campground
5211 Main St., Sheridan
Camping in the summer can be a brutal undertaking when temperatures climb sky-high... unless your campsite is on the same grounds as a water park! Splashway caters to families by providing top-notch water activities like wave pools, all sorts of slides, a lazy river and kiddie areas. Another perk: instead of driving home at the end of the day, you can simply make your way to your campsite - whether you're tent camping, in an RV or utilizing one of their cabins or cottages. There are also hike and bike trails, catch and release fishing, kayaks, pedal boats and a playground to ensure maximum fun.
Yogi Bear's Jellystone Park
34843 Betka Rd., Waller
The focus at Jellystone Park is on family fun, and they deliver in a BIG way. You'll find a variety of water attractions (think pools, waterslides, lakes, fishing and boating), amenities such a miniature golf, playgrounds, jump pads, outdoor theaters and more, daily camping activities, entertainment and exploration, and even character appearances from Yogi Bear and his friends. Sound too good to be true (or like it's going to cost an arm and a leg)? Most activities and amenities are included, making it both affordable and fun.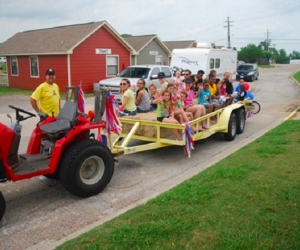 Taking a trailer ride around the campsites with the kids/Photo courtesy of Lake Conroe/Houston North KOA
Houston North KOA
19785 Highway 105 West, Montgomery
There is no shortage of activities and amenities at Houston North KOA campgrounds. The grounds have everything you need for a full day of fun, such as playgrounds for the kids, games like horseshoes, tether ball and even bowling, catch and release fishing, banana bikes, and paddle boats. Saturdays from Memorial Day until Labor Day mean tie-dying t-shirts and attending the park's Ice Cream Social and most weekends also have their own unique special events.

Brazos Bend State Park
21901 FM 762, Needville
For the nature lovers, Brazos Bend State Park is your stop. Almost 40 miles of trails make for plenty of exploring, whether you're on foot, bike or horse, and you're guaranteed to see some critters and creatures along the way. There's also an abundance of fishing at one of the numerous lakes or fishing piers, and you can do some prime alligator sightseeing (just be sure to brush up on your alligator safety tips beforehand). Additionally, you'll find playgrounds for the little ones, a Nature Center and the George Observatory. Campsites range from tent and RV camping to screened shelters and cabins.
First time camping with the kids? Here are some helpful tips to make your trip smooth sailing:
Make lists for everything. And I do mean everything. The first few trips we took with our kiddos I had clothing lists for every member of the family, food lists detailing each meal and what we'd need as far as prep, ingredients and actually eating went, lists for essential everyday items, bedtime necessities, car ride activities - basically I detailed out every inch of our trip and then methodically checked things off as I packed them. Was it time-consuming at first? Yes. But it also ensured we had everything we needed (give or take a few items, because no trip is ever complete without realizing you forgot something essential once you're on the road...) and it got easier and quicker each trip.
Keep the toys minimal... but bring a couple favorites. I am a firm believer that when we're camping we don't need a lot of idle activity fillers. However, there's something to be said for having a few outdoor toys available to play with or a couple DVDs and a laptop on hand when you're suddenly stuck inside due to rain. Which brings us to...
No matter what the forecast says, always plan for rain. Rain boots can instantly make a rainy day the best day (I mean, who doesn't want to puddle jump?!) and having something to do in your tent or RV if you're suddenly confined indoors can make waiting out bad weather pass more quickly. Favorites of ours: easy kid games (I'm looking at you Hungry, Hungry Hippos), cards, a movie or two and a few books to read.
Anything you use at home for bedtime needs to come with you while you camp. Both of my kids have noise-makers in their rooms, so one of them always comes with us. We also bring a monitor so we can put the kids down and not have to hover, as well as their favorite nighttime comfort items. A little bit of familiarity can go a long way towards a successful night of sleep.
Get kid-sized camping gear. One of the ways that we make setting up and general campsite chores more fun is by letting our son "help" with his pint-sized camping gear. Kid-sized head lamps, lanterns and other camping necessities make even the most mundane tasks more enjoyable for him
Stay close to home for a few trips before you venture further away. You never know how those first one or two camping trips are going to go; your kids could thrive in the camping setting... or they could have a meltdown. JUST IN CASE you find yourself needing to make a quick getaway back home, pick campgrounds that aren't too far off the beaten path for your first few trips.
Pick a site that's close to the bathroom. Self-explanatory. You don't want to be walking a mile in the dark to find the bathroom when nature calls your 4-year-old.
Always bring the extra set of clothes. While there's definitely something to be said for packing light, if you're on the fence about an extra set of clothes for the kiddos, just bring them. The day you don't is the day you're going to need them, and usually desperately.
Keep meals simple. Camping isn't the time to try out new meals or whip up labors of love. Stick to classics that come together quickly so you can spend the day doing the fun stuff instead of cooking.
Don't forget the s'mores. Because no matter how hot it is, no camping trip is complete without them!
Top photo courtesy of Lake Conroe/Houston North KOA