Unique Independent Bookstores to Visit With Houston Kids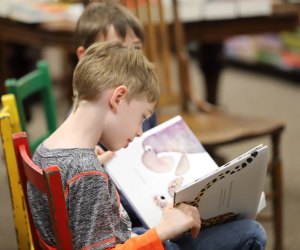 We love our local library, but sometimes we find a book that we love so much that it just has to be purchased and added to our at home collection. Big retail stores can be fun to explore when shopping for books, but there is something to be said for getting lost surfing the shelves of a local shop. Personalized service, author readings, and storytimes make shopping at a local bookstore a delightful experience to share with little ones. These stores are unlike any others in the city. You never know what you might find tucked away in the shelves or what local author you might bump into at these quaint shops.
Blue Willow Bookshop
14532 West Memorial
281-497-8675
If you're looking to discover new indie authors, look no further than Blue Willow Bookshop. Their unique consignment program offers shelf space to self-published authors and authors who offer their books printed on demand. This encourages local authors to engage with the community and gives them a space to share their work. Blue Willow is also a go-to spot for children's activities. They host children's authors and illustrators to do readings of their work, host a yearly bookmark design contest for kids in kindergarten through sixth grade, and offer a book club for middle school girls to help encourage Houston kids to read.
Brazos Bookstore
2421 Bissonnet Street
713-523-0701
Since 1974, Brazos Bookstore has been bringing Houston book lovers personalized service and unique reads. Their shelves boast hand-written reviews by staffers and staff members are always on hand to give advice. Because it is such a mainstay in the Houston community, when the store faced closure in 2006, a group of local customers invested in the store and now co-own the shop. They host a plethora of events including children's storytimes and a book club for older kids. Their storytimes often consist of creative themes or character integration.

Enjoying story time at Brazos Bookstore/ Photo courtesy Brazos Bookstore
Kaboom Books
3116 Houston Avenue
713-869-7600
This eclectic spot sells buys and sells only used books. Over 100,000 titles housed in the neighborhood shop are arranged into 76 different sections to help customers narrow down their search. Rare and hard-to-find titles are often found here. Patrons often find themselves getting lost within the stacks of this massive collection, but the owners are always on hand to help make a recommendation or find a specific title. Kaboom hosts several events throughout the year and has been home to the Houston School of the Performing and Visual Arts annual student reading demonstration for the past six years.
River Oaks Bookstore
3270 Westheimer
713-520-0061​
This family-owned shop in River Oaks may seem small, but the shelves are packed with over 7,500 titles. Rare books including several out-of-print works and some first editions can be found among the store's collection. They boast one of the largest collections of books by local authors in the city and hosts these authors regularly. If you and your kids are looking for something about anything Texas related, River Oaks Bookstore is the place to be.
Top Photo courtesy of Blue Willow Bookshop