Artificial Intelligence with Scratch Online Camp
Young Gates - Kids Online Personalized Classes

Online Robotics Camp
Young Gates - Kids Online Personalized Classes

Spark Math: Free Trial Class
Virtual
Sign up for our free newsletters.
Free Perks With Your Houston Library Card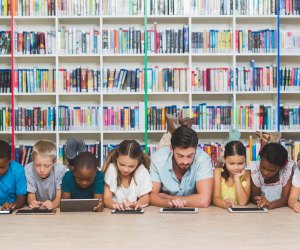 12/12/17
- By
Carrie Taylor
Libraries are not just for cramming-for-test college students or baby storytimes; if you aren't taking advantage of the many resources your neighborhood library has to offer, you've got to start now! It's time to dust off that library card (or go get one - it's super easy, and all you need to be is a Texas resident, older than 18, and have a valid ID) and check out the many freebies that come with it. While this list links specifically to the city of Houston Public Library resources, know that if you live closest to county libraries they offer identical services often using similar providers. Just ask your nearest librarian!
1. Free streaming and online access via Hoopla. The app, which can be accessed on xxx, offers a variety of services. You can borrow videos for 72 hours, music for seven days, and audiobooks, e-books and graphic novels for 21 days.
Movies: From classics like Titanic and Fiddler On the Roof to seasonal and modern favorites, Hoopla has picks for every family movie night.
Music: You can listen to today's hits, like Taylor Swift's reputation, the award-winning soundtrack from Hamilton, this year's Grammy picks, musical soundtracks, and more.
Audiobooks: A savior for long commutes and road trips, Hoopla grants you access to thousands of audiobooks to keep you and the kids occupied on the go (or at home). Grab an astrophysics title narrated by Neil Degrasse Tyson or choose from a variety of children's books, including Pete the Cat.
Comics: You can certainly check out hard copies of comics from the brick-and-mortar library, or peruse its digital selection with pieces for teens to adults.
TV: Stream seasons of today's most popular shows, for both adults and children. There's Paw Patrol for toddlers, Teachers for mom and dad, and more picks from every genre, from sci-fi to true crime to educational.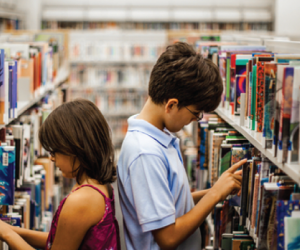 Photo courtesy the Houston Public Library system
2. Book clubs. Tweens and teens can participate in book clubs with peers that focus on age-appropriate titles and topics. Each library may focus on different titles, so check your branch's website to see what it's offering.
3. Flip Kits. Available in Houston's most spoken languages, including English, Spanish, Chinese and Vietnamese, these kits include a book and activity that parents can complete with their children. It's recommended for children up to 8-years-old.
4. Tumblebooks. These animated picture books are perfect for younger kids. You'll need a library card number to grab them, but they integrate music, narration, and activities into stories to keep kids captivated. Ask your librarian for more information.
5. Testing help. There are free practice tests available for high school and college students, including the STAAR, GED, AP, and SAT tests.
6. Free e-books. While some prefer to hold an actual book in hand, your library card grants you access to thousands of e-books from a variety of sources - OverDrive, Hoopla, OneClickDigital, EBSCOHost, and ComicsPlus.
7. Homework resources. Is homework a contentious topic in your household? The library system has resources to help. You can access ABCMouse at your neighborhood library, which teaches all subjects through fun activities, as well as other resources.
Top photo courtesy Bigstock