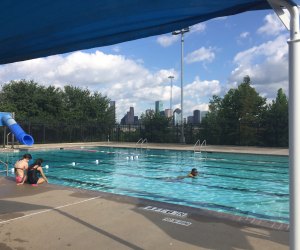 10 Free Pools in Houston Kids Will Love
Agnes Moffitt Park Pool
10645 Hammerly'
713-468-5666
This park has a swimming pool and a kiddie pool and there is also an updated playground area, ball fields, covered basketball courts, and a disc golf course.
Love Park Pool
1000 West 12th
713-867-0490
Great playground and park with a community fitness center located nearby to the swimming pool, which has a slide and kiddie pool. There is some seating around the pool but not much shade.
RELATED: Splash and Play in Houston's Unique Noah's Ark Pool
Oak Forest Park Pool
1400 Du Barry Lane
713-684-1819
This pool with two slides is known for being quiet, clean and well-maintained. There is also a fun kids playground area, basketball courts, baseball fields, and tennis courts.
Stude Park Pool
1031 Stude
713-862-5762
This large pool with a slide has a great view of downtown and is usually well-maintained, although there is limited seating and shade. There is also a park with a large playground, a community fitness center, a bike rental station, running trails, baseball fields, and a famous big, red sculpture that is great for photo ops or climbing.
T.C. Jester Park Pool
4205 T.C. Jester
713-686-6800
This pool has two slides with a deep end and lots of seating with tables, chairs, and loungers. The park also has a splashpad with plenty of shade and a playground. Additionally, there is a baseball field, fenced dog park with separate areas for big and little dogs, picnic tables with shading, and a disc golf course. The White Oak Bayou runs through the park and is great for biking, walking, and jogging.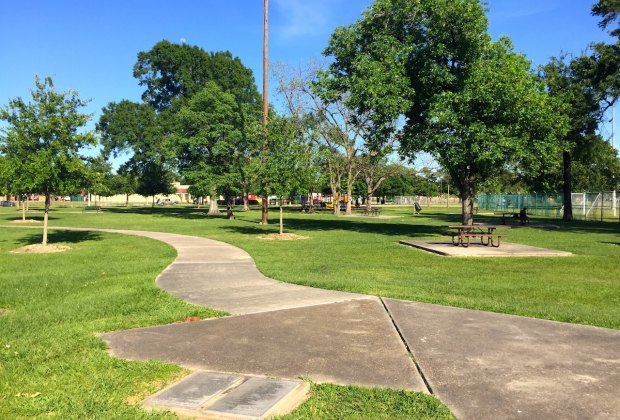 View of Moody Park Paved Trails with One of the Play Areas in the Distance/ Photo by Kate M.
Moody Park Pool
3201 Fulton
713-238-2215
This pool is in a park with lots of open fields with downtown views and picnic tables, as well as basketball and tennis courts, baseball fields, and a fitness center. There are multiple playgrounds and you can see the famous Vaquero sculpture while there.
Memorial Park Pool
6402 Arnot
713-862-1426
Memorial Park is not just for jogging; there are also tennis courts with a Smoothie King in the pro shop, a golf course with a Beck's Prime, lots of play areas and fitness areas, and of course, a pool that is a popular spot for athletes and families! The pool has some shade from trees, a slide, and is known to be clean, though it can get crowded
Finnigan Park Pool
4900 Providence
713-673-7311
Finnigan Park Pool was recently updated and has a long slide. It is located next to tennis courts, basketball courts, a community center, and baseball fields.
Metropolitan Multi-Service Center Pool
1475 West Gray
832-395-7333
The MMSC pool provides a great environment for people with disabilities to exercise. The five-lane heated pool is fully accessible and is equipped with a zero depth entry ramp, hand rails, and three chair lifts. Changing and shower facilities are available adjacent to the pool area. Participants are required to have independent functioning mobility skills or bring an adult attendant to assist. The pool is also open year round. Hours vary, call for schedule.
Mary Jo Peckham Aquatic & Fitness Center
5597 Gardenia Lane
281-391-4482
The Mary Jo Peckham Aquatic Center is open to residents of Katy and Harris County, and has the benefit of being indoors, which offers a nice respite from the relentless heat of summer. The Center offers both recreational pool time for children and adults alike and splash time for children 5 and under. All children visiting the pool must be accompanied by an adult and any children 4 and under must be within arms-reach of a parent or caregiver at all times. Both recreational swim time and splash time are by reservation only. Reservations may be made one day before the swim if you reside in Harris County or the city limits of Katy. Other counties must call the day of the recreational time. There is no Splash Time during June, July and August.
Important rules to remember:
Children under 8 must be accompanied in the pool by an adult
Toddlers and babies are required to wear swim diapers
Appropriate swim wear is required; no shorts or t-shirts.
There are swim lessons from 5-7 p.m. Tuesday through Friday... I found out the hard way, with an excited toddler who was ready to swim and didn't understand why we had to go back to the car after we had changed into our swimsuits!
Top photo: Enjoying the View at Stude Park Swimming Pool while the Lifeguard Cools Off/ Photo by Kate M.