10 Online Retailers That Give Back to Others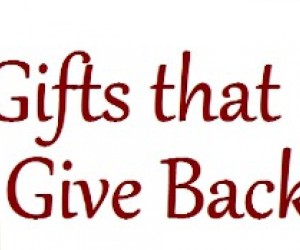 While we make it a point to encourage our readers to buy local whenever possible, we realize that doing holiday shopping online helps you avoid crowds and stress-while staying in your PJs. In addition to offering cool incentives like discounts and free shipping, many online retailers also give back to those in need during the holiday season by donating a portion of their proceeds to various charities. The opportunities to "shop for a cause" at this time of year are almost limitless, so we've highlighted nine favorites we think are particularly great for families. So go ahead and spoil the ones you love and feel good about it!
Kohl's Cares
Buy any of the department store chain's special Disney products (stuffed toys, CDs, books, all just $5 each), and 100% of the net profits are donated to kids' health and education initiatives nationwide. Since 2000, Kohl's has raised more than $257 million for charity!

St. Jude Gift Shop
The famous hospital's online gift shop is stocked with a wide variety of gifts, some St. Jude-specific (T-shirts, bibs and hats) and others not (beading sets, a robot chalk board and artsy tote bags are some of our favorites). All proceeds support the life-saving research and family-centered care at St. Jude Children's Research Hospital.

Macy's Believe Campaign for Make-a-Wish
This is the seventh year of Macy's holiday initiative benefiting the Make-a-Wish foundation, which provides special experiences for seriously ill children around the country. Shop online for merchandise based on Macy's seasonal Yes, Virginia the Musical, and 10% of the proceeds will be donated to Make-A-Wish. Or have your child write a letter to Santa Claus (you can find a template online) and deliver it to the "mailbox" at any Macy's store. For every letter sent, Macy's will donate $1 to Make-A-Wish.

Global Goods
This nonprofit sells handmade, fair-trade products made by women in marginalized countries around the world. Browse the online store for beautiful hand-crafted gifts like soccer balls, bibs, felt bags, hats and stuffed animals. Since the organization works directly with almost 40 artisan groups that employ more than 3,000 people in 20 countries, your purchase is helping these women build sustainable livelihoods. Another organization, fashionABLE, runs a similar program for women in Africa.

(RED)
When you buy (RED) products from brands like Apple, Coca-Cola and Starbucks, 50% of the profits are donated to the fight against HIV and AIDS around in Africa. Great (RED) products for kids and tweens include skateboard decks, hip bags made out of soda can tabs, ADO(RED) onesies, T-shirts and hats.

TOMS Marketplace
For years, TOMS Shoes has been donating a pair of shoes to a child in need for every pair sold. But the company has just launched its brand-new TOMS Marketplace, a way for artisans to sell their products through the company's website and donate a portion of the proceeds to charity. There's a lot more than shoes here! Use the gift finder to search for unique items for all ages, or shop by cause, region or brand. For kids, we spotted adorable onesies, wooden cars, building blocks and crocheted hats.

JCPenny Cares
A bit different from the other initiatives featured but still worthy: Either at the register or online, JCPenny asks customers to round up their purchases to the next dollar and will donate the difference to charity. Every month a different nonprofit partner is chosen, like No Kid Hungry and the USO.

Rosie Hippo
Rosie Hippo's owner, Kim Bloom, is a mom and breast cancer survivor who offers high-quality handcrafted natural toys that were created under fair working conditions and are eco-friendly. The online shop also gives back to the community by donating a portion of the proceeds to charities like Room to Grow, charity: water and the Young Survival Coalition.

Family-to-Family - Give It Up for Kids!
This is also slightly different but a fabulous way to remind kids how important it is to think about those in need, especially during the holidays. This national nonprofit connects families with enough to share with their counterparts in need. The org launched a national "empathy" campaign that asks kids to forgo one gift on their wish lists and give the equivalent value to Family-to-Family instead. One hundred percent of the donated funds go to purchase gifts for kids in need. You can also donate a present instead of money and ship it directly to Family-to-Family. And of course you can always donate new, unwrapped toys to your local Toys For Tots, run by the Marine Corps).

Like these online gifts that give back ideas? See our post about NYC stores that donate a portion of their proceeds to charity and five ways to teach little kids how to give back that you can do from home.
This post originally published in December, 2013.