Leprechaun Trap Ideas and Fun Tricks for Kids on St. Patrick's Day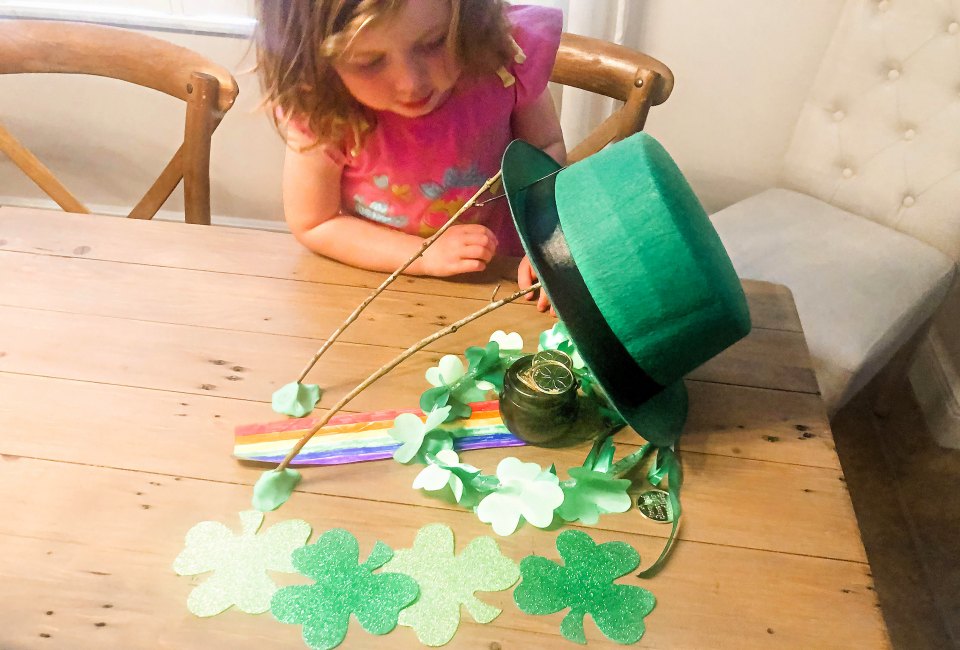 3/7/23
- By
Charlotte B
These leprechaun trap ideas will help you catch St. Patrick's Day's famous little mascot while he's causing mischief! Or, you can make a memorable St. Patrick's Day for kids by staging a silly leprechaun prank. We've rounded up ten festive, funny tricks to try out at home or in the classroom.
And if you're looking to trap the sneaky little guy, we've also compiled five creative leprechaun trap ideas. Remember, leprechauns are master escape artists, but they do sometimes leave a treat or surprise behind...
Check out our other super cute St. Patrick's Day activities, like this shamrock craft or rainbow on a stick treats. Plus we've got crafts and activities to do at home all spring long with 100 awesome kids' crafts and more boredom-busting at-home activities.

Oh no! Did the Leprechaun escape... through the toilet?
10 Mischievous Leprechaun Tricks and Pranks
1. Green Toilet Escape
My kids got a kick out of this one, thinking that the leprechaun escaped through the toilet! Simply use green food coloring in the toilet bowl, and create green footprints on the seat with washable paint. It's very simple to make leprechaun footprints, just use the side of your fist for the foot, and fingerprints for the toes!
2. Door Barricade
That trouble-making leprechaun may attempt to block the kids' bedroom doors with green crepe paper and shamrocks. This is a quick one to do the night before St. Patrick's Day, while the kids are sleeping. Include green or gold balloons to add to the fun.
3. Mirror Notes
Use a green dry-erase marker or window marker to leave a festive message on the bathroom mirror, or print one of these backward leprechaun notes from A Little Lair or Busy Bees and have the kids place it in front of the mirror to decode.
4. Windshield Rainbow
Here's a fun prank to play on the ride to school or a St. Patrick's Day outing. Create a rainbow that magically appears when you turn on your windshield wipers. Make sure to use washable paint, and put the rainbow on the passenger side so you don't block the driver's vision.
RELATED: 21 Rainbow Crafts for Kids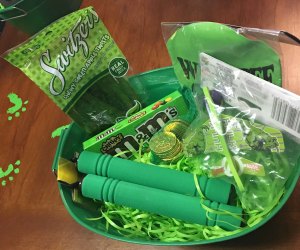 To make up for his tricks, sometimes the Leprechaun leaves behind some green treats!
5. Green Milk
This is a classic and super simple leprechaun trick: add some green food coloring to a gallon of milk or a glass of milk for a morning surprise. Pair it with a bowl of Lucky Charms for the ultimate St. Patrick's Day breakfast.
6. Green Lighting
This is an easy prank that's sure to get a laugh: swap a few lights with green bulbs, or color your regular light bulbs with a green sharpie. (You won't even need to clean up; the color fades with the heat of the bulb over time.)
7. Leprechaun Cookies
Use edible spray paint to turn Oreo cookies gold to resemble gold coins or shillings. Combine these with the rainbow of streamers idea found below for a fun surprise.
8. Rainbow Streamers
Create a rainbow made of streamers, such as this one by Natalie Menke. At the end of the rainbow, leave a pot of gold (like gold Oreos or chocolate golden coins) or other goodies for the kids to enjoy.
RELATED: Super Easy April Fools Day Pranks To Play on Your Kids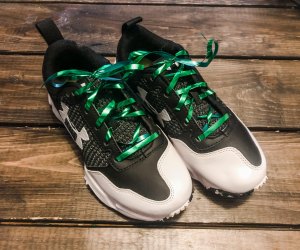 One silly, harmless, and easy-to-clean-up trick is to swap shoelaces for green ribbon or string.
9. Green Shoelaces
Grab some green shoelaces (or use green ribbon) to switch out the laces on your child's favorite sneakers.
10. Leprechaun Treasure Hunt
This leprechaun gold treasure hunt by Pinning with Purpose is a great activity leading up to St. Patrick's Day to get kids excited for the holiday.
RELATED: Our Ultimate Guide to Jokes for Kids (and More Funny Stuff!)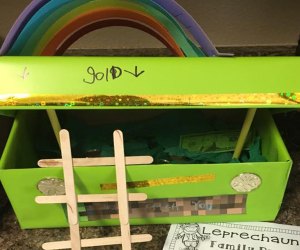 Any shoebox or art supplies you happen to have can turn into a Leprechaun trap.
5 Creative Leprechaun Trap Ideas
1. Lego Leprechaun Trap
Grab your green Lego bricks and create an enticing house that will lure the leprechaun in (we love this one from Fun Money Mom), or build a rainbow staircase out of Lego bricks leading to your trap (such as this one from East Coast Mommy) because leprechauns can't resist a rainbow!
2. Shoebox Leprechaun Trap
The possibilities are endless with an empty shoebox. Fill it with treasure, then use your imagination to decorate it. Buggy and Buddy made a fun and creative shoebox trap complete with signs and a ladder.
3. Top Hat Leprechaun Trap
The dollar store is a great resource for leprechaun trap supplies. We grabbed a green top hat and other St. Patrick's Day items to create this quick and easy trap. Here's another clever trap made using a dollar store top hat.

Not feeling creative? Cereal box traps are really easy to make!
4. Cereal Box Leprechaun Trap
You might already have some Lucky Charms on hand (leprechauns love them, or maybe you bought some to make one of these fun St. Patrick's Day treats). Don't let that cereal box go to the recycling bin just yet! First, you can turn it easily into a leprechaun trap. These instructions from Kix cereal make it easy.
5. Leprechaun Trap Cake
That sneaky leprechaun won't be able to resist this unique cake from Not Martha, complete with gold coins and a rainbow filling. You will need a cake pan with a hole in the middle, such as an angel food or bundt cake pan, to create the trap—then cover it with gold to lure him in!
Photos by Charlotte Blanton
This post was originally published in March of 2021.
Click Here to Sign Up!
i