Artificial Intelligence with Scratch Online Camp
Young Gates - Kids Online Personalized Classes

Online Robotics Camp
Young Gates - Kids Online Personalized Classes

Spark Math: Free Trial Class
Virtual
Sign up for our free newsletters.
St. Patrick's Day Treats: Rainbow on a Stick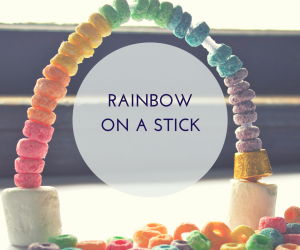 3/12/15
- By
Ally Noel
Your little leprechauns can munch their way straight through the rainbow and into a pot of gold with this edible treat. You just need five simple materials to begin creating your rainbow-themed snack. Taste the rainbow with these colorful creations! They can be a perfect activity for a St. Patrick's Day party or anytime you need a little spring in your step.
Materials:
Fruit Loops
2 Large Marshmallows
1 Rolo (or any gold wrapped candy)
1 Chenille Stick or Pipe Cleaner
Wooden skewer
1) Thread the Fruit Loops onto the chenille stick. You can make a real rainbow pattern, or create your own.
2) Poke a hole in the Rolo with the wooden skewer. Thread the Rolo onto the chenille stick.
3) Push the marshmallows on the ends of the chenille stick.
4) Bend the chenille stick to form a rainbow shape!

Show us what you make. Share it on Facebook, Twitter, or Instagram and tag @mommypoppins so we can see your creations, too!