Online Robotics Camp
Young Gates - Kids Online Personalized Classes

Artificial Intelligence with Scratch Online Camp
Young Gates - Kids Online Personalized Classes

Spark Math: Free Trial Class
Virtual
Sign up for our free newsletters.
St. Patrick's Day Kids Craft: Lucky Shamrocks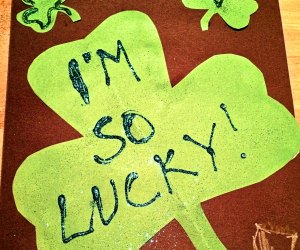 3/13/14
- By
Anna Fader
Since St Patrick's Day is the one day we all can enjoy the "luck of the Irish", it seems like the perfect time for kids to think about what makes them lucky. Experts now agree that expressing gratitude makes you happier, so maybe reflecting on how lucky we are will make us feel even luckier.
This craft is a fun way for kids to think about what makes them lucky and hide it as a secret message inside their art. The magic of St Patrick's Day!

1. Cut a shamrock out of paper. I like to fold the paper over to help get a symmetrical shape, but you can also do it freehand or google for a template. I cut out some extra shamrocks from the waste paper.
2. On one side of the paper your child can write what they feel lucky for. We did one per leaf, but you can do as many or few as you like.
3. We decided to keep our feelings secret so we glued the shamrock to another piece of paper with our lucky writings forever hidden in the pages like a secret wish. Then we decorated the front of the page with glitter and crayons.
You can use whatever your favorite art supplies are for this craft. Instead of colored paper you can just draw or paint your shamrocks on white paper, add different elements, or get out all those art supplies and just see what happens. And if you prefer to display your gratitude you can glue them on the outside instead to remember all you have to be grateful for every day.
If you try this project, share it on Facebook, Twitter or Instagram and tag @mommypoppins so we can see your creations too!