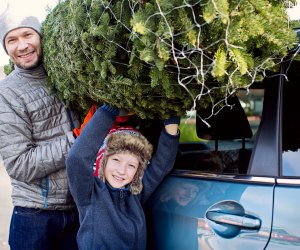 Cut-Your-Own Christmas Tree Farms in the Hartford Area
If you usually have an artificial Christmas tree or head off to the nearest mega-store for your pre-cut Christmas tree, why not start a new holiday tradition by going out to one of Connecticut's many cut-your-own farms? The unmistakable smell of pine, the freshly made treats, and large decorative wreaths these homey places offer will definitely get you in a festive mood. We've also listed more Christmas Tree Farms in Litchfield County and in Fairfield County.
Barbourtown Tree Farm—Canton
This farm offers Balsam, White, Spruce, and Concolor Firs. It offers freshly cut trees as well as trees you can cut yourself. Hand-made wreaths and garlands are available for purchase, as is its famous maple syrup that is made on site.
Red Hill Christmas Tree Farm—East Windsor
Red Hill sells a variety of high-quality live trees to cut yourself. Christmas wreaths and cutting saws are also available. Be prepared as the farm accepts cash or check only. Available trees include Colorado Blue Spruce, Cannan, Balsam, and Frazier Fir.
DZEN Tree Farm—South Windsor
Open for business starting November 29, this farm offers cut-your-own (saws are available) and pre-cut trees and best of all, the reindeer are back! Their price of $55 per tree includes tax. There is also a nativity scene, a snack bar on weekends, wreaths, tree stands, and other accessories available for purchase in the greenhouse. Be prepared for cash and checks only.
DeMaria Farm—Kensington
This is a family-owned farm with a selection of Fraser Fir, Douglas Fir, Concolor Fir, Balsam Fir, and Blue Spruce trees to pick and cut yourself. It has saws, netting, and plenty of people to help get it on your car. Weather permitting, it offers free hay rides for tree customers on weekends for a tour of the farm. It also offers free coffee and a campfire. Available for purchase are snacks, wreaths, greenery, tree stands, and more. Cash and credit cards are accepted. Dogs are allowed, but they must be on a leash. Trees are available for sale starting November 29 this year.
Karabin Farms—Southington
There are 15 acres of trees for you to choose from, including Frazier, Douglas, and Canaan Firs, and Balsam Spruces. Trees are $70 plus tax. Cut-your-own trees are available starting November 23, 2019, on Saturdays and Sundays, while supplies last. Pre-cut trees are available as well.
Rose's Berry Farm—South Glastonbury
This pick-your-own farm has a selection Fraser Fir and Blue Spruce Christmas trees for you to choose and tag or cut from November 19 until December 23 this year. Staff assistance is available to help you wrap and tie your tree to the car if needed. There is also a wonderful Christmas shop that sells wreaths and pies, gift baskets, frozen berries and other gourmet items. For 2019, the farm's Christmas tree season will be shortened because of the recent sale of some of their tree property.
Birchwood Farms—Windsor
Fraser Firs and Blue and White Spruces are some specialty trees here. Instead of cut your own, you choose the tree and they will cut it fresh for you. Staff assistance is available to secure the tree to your car. The farm accepts cash or check. Sales start the Saturday after Thanksgiving.
Breezy View Farm—Suffield
A family run farm in operation for three decades, Breezy View offers several tree types including Frasier, Concolor, Canaan and Korean Firs as well as Balsam. This is Wreaths made fresh daily. They have 16 foot trees this year.
Sweet Wind Farm—East Hartland
This small family farm is owned by husband and wife, Arlow and Susan Case. They harvest and make their own maple products too! If you have your own saw, bring it to cut down your tree during daylight hours. They have a really limited selection this year, so come early in the season.
Botticello Farms—Manchester
Pre-cut Christmas trees are for sale starting Thanksgiving Day. Consider one of Botticello poinsettias or wreaths as well.
Gegetskas Family Christmas Tree Farm—Windsor
Gegetskas opens after Thanksgiving for pre-cut Christmas tree sales. Also, browse its adorable pine tree art and ornaments created by hand. Most trees start at $30.

Originally published November 20, 2012