Canoeing Down the Farmington River in Avon, CT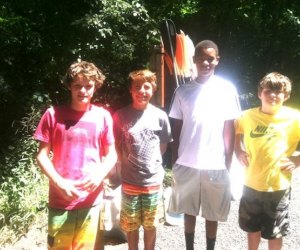 Last week I was looking to take the kids on a family adventure that would involve nature, water and lots of fun. I decided to take the family out for a canoe trip down the Farmington River. I had found Huck Finn Adventures, which has been guiding people down the river for nearly thirty years. They offer a 3, 5 or 9 mile trip. We opted for the three mile trip which ended up taking just under three hours! Turns out we could have walked to our destination in much less time but that wouldn't have been nearly as fun or beautiful, now would it?
We used our GPS to find the starting point and became a little confused when it led us into an Avon, CT shopping center. There's a dirt road right next to the center and that's where you want to go. You'll drive down a little bit before seeing the van, kayaks, canoes and life jackets. The owner John was there to greet us and give us the scoop on how our trip would proceed.
Before we had a chance to get our life jackets on, the boys spotted a rope tied to a tree and just had to take a turn swinging into the river. John said it was perfectly fine so I acquiesced and allowed the boys this diversion. They could have swung into the river all day but alas we had other plans. Finally, I managed to persuade the kids to get into the canoes and to start paddling. The deepest point we came across during the entire trip was about 6 feet but that was rare. Typically the water was 3-4 feet deep with some areas where it was only ankle deep. The water was calm, had a slow current and was a nice temperature. There were moments when the boys would just float along the outside of the canoe.
After about 45 minutes of paddling down the river we came across a small beach on the left that had (surprise) the remnants of a rope swing. Naturally, the boys wanted to investigate. We beached the canoes and they took a walk around. To their delight they found a trail to a small waterfall. Once they finished exploring, we eventually decided to start back down the river again.
The river was peaceful and beautiful and we could see the bottom at all times. There weren't many fish but there were a few submerged tires and other bits like old rusty rakes that were like found pirate treasure to the boys. Note to self (and to you) wear water shoes while going down the river. It's also nice to pack a picnic lunch to enjoy along the riverbank. We only brought snacks and had great fun while my older boys pirated the bag away from our canoe when we weren't suspecting. Oh! And bring plenty of water. The day we went the sun was shining and the temperature was in the upper 70's. Gratefully we were traveling with the sun at our backs however I can imagine it getting pretty intense on a warmer day. Sun block, a hat, and bathing suit will ensure you are prepared for the trip.
At one point we looked up and saw the astounding Heubliein Tower on top of a mountain. The boys wanted to go for a visit but sadly it is only open Thursday through Sundays. Eventually I began to get nervous and thought that we must have missed the large bridge that John told us to look out for which would signify the 3 mile pick up point. How could we miss a bridge? But surely we should have found the pick up point by now? In the end a few helpful kayakers assured me that the bridge was just 5 minutes ahead and that we hadn't missed it. Relieved, I enjoyed my last few minutes of river bliss and let the kids do all of the paddling.
Once we arrived to the meeting point, we looked out for CT's largest tree which happens to be a sycamore in Simsbury. Quite impressive. John arrived about 10 minutes after we did and proceeded to tie the canoes up to the top of the van while we collected the life jackets. Our trip back to the starting point was quick and informative. We finished off with a few more jumps into the river before heading back home for a summer barbecue.
If this sounds like a fine way to spend a summer's day Huck Finn Adventures can make it happen. Just be sure to give them a call ahead of time so that they can tell you where to go and what time to meet. 2 canoes for a family of 4-6 go for $90. Kayaks are $35 each. We've also written about tubing down the Farmington.
Huck Finn Adventures
21 Waterville Road, Avon, CT
(860) 693-0385
*Full disclosure - Huck Finn Adventures provided us with the canoes for no charge.
Originally published 7/29/12.