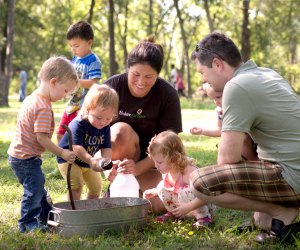 Mommy and Me and Baby Classes in Fairfield County, CT
A great way to boost babies' motor and social skills while making some new friends yourself is by enrolling in various baby classes. From stroller hikes to mudpie making, Fairfield County offers no shortage of Mommy and Me classes. Pack up the diaper bag, grab a latte, and sign up for a session or two: These classes are designed for new moms (and dads and other caregivers, too!) with their babies in Fairfield County.
1. Ole Soccer - Monroe, Fairfield
Got a future Pele in your family? Then head on over to Ole Soccer where classes begin for players as young as 18 months. Ole is the leading soccer facility in Fairfield County with locations in Fairfield and Monroe. With parent/child classes at both locations, Ole offers even the youngest soccer stars the opportunity to work on their balancing, agility, and ball handling skills.
2. Tinkergarten - Various locations
Exploring the outdoors, making mud pies, and chasing butterflies: Tinkergarten provides high-quality early childhood learning in the healthiest classroom of all—the outdoors. Meeting in parks and green spaces all over Fairfield County (including Trumbull, Darien, Norwalk, and more), families connect with trained leaders in their local communities for play-based classes that help develop core life skills, all while having fun.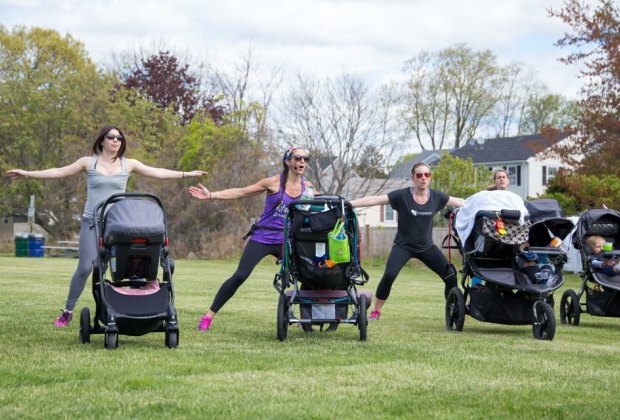 Strollers are part of the workout at FIT4MOM. Photo courtesy of FIT4MOM
3. FIT4MOM - Various Locations
FIT4MOM is the country's largest fitness program for moms offering pre- and post-natal fitness classes for every stage of motherhood. Programs are offered locally from Greenwich to Norwalk in lower Fairfield County and include 5K training, Moms Club playgroups, Stroller Strides, Stroller Barre, Body Back, and Fit4Baby.
4. Chinese Language School of CT - Riverside, Greenwich
CLSC is the only not-for-profit educational institution and accredited by AdvancED, an accreditation organization that approves elite private schools' curriculums, allowing CLSC students to matriculate into upper level Chinese classes in public or private schools. CLSC starts language classes for children ages 18 months and up.
5. Tender Beginnings - Greenwich
Greenwich Hospital's "Tender Beginnings" pregnancy and parenting programs are a wonderful way for couples and families to prepare for pregnancy, labor, delivery, and baby care. Class choices range from childbirth preparation to breastfeeding. All courses for mothers, fathers/partners, siblings, and grandparents are taught by registered nurses from the Maternal/Child Unit and include support groups for parents with infants, toddlers, older children, and teens.
6. Music Together - Fairfield, Monroe/Newtown, Danbury Area
Undoubtedly one of the most well known national music programs for young children, Music Together offers classes at more than 3,000 locations in 40 countries. Each week, babies, toddlers, preschoolers, big kids—and the grownups who love them—gather together to make music as a community.
7. Giggling Pig - Shelton, Bethel
Finger paint, salt dough hand prints, and shaving cream galore— these are some of the seriously awesome sensory fun experiences you can expect to have each week at Giggling Pig's Mommy and Me classes. These classes offer families a chance to get messy with themed creative projects, plus the studio offers fun play areas for kids with puzzles, sensory bins, and, yes, shaving cream fun after the art projects.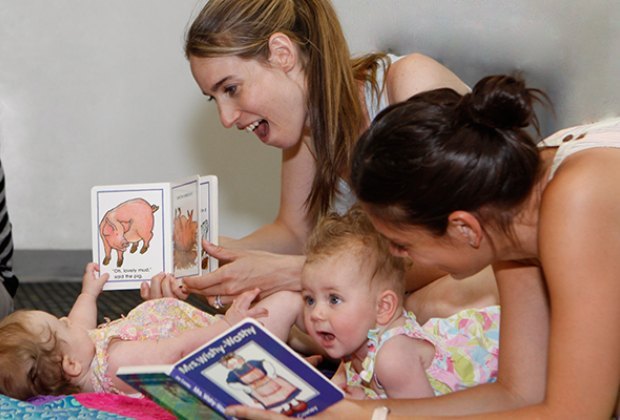 Photo courtesy of Kidville
8. Kidville - Westport
Kidville's signature music program, Rockin' Railroad, introduces a new instrument each week and is available from newborns through age 5. Two-year-olds are playfully introduced to the basic positions and movements of ballet using music, games, creative imagery, and stories in the fun-filled Ballet Tea Party.
9. Great Play - Stamford
Great Play's Introductory Motor Skills Program called Great Start is the perfect first step for infants. With parental support, kids enjoy physical exploration and play while working on a broad spectrum of motor skills, including stability and fine manipulation.
10. Children of the Sound - Norwalk
Boasting the title of "the largest swim school in Fairfield County," Children of the Sound offers private, semi-private, and parent-tot classes for children ages 6 months through 3 years. The classes focus on water safety and comfort, and are offered most weekday and weekend mornings.
11. Connecticut Dance Center - Stamford
This recently expanded studio welcomes students of all ages and abilities, beginning with parent-and-child classes—a great option of you're nostalgic about your own dance class days.
12. Polly's School of Gymnastics, Stratford
A Stratford institution, Polly's has been run by the same family since 1971. For the little ones, start with their Mom and Me (Dads and nannies also welcome).
13. Music for Children - Westport
A longtime highly respected music program, Music for Children offers a multi-sensory, age-appropriate curriculum that will have your children "reading" music with their eyes, ears, and entire body. Each class artfully tells a story through song, dance, drama, rhythm, and rhyme. Guitar, banjo, and piano are played every week with hundreds of other instruments.
14. Yogabilitation - Fairfield
Fairfield's Yogabilitation offers kids' yoga classes as a component of its comprehensive physical therapy offerings. Classes available include infant massage and parent and baby yoga.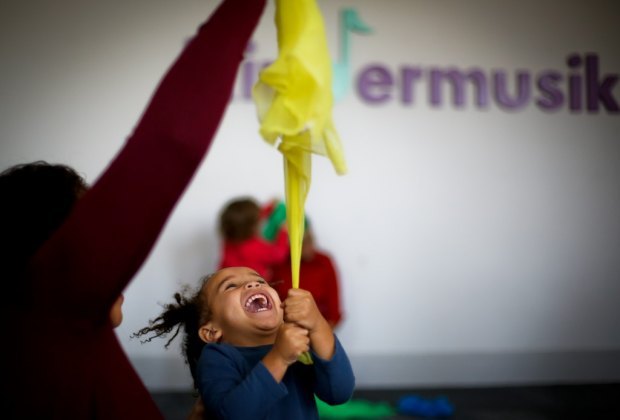 Photo courtesy of Kindermusik
15. Kindermusik with Leslie - Norwalk
For three generations, Kindermusik has helped millions of children around the world build a strong foundation for a lifetime of learning. Kids are welcomed into a playful and nurturing environment to sing, move, play instruments, and hear stories.
16. Mommy & Me Shamrockers - Fairfield
Lead by Meghan Lenihan from the Lenihan School of Irish Dance, this program is a creative musical dance program for toddlers ages 18 months – 3 years and their caregivers. Classes are taught with an Irish flair and include a welcome song, action songs on Mom or Dad's lap, dance and movement, and a short cooling down time ending with a good bye song.
17. Mom and Baby Figure Method Barre - Darien, Greenwich
This class is designed for moms and babies up to 9 months of age. Taking into consideration the unique postural alignment and core musculature issues related to the postnatal period, this class provides a safe and effective barre fitness program as well as information about how to modify exercises in the first year after birth. Common issues such as pelvic floor dysfunction and abdominal separation (DR) are discussed, all while moving and bonding with little ones.
18. Hartbeeps - Greenwich, Westport, and New Canaan
The award-winning multi-sensory music classes from UK perfect for babies, toddlers, and preschoolers have local classes in lower Fairfield County for newborns to age 4. Hartbeeps classes are full of props, dress up, drama, music, singing, imaginative play, and magic sprinkles. With hundreds of original songs, remixed nursery rhymes, musical stories, big fun characters, and colorful themes, there is much to do and learn.
19. Three Roots Education - Ridgefield
From seedling to harvest, track the growth of a garden from the indoors and make the most of outdoor gardening in the fall, learning how to transition plants to the indoors. Make art the organic way with your little one in this morning workshop. A peaceful way to start off the week, learn how garden objects can be used for art, and how the garden can make art possible.
20. Canta Y Baila Conmigo - Greenwich
Take a journey into the Spanish language and its cultures through the magical world of music. You and your child will be transported as you sing, dance, and play along to the irresistible sounds and rhythms of Spanish-speaking countries. Designed for beginners and native speakers alike, students experience a playful, interactive atmosphere where language learning is integrated naturally and organically in the musical experience.
Originally published March 2015