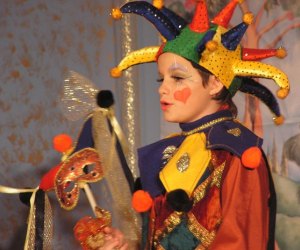 Building Character at Acting Classes for Kids in the Hartford Area
If you have an aspiring thespian in the house, then sign them up for acting classes. It could be a fun way to inspire their creativity and hone their skills. The following list of places in the Hartford area should be able to guide you in the right direction. For more fun after school classes, check out our After School Classes Guide.
Backbeat City
This music, theater, and dance school welcomes all ages and levels. They have programs like creative movement for the younger ones, drama for the older children, and much more, including private lessons, and summer camps.
80 Eastern Boulevard, Glastonbury 860-633-1317
The Great Hartford Academy of the Arts
The program is designed to prepare gifted and talented students to pursue post-secondary studies and professional careers in creative writing, dance, instrumental music, vocal music, theater, musical theater, technical theater, visual arts, or inter-arts study. A Summer Arts Program for students entering grades 5-12 takes place in July.
111 Charter Oak Avenue, Hartford 860-247-2732
The Hartford Stage
The educational program aims to provide theatrical opportunities for students of all ages and fuel their passion for creative expression. Little performers as young as 3 can enroll (a parent must attend) in classes filled with stories, songs, and movement. Older children (ages 5-8) might enjoy a musical theater cabaret class or scene study (ages 9-12) and monologue building (ages 12-17).
50 Church Street, Hartford 860-525-5601
The New Britain Youth Theater
Many drama classes, workshops, and summer programs for children ages 5 and up are offered here, including chorus, musical theater, and improvisation. Students can also secure private coaching to help them prepare for auditions or improve their skills.
50 High Street, New Britain 860-515-8115
The Performing Arts Program
Priding itself on being "New England's premier talent development and educational program for children of all skill levels," this studio offers dance classes, private lessons, vacation programs, and more. Young performers can develop musical theater and acting skills. Classes are offered at various locations in Hartford County.
1732 Ellington Road, South Windsor, 860-432-9890
Connecticut Family Theater
Providing a variety of classes for various ages, the program offers introduction acting, musical theatre, theatre intensive, teen company production, and private training and tutoring. Children ages 6-19 train here year round, and during summer camp.
58 South Street, West Hartford 860-206-4472
Poppins Children's Theatre
The tiniest performers are welcome here. Acting Play for ages 2-4 takes place Monday mornings. Production and costuming classes are also offered, along with a summer musical theater.
19 Walden Street, West Hartford 860-416-3529
For more options, be sure to also check local community theaters. Many towns, like Southington, Simsbury, and West Hartford, feature productions throughout the season.
Originally published 9/9/2012
Photo Credit: Photo Courtesy of Poppins Children's Theatre