Finding Poland in Connecticut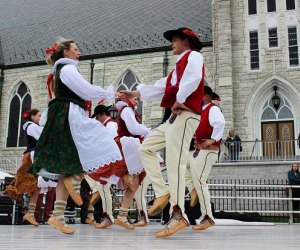 About 4,200 miles away, across the Atlantic Ocean, you will find a country defined by delicious cuisine, lively music, and rich traditions. Of course, you can forgo a passport and save yourself the $1,500 airfare by enjoying an all-Polish experience in the heart of New Britain. Since most children are always up for adventure, they will likely enjoy peeking into another culture, trying to make sense of foreign labels, tasting new foods, and perhaps learning a few words in a new language.
Though it has been the heart of Connecticut's Polish community since 1890, Broad Street has especially flourished in the last decade. In 2008, it was officially designated "Little Poland" and today, a trip through this Hartford County neighborhood offers authentic glimpses into the European country.
If you have never visited, consider doing so this weekend during the 35th annual Little Poland Festival, a nod to the 1,000-year-old traditional Polish harvest festival. Expect leaping folk dancers, carnival rides, live music, and, of course, a fantastic display of food. Admission is free.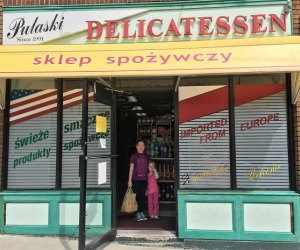 Shopping in Little Poland turned out to be tasty and fun!
Even on a regular day, there is plenty to see and sample from one end of Broad Street to the other. You can have lunch at Cracovia or Staropolska (we dined here previously and the golabki – stuffed cabbage rolls – are divine), savor delicious pastries at Kasia's Bakery, or browse the deli specials at Krakus Meat Market.
Heightening the area's appeal is its cleanliness and the uniqueness of dozens of store fronts. Broad Street is free of any chain stores and feels very much like a Main Street USA; people stroll by with grocery bags, greeting one another; even us, strangers to the neighborhood.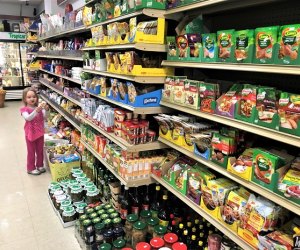 Shopping for products advertised in another language makes for a fun adventure.
Not speaking Polish did not hinder our ability to peruse store shelves or purchase items. The friendly employee at Pulaski Delicatessen tried teaching us how to pronounce "poledwica lososiowa" and though we failed greatly, we definitely enjoyed the smoked pork loin (when we returned to our car my children made themselves impromptu sandwiches with the Lithuanian bread we purchased). Additionally, we filled our bag with imported sweets and seasoning for Polish-style cabbage soup.
Our retail therapy continued at Polmart Delikatesy, a large grocery store brimming with fresh and frozen produce, smoked meats, herbal teas, and everything in between. My preschooler was thrilled to shop for juice, recognized and swiftly grabbed a bag of cheese puffs (apparently, a global symbol of yumminess), and tried on hats in the apparel section. My eldest daughter enjoyed browsing the aisles chock-full of imported goods, trying to decipher what each bag or container featured. To my surprise, she chose - and later raved about - pork pate. We left with another bag filled with new flavors, kielbasa for dinner, and the ability to say "Dzień Dobry" (Good morning!), thanks to the engaging young woman working the cash register.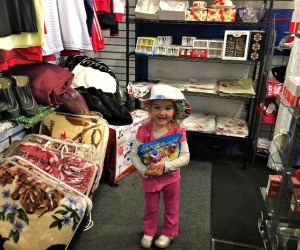 Stores on Broad Street are brimming with imported goods, including delectables and fashion accessories.
Our visit to Little Poland was memorable and educational. Though everyone around us spoke in their native language, we felt welcomed and will gladly return because immersing ourselves for just a little while in signs and wording representing a new language (even the post office is labeled in Polish) was more inspiring than intimidating.
Ethnic neighborhoods are important and visible reminders of people who work hard to achieve the American Dream and serve as cultural bridges that connect us despite differences in alphabet or recipes. After all, dreams, smiles, and dark chocolate forge international bonds.



Clean and lined with unique storefronts, Broad Street celebrates and preserves Polish culture and cuisine.
Little Poland is located less than a mile from the New Britain Museum of American Art, Walnut Hill Park, the New Britain Youth Museum, and Amatos Toy and Hobby Shop, so it is easy to spend a few hours here or an entire day.

Photo credit: Cover photo courtesy of Little Poland Festival. All other photos are courtesy of the author.