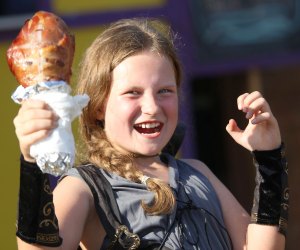 Weekend Fun: Oysters, Fairs, and All Things Apple
Are you burned out on harvest fairs? Neither are we! If you want to head out for a day at the fair, we've got you covered, with rides, games, food, farm animals and more in North Haven, Bethlehem, Hebron, and Ledyard. This weekend is loaded with other fall festivals of the non-agrarian variety, too, including the annual Norwalk Seaport Association Oyster Festival, highlighted this year by a free concert featuring former Bad Company frontman Brian Howe. Or, head to Lebanon as pirates invade the annual Connecticut Renaissance Faire. Little foodies will want to head to Morris to savor fine treats and baked goods (you can enjoy the wine and craft beers) of Litchfield County.
Of course, it's finally time for ripe, juicy apples. These Connecticut apple picking spots are our local favorites for families!
For the latest and best family-friendly goings on around the state, keep checking our frequently updated events calendar and follow us on Facebook, Twitter, Pinterest, and Instagram. Have a great weekend!