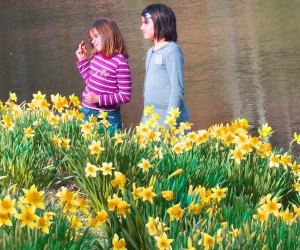 Spring Activities For You and the Kids in the Hartford Area
After a long winter, families are eager to get outside with their kids. While sledding and ice skating are fun, being stuck inside for four months is not, so springtime is always welcome for families with energetic little ones! So, when you're ready to kick off the snow boots and to lose a few layers of clothes, and get outside in Connecticut, check out a few of our top spring activities in the Hartford area. And for more springtime fun make sure to check out our Mommy Poppins spring fun guide.
Farms and Animals
Get up close and personal with some real animals. Take your kids to one of these great places to meet a variety of four-legged friends.
Flamig Farm, 7 Shingle Mill Road, W. Simsbury
Westmoor Park, 119 Flagg Road, West Hartford
Go Fly a Kite
A fun activity for parents and their kids - your kite can be extremely simple or beautiful and fancy, it's up to you. Try one of these wide open spaces:
Stanley Quarter Park, New Britain
Wolcott Park, West Hartford
Gaze Upon Spring Flowers
After a long winter full of gray skies and dead foliage, the first green of the year is always a relief to see. Check out one of these spots:
Elizabeth Park, 1561 Asylum Avenue, West Hartford
Laurel Ridge Daffodils, Wigwam Road, Northfield
Start a Garden
Growing food at home is a great way to show picky eaters where their fruits and veggies come from. Start your home garden by visiting on of these great places:
Flower Power, 126 South Main Street, East Windsor
Stonehedge Landscaping and Garden Center, 1616 Willard Ave Newington
Go Fishing!
Grab a rod and dig up some worms! It's time to go fishing.
Sheila Schmidt Family Fishing Night, Washington Park, 26 Lennox Avenue, Windsor
Family Fishing Class, Single-day classes in Wallingford and Newington
Photo Credit: National Marionette Theater
Originally Published: 4-8-2013