Fun Spring Activities for Preschoolers in Connecticut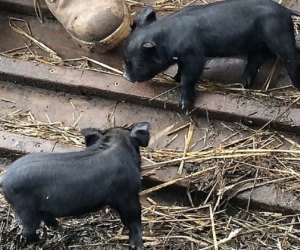 "Mommy, how do the flowers know it's time to wake up?" Celebrating the change of seasons with preschoolers is so much fun! Experiencing life through their eyes is magical- everything is so fresh and new! One of the best parts about living in New England is we get to celebrate all four seasons, but nothing is more magical than the arrival of spring. Whether you want to enjoy the countryside of Litchfield County or hiking through Fairfield County, here are some more of our tried and true preschool activities for spring.
Nature Centers
With its diverse ecosystems, Connecticut is home to some fantastic nature centers. Just about every corner of the state has a center with naturalists prepared to answer at least one of your preschoolers five million questions. Some have animals on display, some feature hiking trails, and activity kits. Here is a sampling of some of our favorites.
New Canaan Nature Center 144 Oenoke Ridge, New Canaan, CT 06840
Ansonia Nature Center 10 Deerfield Rd, Ansonia, CT 06401
Megis Point Nature Center 1288 Boston Post Rd, Madison, CT 06443
Pratt Nature Center 163 Paper Mill Rd, New Milford, CT 06776

Farms with Animals
Moooooo-ve over winter! Spring is here and that means farm babies! Is there anything cuter than a baby goat? We love visiting farms and the spring and getting some first hand experience at the circle of life.
Stamford Museum and Nature Center 39 Scofieldtown Rd, Stamford, CT 06903
Silvermans Farm 451 Sport Hill Rd, Easton, CT 06612
Fort Hill Farms 260 Quaddick Rd, Thompson, CT 06277
UCONN Animal Barns 3636 Horsebarn Hill Road Ext. Storrs, CT 06269-4040
Flamig Farm 7 Shingle Mill Rd, West Simsbury, CT 06092
New Pond Farm 101 Marchant Rd, West Redding, CT 06896
March Farm 160 Munger Ln, Bethlehem, CT 06751

State Parks
The sun is out! It's time to pack a picnic and explore some of connecticut's fantastic parklands. Want to gather seashells? There's a park for that? Want to paint all day under a tree? There's a park for that! Here's my list of fun parks in the spring to get you started.
Weir Farm 735 Nod Hill Rd, Wilton, CT 06897
Silver Sands State Park 1 Silver Sands Park Way, Milford, CT 06460
Massacoe State Forest Massacoe State Forest, Simsbury, CT 06092
Stratton Brook State Park 149 Farms Village Rd, Simsbury, CT 06070
Check out the Connecticut State Parks website for a list of all the fabulous parks in the Nutmeg State.
For more ideas of how to enjoy springtime across the state, check out our Spring Activities in Connecticut Guide, and don't forget to check out our May GoList!