SPONSORED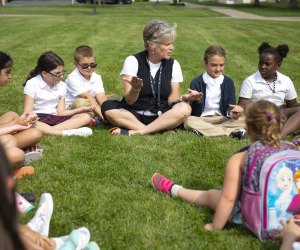 A Child-Focused Lower School Builds a Strong Foundation at Fairfield County's PreK-12 King School
Fairfield County's King School has a big mission: to set better standards for both the experience and outcomes of education. And the top-rated PreK to 12th grade private school is working to embody that mission holistically at its 34-acre North Stamford campus complete with designated Lower School facilities, including visual and performing arts' rooms, a gym and library, computer and science labs, a sustainable garden, age-appropriate playgrounds, and classrooms designed to encourage opportunities for small group work, student-led learning, and discovery.
I connected with Head of Lower School and elementary expert Amy Vorenberg to learn more about King School's preschool and elementary programs, along with their other offerings, and to find out how interested families can start the application process.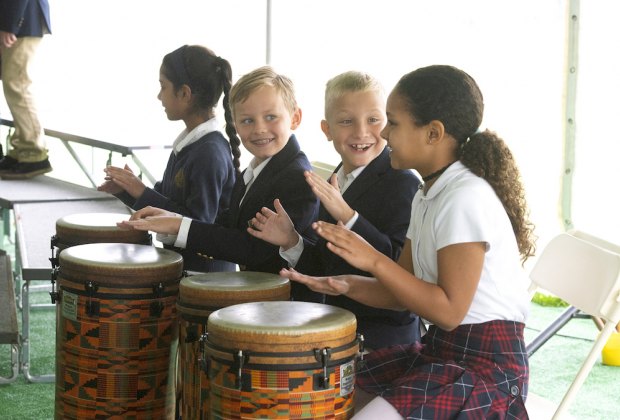 Mommy Poppins: Can you tell us a bit about the history of King School? I heard it dates back to 1865...
Amy Vorenberg: Yes! Today's King School evolved from the merger of three founding Connecticut schools — Low-Heywood, which emphasized the importance of educating the whole child; the Thomas School, which was focused on the arts and literacy; and the original King, which was centered around strong academics and athletics — giving us a very balanced foundation.
With such a deep history, we know a thing or two about challenging preconceived notions about what a good education looks like. And that's exactly why we prioritize teaching students how to think rather than what to think. So many educational institutions have stood still for more than a century. We want students to stay nimble and always ask more of their education.
MP: What programs does King School currently offer?
AV: As a co-ed, private day school, our rigorous academic program serves students from PreK through Grade 12 from more than 35 towns across Fairfield and Westchester counties. Our Lower School — which encompasses our Early Childhood program and Elementary School — offers an interactive project-based program for 3-year-olds through Grade 5. Meanwhile, our Middle School and High School continue to enable students to discover and follow their own individual paths. Actually, King even offers five Certificates of Distinction for high school students who want to dig deeply into a focused area of study, including: STEM, Global Studies, Leadership, Visual Arts, and World Languages.
We also offer a diverse athletics program, which starts with the Lower School's commitment to physical education. As part of our curriculum, our youngest students take part in everything from lacrosse and tennis to floor hockey and pickleball, while our older students can choose to participate in over 20 competitive or non-competitive offerings, including volleyball, crew, and dance.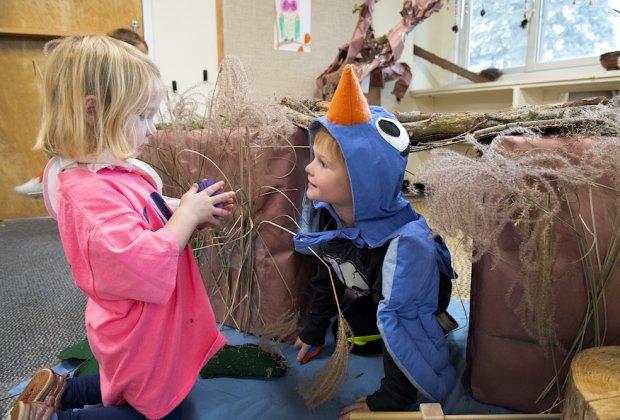 MP: Does King's Lower School follow any specific educational approach?
AV: Yes, our Early Childhood and Preschool program is Reggio-inspired, putting kids' natural development front and center. Our teachers plan activities and lessons based on students' interests, ask questions to further understanding, and actively engage in activities. And our sun-filled classrooms are intentionally designed to encourage interaction by enabling kids to easily access supplies and materials. The King campus serves as an extension of the classroom, where students can explore. This year, our PreKindergarten students are taking on the role of animal researchers by collecting data and materials outside and creating a "forest" in their classroom.
As our students enter Elementary School, we utilize the research-based Readers and Writers Workshop, which relies on kids selecting their "just right" reading materials to develop literacy skills that will ultimately help them navigate texts across all subject areas. Our math program uses the hands-on, pictorial Singapore Math technique and self-paced DreamBox Learning to build strong conceptual skills, numerical fluency, and problem-solving strategies. And just this year, we're enhancing our social studies curriculum with a new Global Studies focus. We'll do a fully-integrated project in which all grades will study different regions of the world, beginning with an in-depth study of South America.
MP: Tell me what makes King different from other lower schools.
AV: At King, every child is known and valued as a unique individual and a member of the community. And as a student-centered school, King realizes and prioritizes the role of the student-teacher relationship.
One unique way our teachers really get to know students is by contributing to and leveraging King's comprehensive student learning profile system. This proprietary, internal database from the Directors of Teaching and Learning highlights each student's strengths, challenges, and goals, plus tracks the impact of growth strategies over time. Our faculty also participates in Professional Growth and Development opportunities each year, giving them access to the latest research on best practices in student-centered approaches to teaching and learning.
We also know the importance of knowledge and empathy in today's diverse world, and that students are most inspired when they learn alongside people who don't think alike, look alike, or act alike. At King, diverse voices are heard and valued, and we're committed to making our school even more inclusive to reflect our community and the world our students will impact. Diversity work is included in all facets of our programs, from the books we read to the projects we develop. This work is coupled with regular parent education opportunities and faculty and staff cultural competency educational trainings.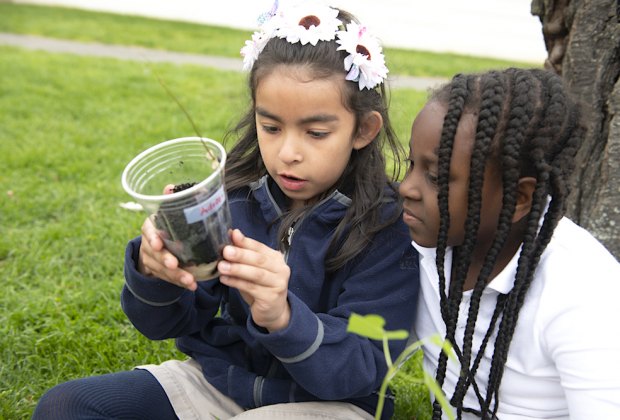 MP: What's the middle school transition like at King?
AV: Many elementary schools end in grade 4, but we end ours in grade 5. By giving our 5th graders a chance to be Lower School leaders and role models — helping to organize and lead Lower School assemblies, clubs, and enrichment programs, and by acting as ambassadors during school-wide events — they develop skills that better prepare them for middle and upper schools.
Additionally, our teachers, and the Directors of Teaching and Learning, coordinate across the divisions through meetings, classroom observations, and teacher planning, to ensure that students are well supported as they transition.
MP: How can families figure out if King School is the right fit for them?
AV: We invite Lower School families to meet our teachers, parents, and students at our Lower School Open House on Sunday, November 3, 12:30-3:30 p.m. This is a unique opportunity, through conversation and hands-on activities, to learn in depth about the Lower School program. On Tuesday mornings, families can also join us for Coffee and Conversation about King followed by a campus tour.
Of course, you can always learn more by visiting the King School website or setting up a campus visit. Our Admission office loves getting to know families too, and is happy to discuss any questions!
All photos courtesy of King School