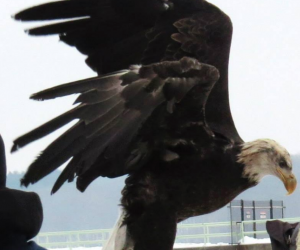 Outdoor Winter Activities for Hartford Kids: Ice Fishing and Eagle Watching
If you think the bitter cold days of winter are restricting your family to a season of hibernation…think again. Bundle the kids up in their warmest winter gear for an adventurous day out ice fishing. It's definitely a fun outdoor experience to share with a child of any age! Eagle watching is another fun winter activity and we've got some tips on where you can go to spot them.
I was lucky enough to spend the day at West Hill Pond in New Hartford/ Barkhamsted with more experienced fishers who knew to bring along insulated tents with a heater, a grill to whip up breakfast and lunch, and even thermos's full of hot cocoa (and Bloody Mary's for the adults!) In between checking the lines for a catch; we snacked on tasty treats, took turns pulling the little ones around the ice on tiny sleds and huddled by the heater to warm up our fingers and toes. There's nothing quite like developing a love for the great outdoors in your young child's heart. The look on my own daughter's face as she watched the large fish being reeled up from under the ice was priceless.
There are many other beautiful areas hidden away in Connecticut that are perfect for planning this day outing. Some popular sites are Silver Lake in Berlin, and Stillwater Pond in Torrington. Ice fishing is also allowed on both the West Branch Reservoir (or Hogsback) and Colebrook River Lake. The West Branch of the Farmington River known as the Greenwoods Property is another very popular recreational area. Always take precautions before walking out onto any body of ice.
With all of the frigid temperatures we've been having it is the perfect time to see some bald eagles at any of the open water areas, especially along major rivers. Take a walk along the trails of the Farmington River and you might be able to spot one.
The Shepaug Bald Eagle Observation Area, in Southbury, is open for its 30th season now till March 13 open Wednesdays, Saturdays and Sundays from 9 am to 1pm. It is one of the top eagle viewing locations in New England and reservations are required.
Originally published 1/28/2013.