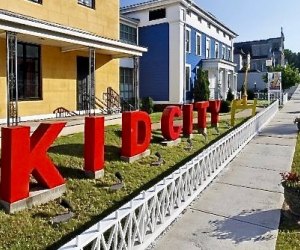 Our Visit to Kidcity in Middletown
Before you set foot in Kidcity, you'll most likely have already heard about it from moms who have gone or plan to go. Kidcity Children's Museum in Middletown is a one-of-a kind destination designed for little ones ages 7 and under to explore, socialize and probably learn something along the way. Director Jen Alexander, founder and creator behind Kidcity, wants little children to come and navigate their way through the three floors of fun and be free to experience it any way they like to - whether that is skipping from room to room or spending the entire time in one fascinating place.
I recently went to Kidcity with my 2.5 year old. This, in my opinion is the sweet spot for Kidcity. When we walked into the first level, his eyes widened and he got right to playing in the sparkly, life size spaceship. He then headed straight over to spend a good amount of time playing with the balls that get vacuumed up through several feet of clear plastic pipe.
On this particular day the museum was not too crowded, but many days it gets really hopping by the second hour it's open. As my son and I wandered around, he met up with a number of other kids, some his age, some older, and a few younger than he is.
On to the second floor, which will amaze you even if you are a grown-up. In recent years, the museum has switched out the old farm/train-themed activities and put in a stunning medieval-themed ("Middleshire") rope climbing space, with a pretend bread baking oven, pub (with turnip cider - also pretend of course), and two hand-designed cross bows, safe for the littles to use! I could not believe the engineering on these crossbows.
I was impressed to learn that before any new play area is installed, Alexander and a team of very talented artists pre-fabricate everything to make sure it all works. After they are sure everything is sound and operates properly, they recreate it in it's exhibit space. It is a tremendous amount of work, and the hard work shows. Even my two year old could pull back the crossbow and shoot them on target.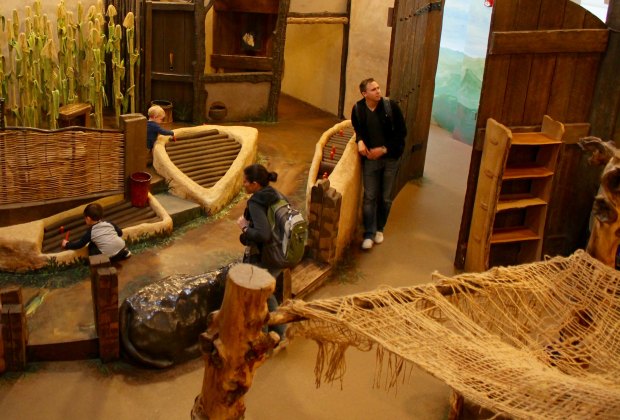 Welcome to Middleshire, the medieval village for children at Kidcity.
Also on the second floor, the Musical Planet room is a mini-playground decorated in an Asian theme that includes a rain-stick see-saw, a bridge with three bronze gongs, and other melodious play features. New to the second floor is the block room (Floor Play), which is a square room paneled in wood for toddlers that has a huge selection of wooden blocks and vehicles for kids to play with. The Toddler Sea Cave is a great place for crawlers and others who need a soft, protected space.
Finally, we headed back to the first floor again because there was a whole bunch of fun spaces we had missed the first time such as the The Fishery, Main Street (train table too!) and The Farm. The Farm is a favorite for a lot of kids because you get to collect the eggs and apples and move them up and down in a basket contraption.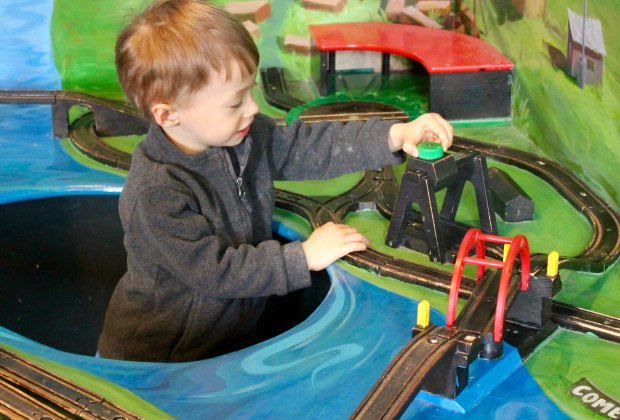 Kidcity has a special place for everything, even a train table.
Kid City is open every day of the year except major holidays. They are open beginning at 9 a.m. for all the early rising families three days a week. They don't allow strollers inside the building for safety reasons and they even have a Quiet Spot near Main Street where you can step away with an over-stimulated child for some chill time.
Images courtesy of writer.
Cover photo courtesy of Kidcity.