25 Reasons Why Connecticut Is a Great Place to Raise Kids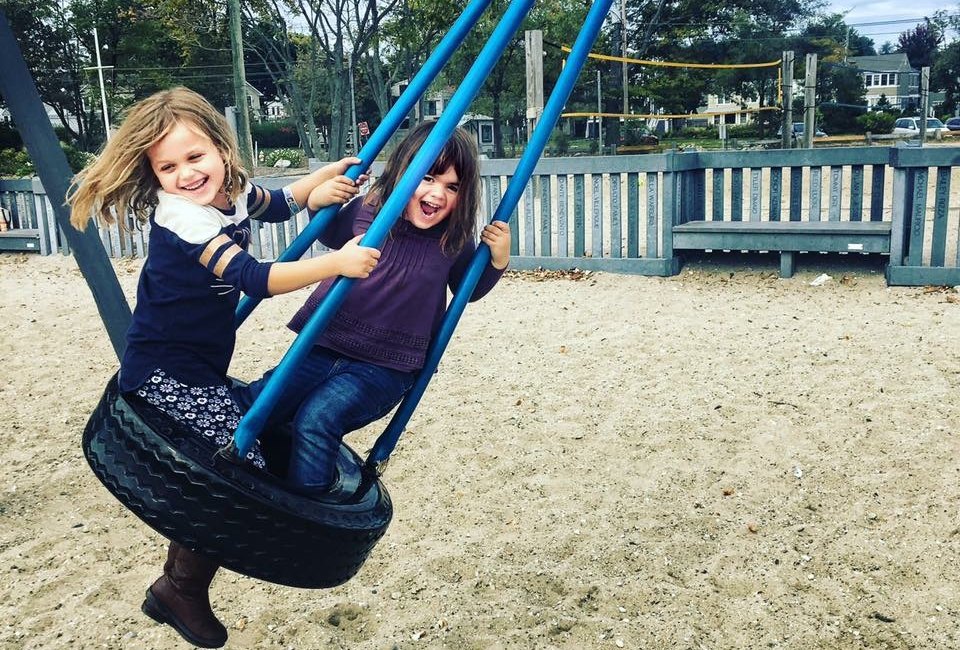 4/2/15
- By
Erin McNamee
The state of Connecticut may be tiny but it is packed with history, culture, and natural beauty. We Nutmeggers enjoy beaches in the summer, brilliant fall foliage, winter sports, and spring blooms. While known for its small-town-like charms, Connecticut also offers modern, sophisticated dining and entertainment. Its proximity to New York City and Boston provides easy access to everything those metropolises have to offer without the hassles of living there. And if you prefer to stay within state borders, you will find a plethora of high-quality educational and cultural offerings in the small cities, quaint villages, beautiful beaches, and scenic countryside that make up family-friendly Connecticut. Read on for our top 25 reasons why Connecticut is a fabulous place to raise kids.
1. Location, location, location!
We are spoiled by how close things are in Connecticut. In some parts of the country, people routinely drive at least an hour to get somewhere. Connecticut is such a small state that it is an easy commute to virtually any type of activity you might want to check out, and each region has something special to offer: in the East, Mystic Aquarium and Mystic Seaport are must-see attractions; in the West, Fairfield County boasts beautiful beaches and Litchfield County overflows with bucolic charm. To the South, hip New Haven has a wide variety of ethnic restaurants and cultural and artistic opportunities thanks to Yale anchoring its downtown. And in the North, the capital city houses major institutions such as the state-of-the-art CT Science Center, Wadsworth Atheneum, and Bushnell Center for the Performing Arts.
2. Proximity to Major Cities
Connecticut is a quick drive into New York City and all that it has to offer. Or, to up the fun factor, park at New Haven's beautiful, historic train station and ride the MetroNorth into Grand Central Station. A quick drive north puts you in Boston, another city chock full of academic, cultural, and popular attractions. A fun option can be to drive to the Riverside T station in Newton, MA, and take the T into the city.
3. Science
You don't need to travel, however, to engage in some serious scientific inquiry. With 150 exhibits, a state-of-the art 3D digital theater, a dedicated KidSpace, four educational labs, and daily programs and events, the CT Science Center offers endless exploration for all ages.
4. Art
Although we are sandwiched between two cultural metropolises, let's not turn down our noses at Connecticut's own, venerable cultural institutions: the Wadsworth Atheneum houses a world-class collection of fine art (check out this recent review), the Hillstead Museum in Farmington houses an impressive personal collection that includes paintings by masters of Impressionism, and the New Britain Museum of American Art is a surprising gem in Hartford County. Yale University Art Gallery is a fabulous public resource, housing works from a wide variety of regions and time periods, and admission is free! In Fairfield County, check out the Bruce Museum, with holdings of fine art, natural history, and anthropology, and the Aldrich Contemporary Art Museum. All of these museums are accessible to families and offer children's programming.
5. Literature
Connecticut is also birthplace to two of the country's foremost literary giants, Mark Twain and Harriet Beecher Stowe. The Mark Twain House & Museum and Harriet Beecher Stowe House & Center are both located in Hartford and welcome young visitors.
6. Native American History
You can't talk about Connecticut history without talking about the rich legacy of native tribes, to which Connecticut even owes its name. The Mashantucket Pequot Museum and Research Center is the region's foremost source of information on the indigenous cultures and societies of the U.S. and Canada that helped shape our state.
7. Colonial History
As one of the original colonies, you can learn plenty about colonial life in Connecticut. The Stanley Whitman House in Farmington, Noah Webster House in West Hartford, and Litchfield Historical Society welcome young visitors and offer interesting workshops for all ages.
8. Children's Museums
For the youngest crowd, several children's museums are conveniently located throughout the state. Check out Kidcity (Middletown), Imagine Nation (Bristol), the Children's Museum (West Hartford), Stepping Stones (Norwalk), the Lutz Children's Museum (Manchester), the New Britain Youth Museum, and the Children's Museum of Southeastern CT (Niantic).
9. Natural History
Yale University in New Haven boasts The Peabody Museum of Natural History. Best known for its Great Hall of Dinosaurs, it is among the oldest, largest, and most prolific university natural history museums in the world. The Bruce Museum (see #4) also includes natural history exhibits although more emphasis is placed on the arts.
10. Pizza!
According to legend, New Haven is the birthplace of American pizza. The ensuing pizza wars never declared a clear winner, but devotees say you can't go wrong with a thin crust pie from the likes of Pepe's (Frank Pepe Pizzeria, now expanded to several locations throughout the state), Sally's Apizza in New Haven, or Harry's Pizza in West Hartford.
11. Burgers
Connecticut lays claim to another American favorite: New Haven's Louis' Lunch, established in 1895 and still going strong, ostensibly served the first sandwich that became the beloved hamburger. Other famous burger joints that are kid-friendly include the seasonal drive-in Harry's Place in Colchester, which has been featured on the Travel Channel, and Shady Glen in Manchester, which serves up unique cheeseburgers in a fifties-style diner.
12. Amusement Parks
Both of Connecticut's amusement parks, Lake Compounce in Bristol and Quassy in Middlebury, are located on lakes and offer beachfront and water park fun along with classic rides (Quassy is geared somewhat more for the younger set). Lake Compounce -- which has the distinction of being the oldest continually operating amusement park in North America -- also opens in the winter for a holiday extravaganza. For your tweens and teens looking for bigger thrills, Six Flags New England is a quick drive just outside of Springfield, MA.
13. Beaches
While most of the country has to travel a lengthy distance to reach an ocean, we are spoiled: no matter where you live in Connecticut, the ride to a clean supervised public beach is usually within an hour. Long Island Sound tempers the surf, making CT beaches perfect for little ones. For older kids hankering for big waves, Rhode Island, Long Island, and Cape Cod beaches are all within 1-3 hours.
14. Winter Sports
Winter enthusiasts can also find plenty to keep them busy at ski resorts like Mohawk Mountain. For those looking for bigger slopes, Connecticut is in close proximity to ski resorts in Vermont, New Hampshire, and the Berkshires. There are also plenty of groomed trails for cross country skiing and snowshoeing (here are some options in Fairfield and Hartford Counties).
15. Fall Foliage
Connecticut's fall foliage will rival that of any you will find in Vermont or New Hampshire. Kent, in Litchfield County, has been ranked Best Fall Foliage Town by Yankee Magazine for the past several years. Check out our guide to a fun day trip to Kent. And come autumn, check out these scenic routes.
16. Horse Country
For horse enthusiasts, Connecticut has the highest horse population per square foot in the whole country, even besting Kentucky! There is no shortage of stables in any part of the state.
17. UConn
The state's flagship university, better known as UConn, is home to two perpetually nationally ranked basketball teams that play games both in Storrs and at the Hartford XL Center, as well as other Division I sports and a world-class equestrian center. It also has a thriving animal science center and famous dairy bar that is open to visitors.
18. Carousels
For kids who simply prefer to pretend they are riding horses, CT is home to several historic carousels, most notably the painstakingly preserved, 101-year old Bushnell Park Carousel. Also check out the antique carousels at Lighthouse Point Park in New Haven, Beardsley Zoo, and Soundview Beach in Old Lyme. True carousel enthusiasts can even visit the New England Carousel Museum in Bristol.
19. Zoos
With the Bronx Zoo to the south and Providence's Roger Williams Zoo to the east, Connecticut is close to some fantastic zoos and home to its own. The Beardsley Zoo in Bridgeport, sometimes overlooked due to its more famous neighbors, is a great, kid-friendly zoo in and of itself!
20. Aquariums
Mystic Aquarium is one of the best aquariums in the Northeast, with a fantastic penguin exhibit and the only beluga whale exhibit in New England! And in the southwest corner there is the smaller Norwalk Maritime Aquarium, which has lots of hands-on opportunities and is devoted to Long Island Sound.
21. Maritime History
Mystic Seaport has recreated a 19th century seafaring village, comprising dozens of real New England buildings staffed with historians, musicians, storytellers, and craftspeople who bring history to life and show how America's maritime past has shaped life today.
22. Theater
Many eventual Broadway shows have debuted in Connecticut, particularly at the fabled Shubert Theater in New Haven, which has a rich history of musical theater, along with the Goodspeed Opera House in East Haddam and the Bushnell in Hartford. Smaller yet acclaimed venues like the Jorgensen Theater at UConn Storrs, Quick Center for the Arts at Fairfield University, Playhouse on Park in West Hartford, Westport Country Playhouse, and Ridgefield Playhouse offer fabulous adult and children's entertainment.
23. Music
In addition to musical theater, Connecticut is well known for the Litchfield Jazz Festival, where you can find music, art, food, artist talks and family fun. Held each summer on the Goshen Fairgrounds, "the Litchfield" has hosted such greats as Dave Brubeck and Sonny Rollins. Also a summer tradition, the annual Talcott Mountain Music Festival in Simsbury presents music performed under the stars by the Hartford Symphony Orchestra. For a more intimate venue, Infinity Music Hall & Bistro in Norfolk, located in a historic building circa the 1800s, offers a unique dining and entertainment experience and has been voted Best Music Hall in New England by Yankee Magazine. Infinity Hall-Hartford is modeled after the Norfolk location, although in a modern setting.
24. Education
Public schools in Connecticut consistently rank among the top in the nation, although this varies by town. Children are fortunate to be able to learn about many different cultures, traditions, and holidays; there are currently 148 dominant languages other than English spoken by students in schools throughout Connecticut. Many magnet, charter, and private schools throughout the state provide additional options to neighborhood schools. Connecticut is also well known for having some of the best prep boarding schools in the country.
25. Medical Care
With UConn and Yale medical schools, Connecticut residents are in close proximity to high quality teaching hospitals and cutting edge research. Regional hospitals throughout the state mean that all towns have a hospital nearby in case of emergencies. Major medical centers in Boston and New York City are also a mere drive away.
Photo courtesy of Ally Noel
Sign up for the Mommy Poppins Newsletter today!